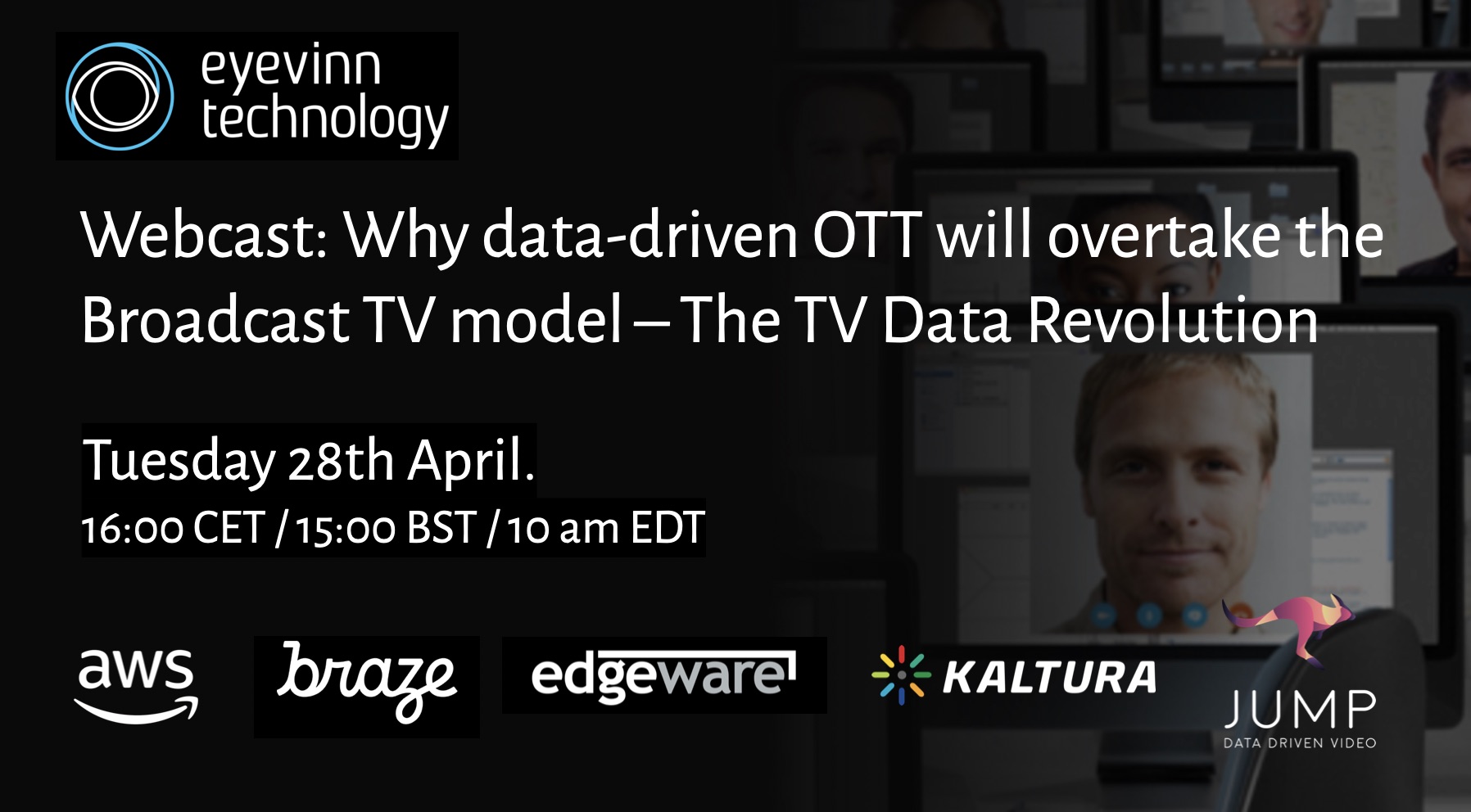 'On demand' must be the top reason people love streaming services. But for streaming providers, the motivation to deliver these services goes deeper than meeting market demand; The data that can be gathered as people watch is revolutionising business models.
Eyevinn Technology, the Swedish specialist consultancy firm focused on video and distribution brings this data into the spotlight tomorrow, Tuesday 28th, to discuss how different segments of the industry are using the data and why you should have a data strategy. This virtual panel brings together AWS, Braze, Edgeware, Eyevinn Technology, Jump TV, and Kaltura that will shed light on the
benefits you can get having a compelling data strategy.
"I believe we have gathered a very interesting combination of speakers and I can promise an insightful hour with a lot of good takeaways"
We see the evidence of the power of this data in the EULAs for Smart TVs which make it clear that they are watching you. Famously, North American TV Manufacturer Vizio was caught collecting "as many as 100 billion data points each day from millions of TVs," according to the US FTC. This resulted in a class action suit and a judgement against Vizio.
This virtual panel looks at collecting data in the right way, discussing what data to collect and how to motivate subscribers to share their data. Importantly in today's global society which needs to serve very privacy-conscious countries, there will be discussion about how to use the data that has been collected. They'll be looking at how can data be used to understand how to scale your OTT solution, how can data be used to make the experience better and how can data be used to increase engagement and reduce churn.
Speakers
Johan Bolin
Chief Product and Technology Officer,
Edgeware
Gideon Gilboa
Marketing and Solutions – Media and Telecom,
Kaltura

Jerónimo Macanás
CEO,
Jump Data-Driven Video
Warrick Godfrey
VP, Industry Solutions,
Braze
Simon Frost
Head of EMEA Media Marketing,
Amazon Web Services (AWS)
Magnus Svensson
Media Solution Specialist,
Eyevinn