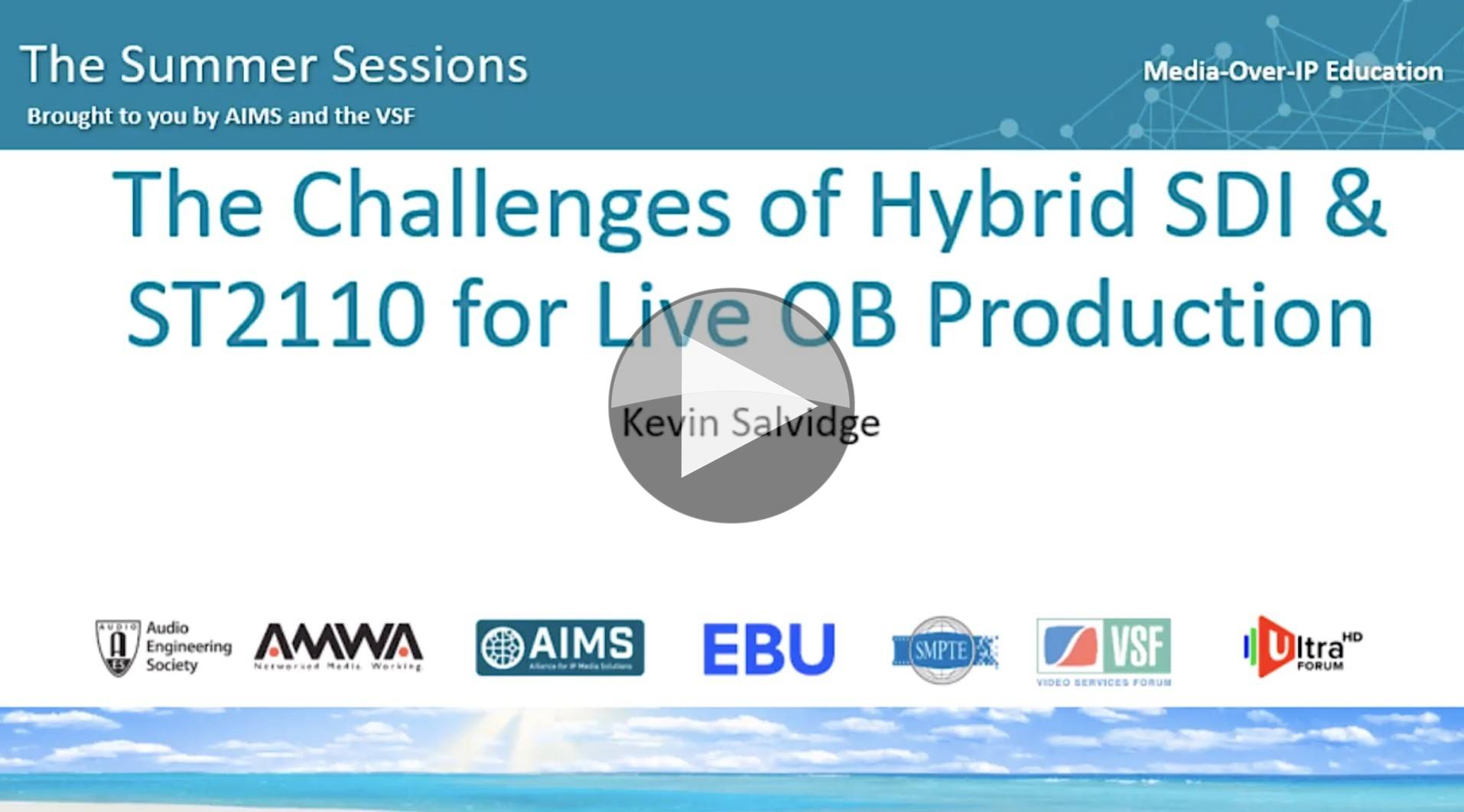 It's no secret that SDI is still the way to go for some new installations. For all the valid interest in SMPTE's ST 2110, the cost savings are only realised either on a large scale or in the case that a system needs continuous flexibility (such as an OB truck) or scalability in the future. Those installations which have gone IP still have some SDI lying around somewhere. Currently, there are few situations where there is an absolute 'no SDI' policy because there are few business cases which can afford it.
Looking at the current deployments of broadcast 2110, we have large, often public, broadcasters who are undergoing a tech refresh for a building and can't justify such as massive investment in SDI or they are aiming to achieve specific savings such as Discovery's Eurosport Transformation Project which is an inspirational, international project to do remote production for whole buildings. We also have OB trucks who benefit significantly from reduced cabling, higher density routing and flexibility. For a more detailed view on 2110 in trucks, watch this video from NEP. In these scenarios, there is nearly always SDI still involved. Some equipment doesn't yet work fully in 2110, some doesn't yet work at all and while there are IP versions of some products, the freelance community still needs to learn how to use the new products or work in the new workflows. If you have a big enough project, you'll hit the 'vendor not yet ready' problem, if you have an OB-truck or similar, you are likely to have to deal with the freelance experience issue. Both are reducing, but are still real and need to be dealt with.
Kevin Salvidge from Leader joins the VSF's Wes Simpson to share his experience of these SDI/IP mixed workflows, many of which are in OB trucks so also include mixed HDR workflows. He starts by talking about PTP and GPS discussing how timing needs to be synced between locations. He then takes a closer look at the job of the camera shaders who make sure all the cameras have the same colour, exposure etc. Kevin talks about how live production in HDR and SDR work touching on the problem of 'immediacy'. Shaders need to swap between cameras quickly and are used to the immediate switch that SDI can provide. IP can't offer quite the same immediacy, Kevin says that some providers have added delays into the SDI switches to match the IP switch times within the same truck. This helps set expectations and stop operators pressing two or more times to get a switch made.
Kevin finishes his talk on the topic of synchronising analogue timing signals with PTP. Kevin shows us the different tools you can use to monitor these signals such as a display of PTP timing against B&B timing, a BMCA data readout of data from the PTP grandmasters to check if the BMCA algorithm is working correctly, PTP delay time, packet inter-arrival time, path delay, traffic shaping monitoring. He then closes with a Q&A talking about the continued prevalence of SDI, what 'eye patterns' are in the IP world and increasing HDR roll-outs.
Watch now!
Speaker
Kevin Slavidge
European Regional Development Manager
Leader Europe Ltd.
Moderator: Wes Simpson
President, Telcom Product Consulting
Owner, LearnIPVideo.com