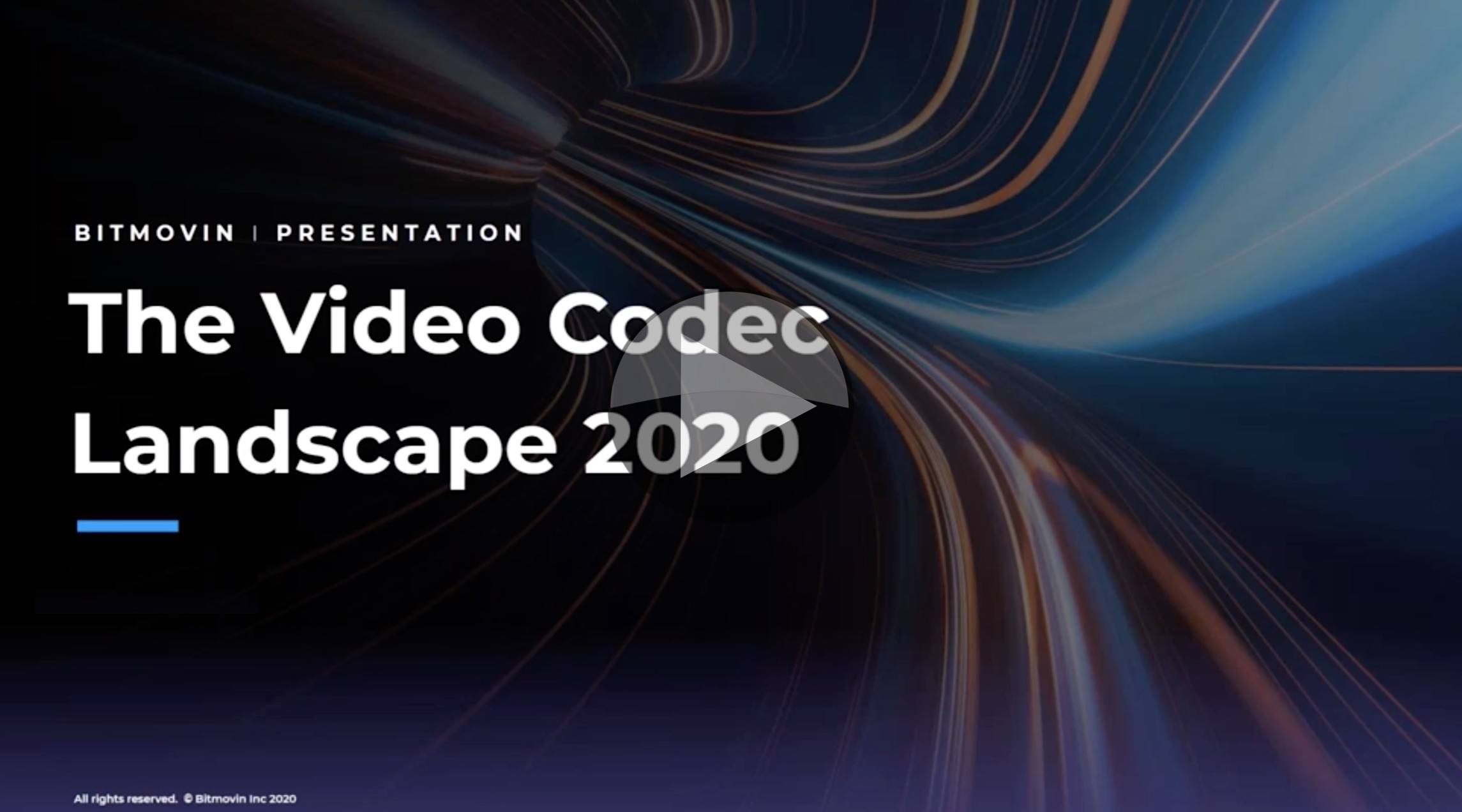 2020 has brought a bevvy of new codecs from MPEG. These codecs represent a new recognition that the right codec is the one that fits your hardware and your business case. We have the natural evolution of HEVC, namely VVC which trades on complexity to achieve impressive bit rate savings. There's a recognition that sometimes a better codec is one that has lower computation, namely LCEVC which enables a step-change in quality for lower-power equipment. And there's also EVC which has a license-free mode to reduce the risk for companies that prefer low-risk deployments.
Christian Feldmann from Bitmovin takes the stage in this video to introduce these three new contenders in an increasingly busy codec landscape. Christian starts by talking about the incumbents namely AVC, HEVC, VP9 and AV1. He puts their propositions up against the promises of these new codecs which are all at the point of finalisation/publication. With the current codecs, Christian looks at what the hardware and software support is like as well as the licencing.
EVC (Essential Video Codec) is the first focus of the presentation whose headline feature is more reliably licence landscape. The first offer is the baseline profile which has no licencing as it uses technologies that are old enough to be outside of patents. The main profile does require licencing and does allow much better performance. Furthermore, the advanced tools in the main profile can each be turned off individually hence avoiding patents that you don't want to licence. The hope is that this will encourage the patent holders to licence the technology in a timely manner else the customer can, relatively easily, walk away. Using the baseline only should provide 32% better than AVC and the main profile can give up to a 25% benefit over HEVC.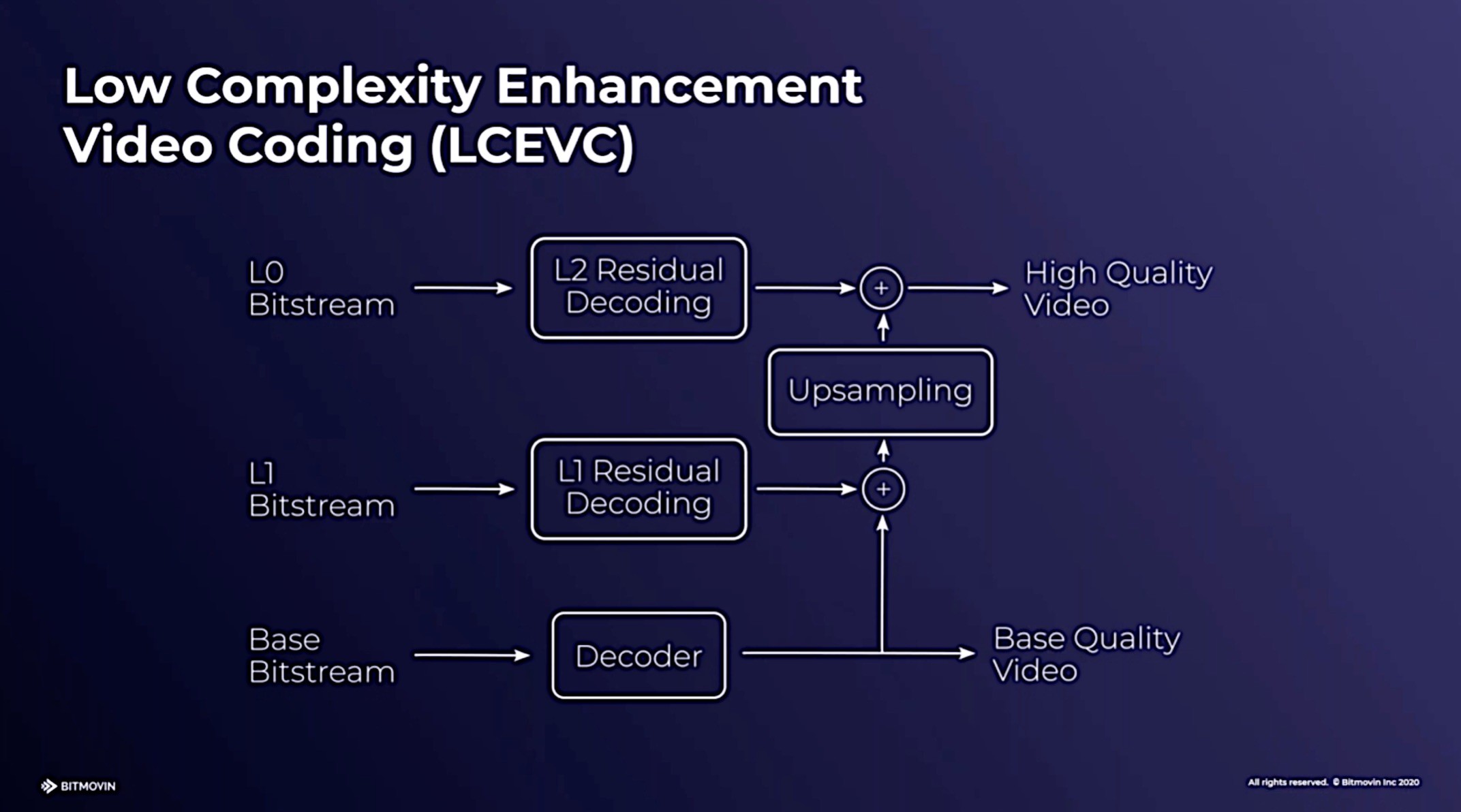 LCEVC (Low Complexity Enhancement Video Coding) is next which is a new technique for encoding which is actually two codecs working together. It uses a 'base' codec at low resolution like AVC, HEVC, AV1 etc. This low fidelity version is then accompanied by enhancement information so that the low-resolution base can be upscaled to the desired resolution can be corrected with relevant edges etc. added. The overall effect is that complexity is kept low. It's designed as a software codec that can fit into almost any hardware by using the hardware decoders in SoCs/CPUs (i.e. Intel QuickSync) plus the CPU itself which deals with the enhancement application. This ability to fit around hardware makes the codec ideal for improving the decoding capability to existing hardware. It stands up well against AVC providing at least 36% improvement and at worst improves slightly upon HEVC bitrates but with much-reduced encoder computation.
VVC (Versatile Video Coding) is discussed by Christian but not in great detail as Bitmovin will be covering that separately. As an evolution of HEVC, it's no surprise that bitrate is reduced by at least 40%, though encoding complexity has gone up 10-fold. This is similar to HEVC compared to its predecessor AVC. VVC has some built-in features not delivered as standard before such as special modes for screen content (such as computer games) and 360-degree video.
Speaker
Christian Feldmann
Lead encoding engineer,
Bitmovin