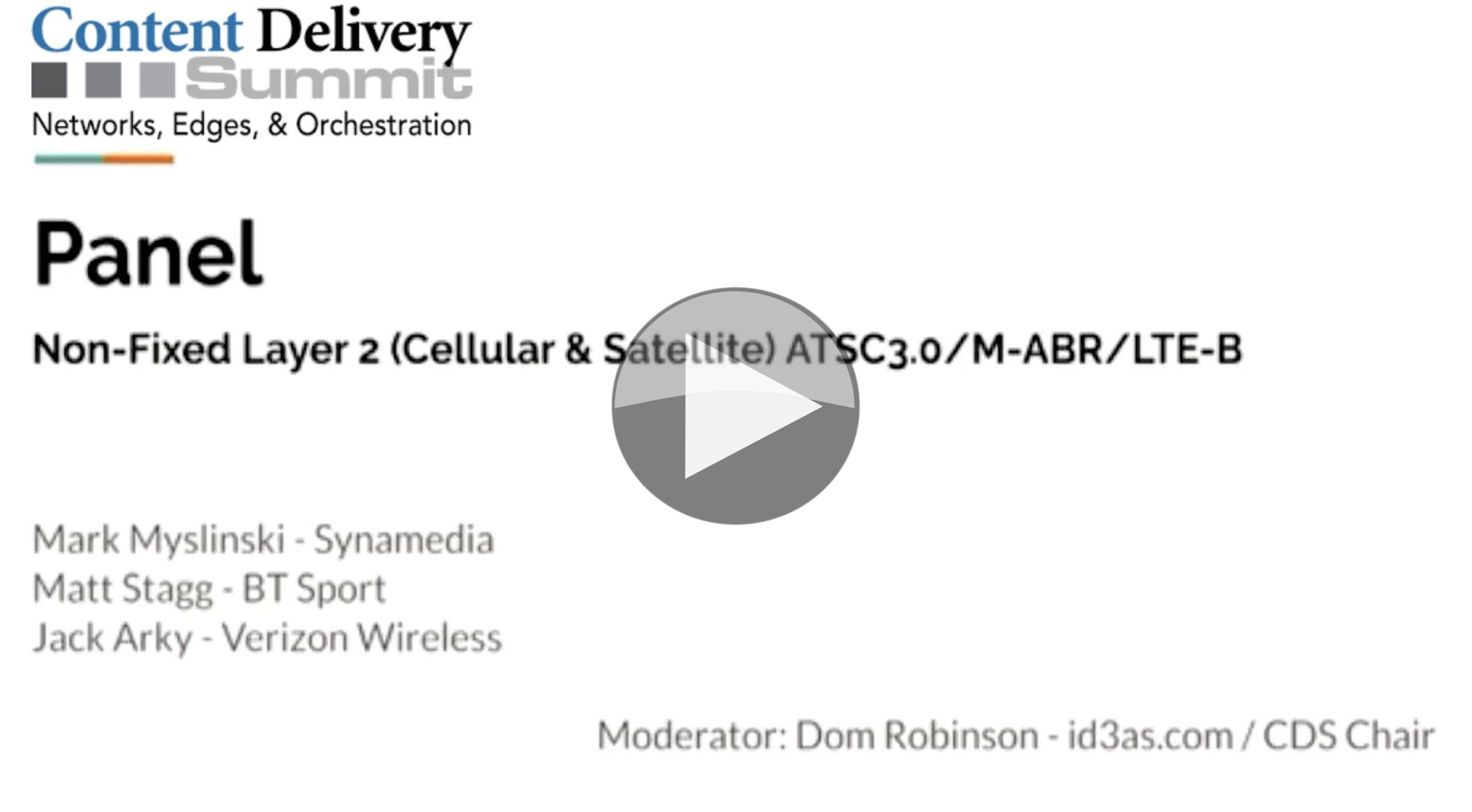 Wireless internet is here to stay and as it improves, it opens new opportunities for streaming and broadcasting. With SpaceX delivering between 20 and 40ms latency, we see that even satellite can be relevant for low-latency streaming. Indeed radio (RF) is the focus of this talk discussing how 5G, LTE, 4G, ATSC and satellite fit into delivering streaming media o everyone.
LTE-B, in the title of this talk refers to LTE Broadcast, also known as eMBMS (Evolved Multimedia Broadcast Multicast Services.) delivered over LTE technology. Matt Stagg underlines the importance of LTE-B saying "Spectrum is finite and you shouldn't waste it sending unicast". Using LTE-B, we can achieve a one-to-many push with orchestration on top. ROuters do need to support this and UDP transport, but this is a surmountable challenge.
Matt explains that BT did a trial of LTE-B with BBC. The major breakthrough was they could 'immediately' deliver the output of an EVS direct to the fans in the stadium. For BT, the problem came with hitting critical mass. Matt makes the point that it's not just sports, Love Island can get the same viewership. But with no support from Apple, the number of compatible devices isn't high enough.
"Spectrum is final and you shouldn't waste it sending unicast"
Turning the attention of the panel which includes Synamedia's Mark Myslinski and Jack Arky from Verizon Wireless. Matt says that, in general, bandwidth capacity to edges in the UK is not a big issue since there is usually dark fibre, but hosting content at the edge doesn't hit the spot due to the RAN. 5G has helped us move on beyond that.
Mark from Verizon explains that multi-edge access compute enabled by the low-latency of 5G. We need to move as much as is sensible to the edge to keep the delay down. Later in the video, we hear that XR (mixed reality) and AR (augmented reality) are two technologies which will likely depend on cloud computation to get the level of accurate graphics necessary. This will, therefore, require a low-latency connection.
From Verizon's perspective, the most important technology being rolled out is actually ATSC 3.0. Much discussed at NAB 2015, stability has come to the standard and it's now in use in South Korea and increasingly in the US. ATSC 3.0, as Mark explains, is a complimentary fully-IP technology to fit alongside 5G. He even talks about how 5G and ATSC could co-exist due to the open way the standards were created.
The session ends with a Q&A
Watch now!
Speakers
Mark Myslinski
Broadcast Solutions Manager,
Synamedia
Jack Arky
Senior Engineer, Product Development
Verizon Wireless
Matt Stagg
Director, Mobile Strategy
BT Sport
Dom Robinson
Co-Founder, Director and Creative Firestarter
id3as