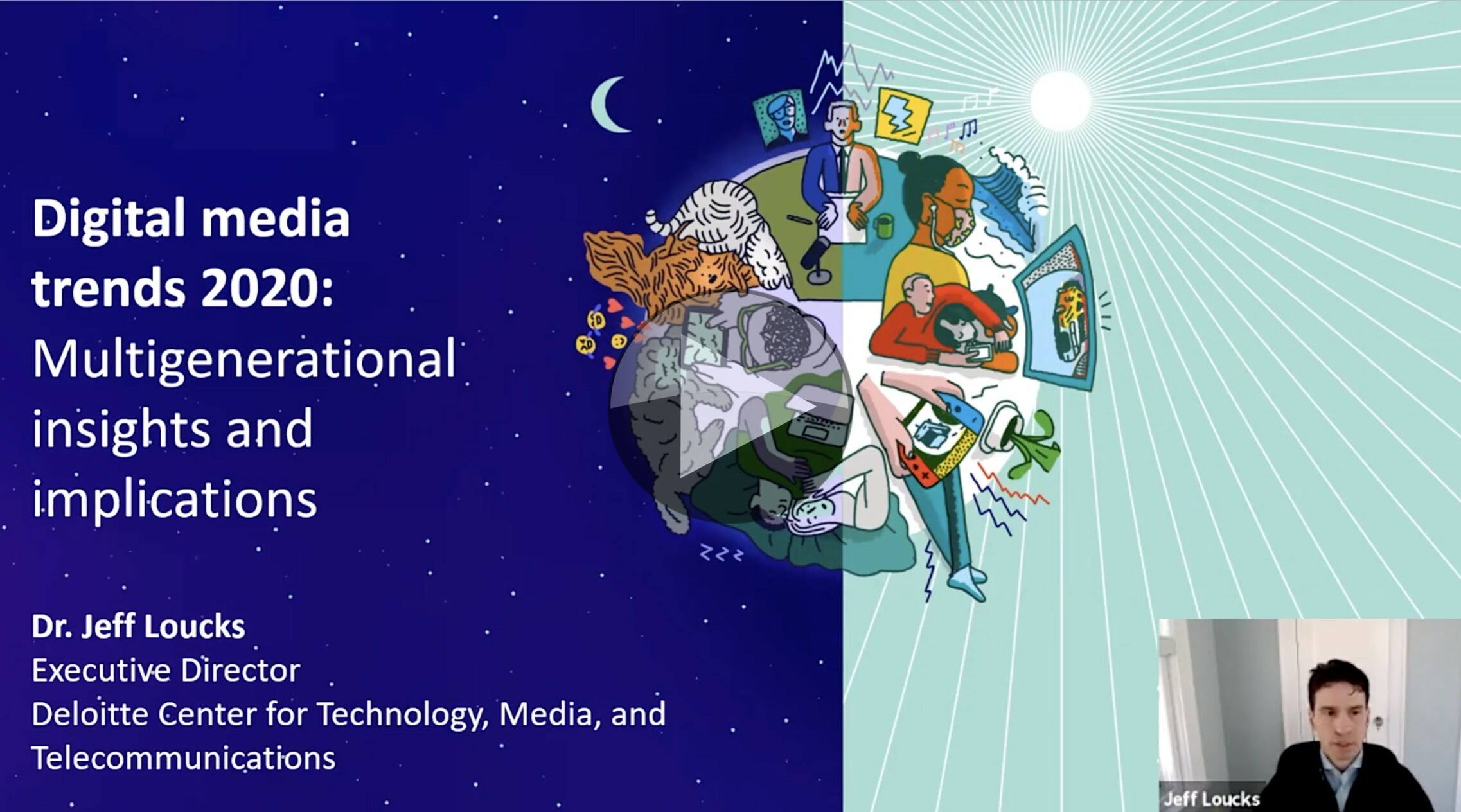 Research from before and during the pandemic paints a clear picture of how streaming has changed. This Deloitte research looked at ad-supported and subscription VOD across demographics as well as looking at how the film industry has faired as cinemas have remained closed in most places.
Jeff Loucks presents the results of surveys taken in the United States before the lockdown and then again in May and October 2020. The youngest demographic tracked is Gen Z born between 1997 and 2006, the oldest being 'matures' who are older than 73. The most critical measurement is the amount of money people have in their pocket. Around half said their finances were unchanged, up to 39% said their pay packet had reduced either somewhat or significantly, though this reduced to only 29% in October.
When including streaming music, video games audiobooks, US consumers had an average of 12 entertainment subscriptions which reduced to 11 by October. Concentrating on paid video subscriptions only, the average grew from 3 to 5 over the period of the research, with millennials leading the charge up to 7 services. However, churn also increased. Jeff explains that this is partly because free trials come to an end but also because people are judging services as too expensive. It seems that there is a certain amount of experimentation going on with people testing new combinations of services to find the mix that suits them.
Jeff makes the point that there are around 300 paid streaming services in the US market which is 'too many to stick around'. Whilst it's clear that streaming providers are giving consumers the types of services they've been wanting from cable providers for years, they are bringing a burden of complexity with them, too.
Hulu and YouTube are two services that give the flexibility of watching an ad-supported version or an ad-free version of the service. Across the market, 60% of people use at least one free ad-supported service. Whilst Hulu's ad-supported service isn't free, giving these options is a great way to cater to different tastes. the Deloitte research showed that whilst Gen Z and Millenials would prefer to pay for an ad-free service, older 'boomers and 'matures' would rather use an ad-supported service. Furthermore, when given the option to pay a little for half the ads, customers prefer the extremes rather than the halfway house. Overall, 7 minutes of ads an hour is the number which people say is the right balance, with 14 being too many,
Films have been hit hard by the pandemic, but by the end of the pandemic, 35% of people said they had paid to watch a new release on a streaming platform up 13% from May and 90% said they would likely do it again. Theatrical release windows have been under examination for many years now, but the pandemic really forced the subject. The percentage of revenue made during the 'DVD release' period has gone down over the decades. Nowadays, a film makes most of its money, 45%, during its theatrical release window with the 'TV' revenue being squeezed down 10% to 18% of the overall revenue. It's clear then, that studios will be careful with that 45% share to ensure it's suitably replaced as they move ahead with their 2022 plans.
Each genre has its own fingerprint with comedy and dramas making less money in the box office, proportionally than animations and action movies, for instance. So whilst we may see notable changes in distribution windows, they may be more aggressive for some releases than others when the pandemic has less of a say in studios' plans.
This video is based on research that can be read in much more detail here:
Digital Media Trends Consumption Habits Survey
Watch now!
Speakers
Dr. Jeff Loucks
Executive Director,
Deloitte Center for Technology, Media & Telecommunications