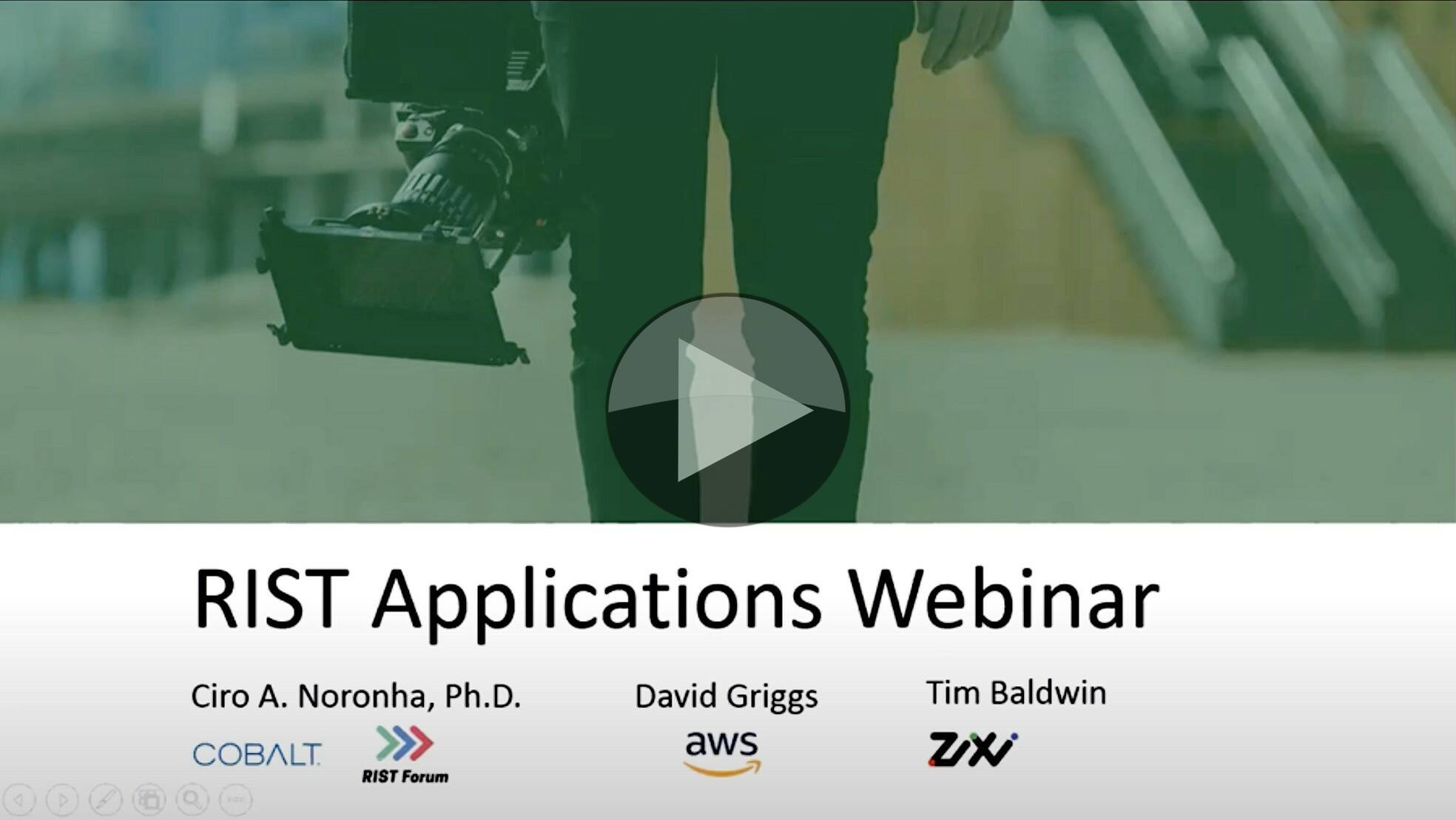 TV isn't made in one place anymore. Throughout media and entertainment, workflows increasingly involve many third parties and being in the cloud. Content may be king, but getting it from place to place is foundational in our ability to do great work. RIST is a protocol that is able to move video very reliably and flexibly between buildings, into, out of and through the cloud. Leveraging its flexibility, there are many ways to use it. This video helps review where RIST is up to in its development and understand the many ways in which it can be used to solve your workflow problems.
Starting the RIST overview is Ciro Noronha, chair of the RIST Forum. Whilst we have delved in to the detail here before in talks like this from SMPTE and this talk also from Ciro, this is a good refresher on the main points that RIST is published in three parts, known as profiles. First was the Simple Profile which defined the basics, those being that it's based on RTP and uses an ARQ technology to dynamically request any missing packets in a timely way which doesn't trip the stream up if there are problems. The Main Profile was published second which includes encryption and authentication. Lastly is the Advanced Profile which will be released later this year.
Ciro outlines the importance of the Simple Profile. That it guarantees compatibility with RTP-only decoders, albeit without error correction. When you can use the error correction, you'll benefit from correction even when 50% of the traffic is being lost unlike similar protocols such as SRT. Another useful feature for many is multi-link support allowing you to use RIST over bonded LTE modems as well as using SMPTE ST 2022-7
The Main Profile brings with it support for tunnelling meaning you can set up one connection between two locations and put multiple streams of data through. This is great for simplifying data connectivity because only one port needs to be opened in order to deliver many streams and it doesn't matter in which direction you establish the tunnel. Once established, the tunnel is bi-directional. The tunnel provides the ability to carry general data such as control data or miscellaneous IT.
Encryption made its debut with the publishing of the Main Profile. RIST can use DTLS which is a version of the famous TLS security used in web sites that runs on UDP rather than TCP. The big advantage of using this is that it brings authentication as well as encryption. This ensures that the endpoint is allowed to receive your stream and is based on the strong encryption we are familiar with and which has been tested and hardened over the years. Certificate distribution can be difficult and disproportionate to the needs of the workflow, so RIST also allows encryption using pre-shared keys.
Handing over now to David Griggs and Tim Baldwin, we discuss the use cases which are enabled by RIST which is already found in encoders, decoders and gateways which are on the market. One use case which is on the rise is satellite replacement. There are many companies that have been using satellite for years and for whom the lack of operational agility hasn't been a problem. In fact, they've also been able to make a business model work for occasional use even though, in a pure sense, satellite isn't perfectly suited to occasional use satellites. However, with the ability to use C-band closing in many parts of the world, companies have been forced to look elsewhere for their links and RIST is one solution that works well.
David runs through a number of others including primary and secondary distribution, links aggregation, premium sports syndication with the handoff between the host broadcaster and the multiple rights-holding broadcasters being in the cloud and also a workflow for OTT where RIST is used for ingest.
RIST is available as an open source library called libRIST which can be downloaded from videolan and is documented in open specifications TR-06-1 and TR-06-2. LibRIST can be found in gstreamer, Upipe, VLC, Wireshark and FFmpeg.
The video finishes with questions about how RIST compares with SRT. RTMP, CMAF and WebRTC.
Watch now!
Speakers
Tim Baldwin
Head of Product,
Zixi
David Griggs
Senior Product Manager, Distribution Platforms
Disney Streaming Services
Ciro Noronha
President, RIST Forum
Executive Vice President of Engineering, Cobalt Digital