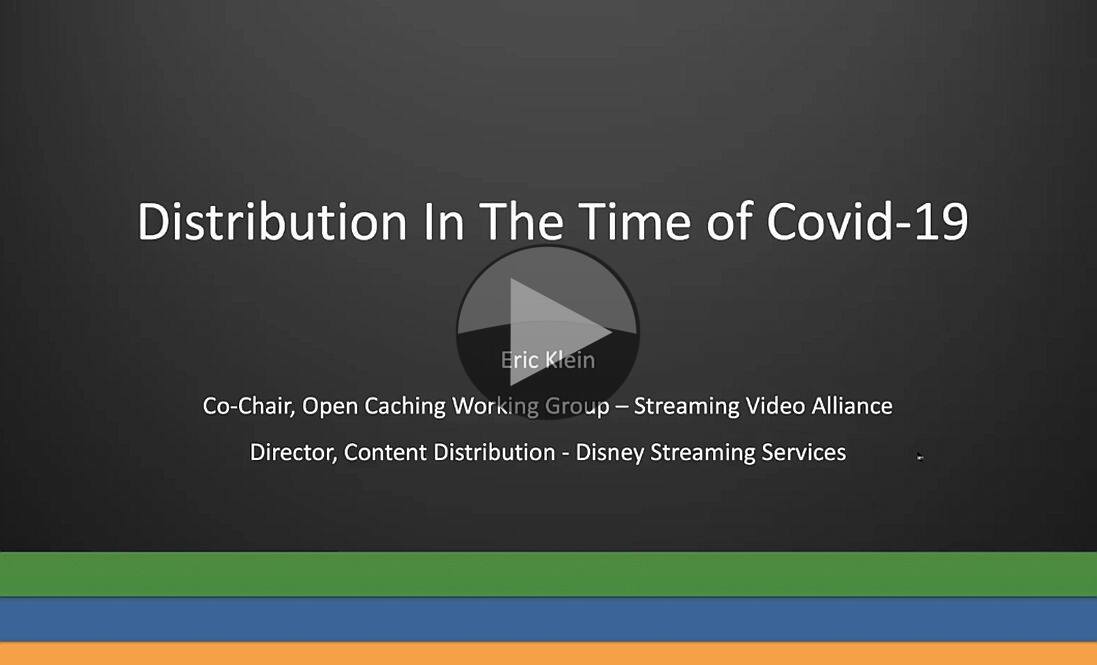 A look at the impacts of Covid-19 from the perspective of Disney+ and ESPN+. In this talk Eric Klein from Disney Streaming Services gives his view on the changes and learnings he saw as Covid hit and as it continues. He first comments on the increase in 'initial streams' as the lockdowns hit with Austria topping the list with a 44% increase of time spent streaming within a just a 48-hour period and in the US, Comcast has reported an uptick of 38% in general streaming and web video consumption. Overall fixed broadband networks tended to do better with the peaks than mobile broadband, whereas mobile internet which is quite common in Italy was observed to be suffering.
Distribution in a Covid-19 World from Streaming Video Alliance on Vimeo.
Content providers played their part to help with the congestion in adjusting to the situation by altering video profiles and changing starting bitrates as part of an industry-wide response. And it's this element of everybody playing their part which seems to be the secret sauce behind Eric's statement that "the internet is more resilient than everybody thought". Eric goes on to point out that such networks are designed to deal with these situations as the first question is always "what's your peak traffic going to be". Whilst someone's estimates may be off, the point is that networks are provisioned for peaks so when many peak forecasts come to pass, their average is usually within the network's capabilities. The exceptions come on last-mile links which are much more fixed than provisioning of uplink ports and router backplane bandwidth within datacentres.
Eric points out the benefits of open caching, a specification in development within the Streaming Video Alliance. Open caching allows for an interoperable way of delivering files into ISP, modelled around popular data, so that services can cache data much closer to customers. By doing this, Eric points to data which has shown an ability to deliver an up to 15% increase in bandwidth as well as a 30% decrease in 'customer-impacting events.
This session ends with a short Q&A
Watch now!
Speakers
Eric Klein
Co-Chair, Open Caching Workgroup, Streaming Video Alliance,
Director, Content Distribution, Disney Streaming Services
Moderator: Jason Thibeault
Executive Director,
Streaming Video Alliance