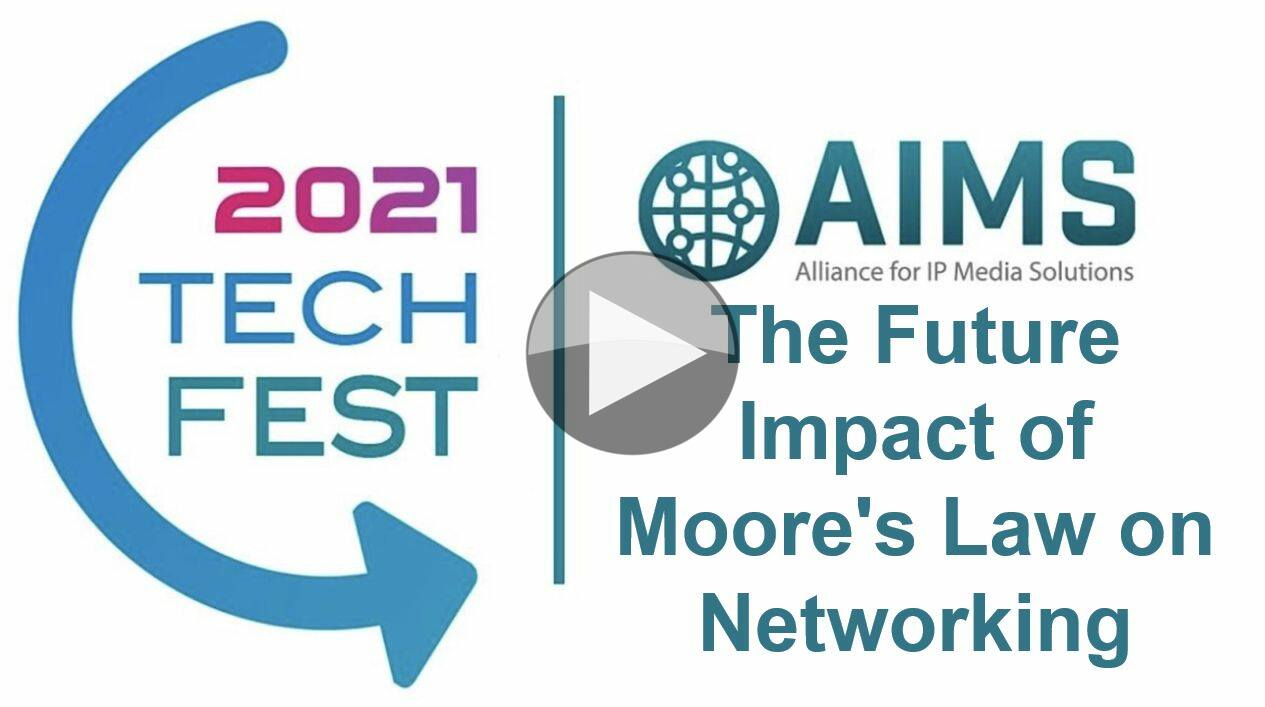 Many feel that Moore's law has lost its way when it comes to CPUs since we're no longer seeing a doubling of chip density every two years. This change is tied to the difficulty in shrinking transistors even more when their size is already close to some of the limits imposed by physics. In the networking world, transistors are bigger so which is allowing significant growth in bandwidth to continue. In recent years we have tracked the rise of 1GbE which made way for 10GbE, 40GbE and 100 Gigabit networking. We're now seeing general availability of 400Gb with 800Gb firmly on the near-term roadmaps as computation within SFPs and switches increases.
In this presentation, Arista's Robert Welch and Andy Bechtolsheim, explain how the 400GbE interfaces are made up, give insight into 800GbE and talks about deployment possibilities for 400GbE both now and in the near future harnessing in-built multiplexing. It's important to realise that high capacity links we're used to today of 100GbE or above are delivered by combining multiple lower-bandwidth ethernet links, known as lanes. 4x25GbE gives a 100GbE interface and 8x50GbE lanes provides 400GbE. The route to 800GbE is, then to increase the number of lanes or bump the speed of the lanes. The latter is the chosen route with 8x100GbE in the works for 2022/2023.
One downside of using lanes is that you will often need to break these out into individual fibres which is inconvenient and damages cost savings. Robert outlines the work being done to bring wavelength multiplexing (DWDM) into SFPs so that multiple wavelengths down one fibre are used rather than multiple fibres. This allows a single fibre pair to be used, much simplifying cabling and maintaining compatibility with the existing infrastructure. DWDM is very powerful as it can deliver 800GB over distances of over 5000km or 1.6TB for 1000km, It also allows you to have full-bandwidth interconnects between switches. Long haul SFPs with DWDM built in are called OSFP-LS transceivers.
Cost per bit is the religion at play here with the hyperscalers keenly buying into the 400Gb technology because this is only twice-, not four-, times the price of the 100Gb technology it's replacing. The same is true of 800Gb. The new interfaces will run the ASICs faster and so will need to dissipate more heat. This has led to two longer form factors, the OSFP and QSFP-DD. The OSFP is a little larger than the QSFP but an adaptor can be used to maintain QSFP-form factor compatibility.
Andy explains that 800Gb Ethernet has been finished by the Ethernet Technology Alliance and is going into 51,2t silicon which will allow channels of native 800Gb capacity. This is somewhat in the future, though and Andy says that in the way 25G has worked well for us the last 5 years, 100gig is where the focus is for the next 5. Andy goes on to look at what future 800G chassis might loo like saying that in 2U you would expect 64 800G OSFP interfaces which could provide 128 400G outputs or 512 100G outputs with no co-packaged optics required.
Watch now!
Speakers
Robert Welch
Technical Solutions Lead,
Arista
Andy Bechtolsheim
Chairman, Chief Development Officer and Co-Founder,
Arista Networks