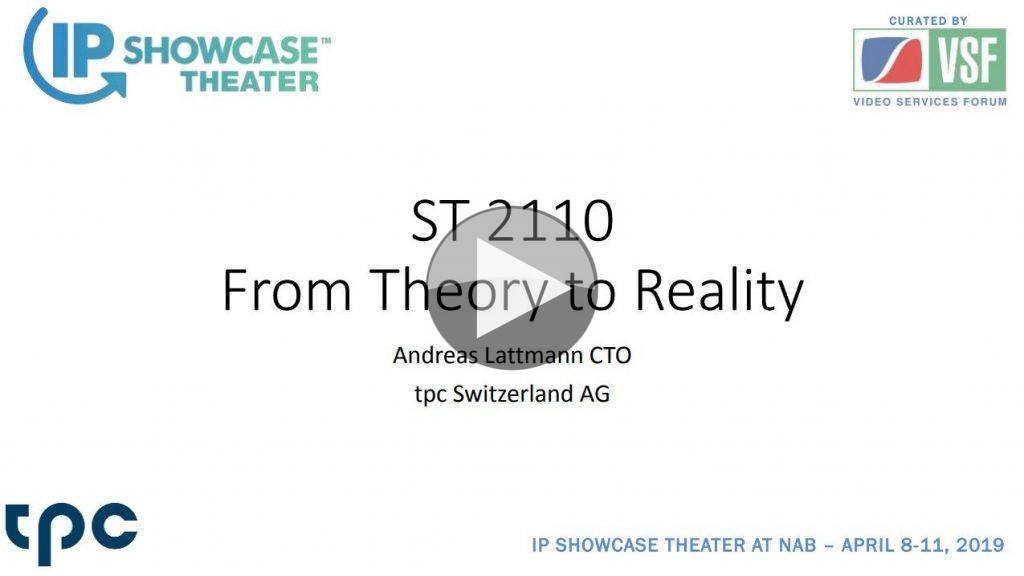 Delivering an all-IP truck is no mean feat. tpc explains what they learnt, what went well and how they succeeded in delivering a truck which takes no longer to fire up than a traditional SDI truck.
A common question among people considering a move to IP is 'do I need to?' and 'how can I get ready?'. Here at The Broadcast Knowledge we always say 'find a small project, get it working, learn what goes wrong and then plan the one you really wanted to do.' The Swiss broadcasting service provider 'Technology and Production Centre', known as 'tpc', has done just that.
tpc is currently working on the Metechno project – a large, all-IP news, sports and technology centre for Swiss radio and television. In order to acquire necessary experience with the SMPTE ST 2110 standard, tpc designed the UHD1 OB van ahead of time which has been used in TV production for 6 months now. In this video, Andreas Lattmann shares the vision of the Metechno Project and, critically, his experiences related to the design and use of the truck.
The UHD1 is a 24-camera OB van with all IP core based on Arista switches with non-blocking architecture. It is the equivalent of an 184-square UHD SDI system however, it can be expanded by adding additional line cards to network switches. The truck is format agnostic, supporting both HD and UHD formats in HDR and SDR. IP gateways are incorporated for SDI equipment.
The SMPTE ST 2110 specification separates video and audio into discrete essence streams which boosts efficiency and flexibility, but we hear in this talk that more attention to latency (lip-sync) is required compared to SDI systems. Andreas talks about the flexibility this truck provides with up-/down-conversion, colour-correction for any video plus how IP has enabled full flexibility in what can be routed to the multiviewer screens.
Andreas spends some time discussing redundancy and how IP enables full redundancy – an improvement over many SDI infrastructures and how SMPTE's ST 2022-7 standard makes this possible.
The main GUI is based on a Lawo VSM control system which aims to deliver a familiar experience for operators who used to work in the SDI domain. Network training has been provided for all operators because troubleshooting has changed significantly with the introduction of essences over IP. This is not least because NMOS IS-04 and 05 standards were not mature enough during the design of the truck, so all IP connections had to be managed manually. With more than 50 thousand IP addresses in this system, AMWA's NMOS IS-04 which manages discovery and registration and IS-05 which manages the setup and take-down of connections would have helped significantly in the lean management of the truck.
Lattmann emphasizes the importance of using open standards like SMPTE ST 2110 instead of proprietary solutions. That allows you to choose the best components and not rely on a single manufacturer.
The learning's the Andreas presents us involve difficulties with PTP, IP training, the benefits of flexibility. From a video point of view, Andreas presents his experiences with HDR->SDR workflows, focussing in HDR and UHD.
Speaker
Andreas Lattmann
CTO, Head of Planning & Projects
tpc Switzerland AG