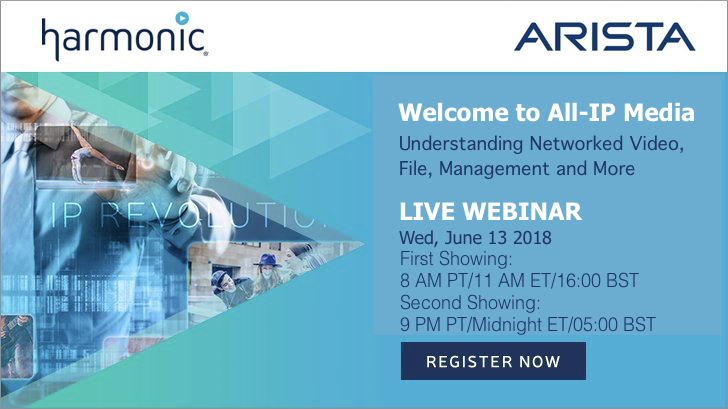 Date: June 13th 2018
First Showing: 8 AM PT/11 AM ET/16:00 BST
Second Showing: 9 PM PT/Midnight ET (14th)/05:00 BST (14th)
Now that uncompressed media has arrived for COTS networking infrastructure in the media and entertainment industry we can complete the picture for all IP transport, covering all aspects of the content delivery chain. Marrying hardware and software-based systems to high-performance network infrastructure is critical to making all IP end–to-end video workflows a reality.
Join industry experts from Harmonic and Arista Networks for an in-depth discussion of practical lessons for supporting networked video and file workflows along with management, monitoring and control.
Topics Include:
The impact of uncompressed media over IP on existing IP workflows
The technologies enabling the transport of uncompressed flows
Network topologies and routing for small and large production systems
Use cases, including uncompressed end-to-end studio production and playout, and encoding for broadcast and OTT
The reality of HD over 10Gig
Speakers

Andy Warman
Director, Playout Solutions, Harmonic
Board Member and Marketing Working Group Chair, AIMS
Andy Warman is the Director of playout solutions at Harmonic. He provides business development and strategic direction for Harmonic's line of playout enabled solutions for cloud and appliances including Spectrum media server, the Polaris automation suite, MediaGrid shared storage solutions and VOS cloud-native media processing. Warman also serves on the board of directors of the Alliance for the IP Media Solutions (AIMS).
Robert Welch
Technical Solutions Lead
Arista Networks
Robert Welch is a Technical Solutions Lead at Arista Networks, working with customers and partners on innovative solutions to business challenges.