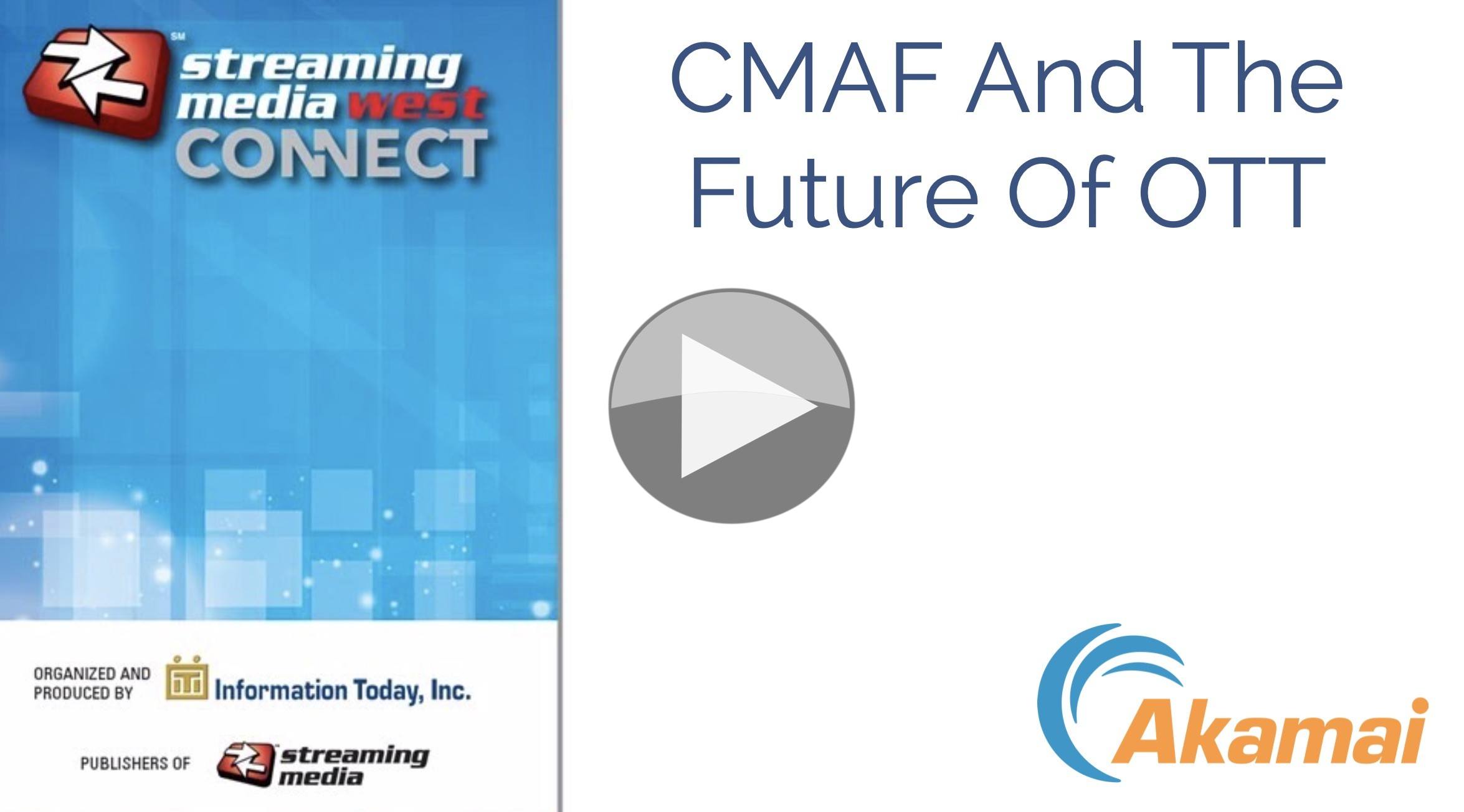 Why is CMAF still 'the future' of OTT? Published in 2018, CMAF's been around for a while now so what are the challenges and hurdles holding up implementation? Are there reasons not to use it at all? CMAF is a way of encoding and packaging media which then can be sent using MPEG DASH and HLS, the latter being the path Disney+ has chosen, for instance.
This panel from Streaming Media West Connect, moderated by Jan Ozer, discusses CMAF use within Akami, Netflix, Disney+, and Hulu. Peter Chave from Akamai starts off making the point that CMAF is important to CDNs because if companies are able to use just one CMAF file as the source for different delivery formats, this reduces storage costs for consumers and makes each individual file more popular thus increasing the chance of having a file available in the CDN (particularly at the edge) and reducing cache misses. They've had to do some work to ensure that CMAF is carried throughout the CDN efficiently and ensuring the manifests are correctly checked.
Disney+, explains Bill Zurat, is 100% HLS CMAF. Benefiting from the long experience of the Disney Streaming Services teams (formerly BAMTECH), but also from setting up a new service, Disney were able to bring in CMAF from the start. There are issues ensuring end-device support, but as part of the launch, a number were sunsetted which didn't have the requirements necessary to support either the protocol or the DRM needed.
Hulu is an aggregator so they have strong motivation to normalise inputs, we hear from Hulu's Nick Brookins. But they also originate programming along with live streaming so CMAF has an important to play on the way in and the way out. Hulu dynamically regenerates their manifests so can iterate as they roll out easily. They are currently part the way through the rollout and will achieve full CMAF compatibility within the next 18 months.
The conversation turns to DRM. CMAF supports two methods of DRM known as CTR (adopted by Apple) and CBC (also known as CBCS) which has been adopted by others. AV1 supports both, but the recommendation has been to use CBC which appears have been universally followed to date explains Netflix's Cyril Concolato. Netflix have been using AV1 since it was finalised and are aiming to have most titles transitioned by 2021 to CMAF.
Peter comments from Akamai's position that they see a number of customers who, like Disney+ and Peacock, have been able to enter the market recently and move straight into CMAF, but there is a whole continuum of companies who are restricted by their workflows and viewer's devices in moving to CMAF.
Low latency streaming is one topic which invigorates minds and debates for many in the industry. Netflix, being purely video on demand, they are not interested in low-latency streaming. However, Hulu is as is Disney Streaming Services, but Bill cautions us on rushing to the bottom in terms of latency. Quality of experience is improved with extra latency both in terms of reduced rebuffering and, in some cases, picture quality. Much of Disney Streaming Services' output needs to match cable, rather than meeting over-the-air latencies or less.
The panel session finishes with a quick-fire round of questions from Jan and the audience covering codec strategy, whether their workflows have changed to incorporate CMAF, just-in-time vs static packaging, and what customers get out of CMAF.
Watch now!
Speakers
Cyril Concolato
Senior Software Engineer,
Netflix
Peter Chave
Principal Architect,
Akamai
Nick Brookins
VP, Platform Services Group,
Hulu
Bill Zurat
VP, Core Technology
Disney Streaming Services
Moderator: Jan Ozer
Contributing Editor, Streaming Media
Owner, StreamingLearningCenter.com