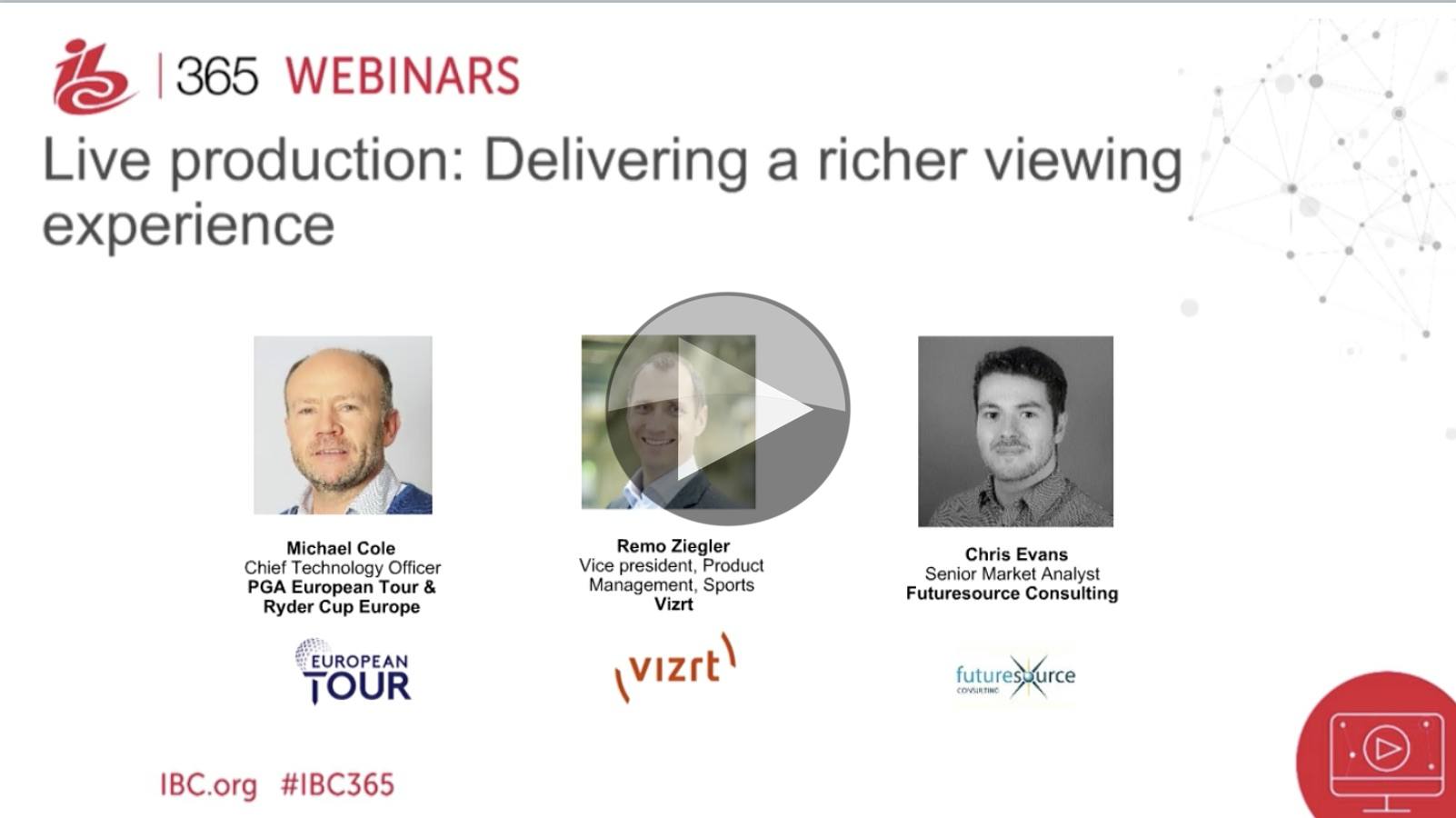 How can large sports events keep an increasingly sophisticated audience entertained and fully engaged? The technology of sports coverage has pushed broadcasting forwards for many years and there's no change. More than ever there is a convergence of technologies both at the event and delivering to the customers which is explored in this video.
First up is Michael Cole, a veteran of live sports coverage, now working for the PGA European Tour and Ryder Cup Europe. As the event organisers – who host 42 golfing events throughout the year – they are responsible for not just the coverage of the golf, but also a whole host of supporting services. Michael explains that they have to deliver live stats and scores to on-air, on-line and on-course screens, produce a whole TV service for the event-goers, deliver an event app and, of course run a TV compound.
One important aspect of golfing coverage is the sheer distances that video needs to cover. Formerly that was done primarily with microwave links and whilst RF still plays an important part of coverage with wireless cameras, the long distances are now done by fibre. However as this takes time to deploy each time and is hard to conceal in otherwise impeccably presented courses, 5G is seeing a lot of interest to validate its ability to cut rigging time and costs along with making the place look tidier in front of the spectators.
Michael also talks about the role of remote production. Many would see this an obvious way to go, but remote production has taken many years to slowly be adopted. Each broadcaster has different needs so getting the right level of technology available to meet everyone's needs is still a work in progress. For the golfing events with tens of trucks, and cameras, Michael confirms that remote production and cloud is a clear way forward at the right time.
Next to talk is Remo Ziegler from VizRT who talks about how VizRT serves the live sports community. Looking more at the delivery aspect, they allow branding to be delivered to multiple platforms with different aspect ratios whilst maintaining a consistent look. Whilst branding is something that, when done well, isn't noticed by viewers, more obvious examples are real-time, photo-realistic rendering for in-studio, 3D graphics. Remo talks next about 'Augmented Reality', AR, which can be utilised by placing moving 3D objects into a video making them move and look part of the picture as a way of annotating the footage to help explain what's happening and to tell a story. This can be done in real time with camera tracking technology which takes into account the telemetry from the camera such as angle of tilt and zoom level to render the objects realistically.
The talk finishes with Chris explaining how viewing habits are changing. Whilst we all have a sense that the younger generation watch less live TV, Chris has the stats showing the change from people 66 years+ for whom 'traditional content' comprises 82% of their viewing down to 16-18 year olds who only watch 28%, the majority of the remainder being made up from SCOD and 'YouTube etc.'.
Chris talks about the newer cameras which have improved coverage both by improving the technical ability of 'lower tier' productions but also for top-tier content, adding cameras in locations that would otherwise not have been possible. He then shows there is an increase in HDR-capable cameras being purchased which, even when not being used to broadcast HDR, are valued for their ability to capture the best image possible. Finally, Chris rounds back on Remote Production, explaining the motivations of the broadcasters such as reduced cost, improved work-life balance and more environmentally friendly coverage.
The video finishes with questions from the webinar audience.
Watch now!
Speakers
Michael Cole
Chief Technology Officer,
PGA European Tour & Ryder Cup Europe
Remo Ziegler
Vice President, Product Management, Sports,
Vizrt
Chris Evans
Senior Market Analyst,
Futuresource Consulting