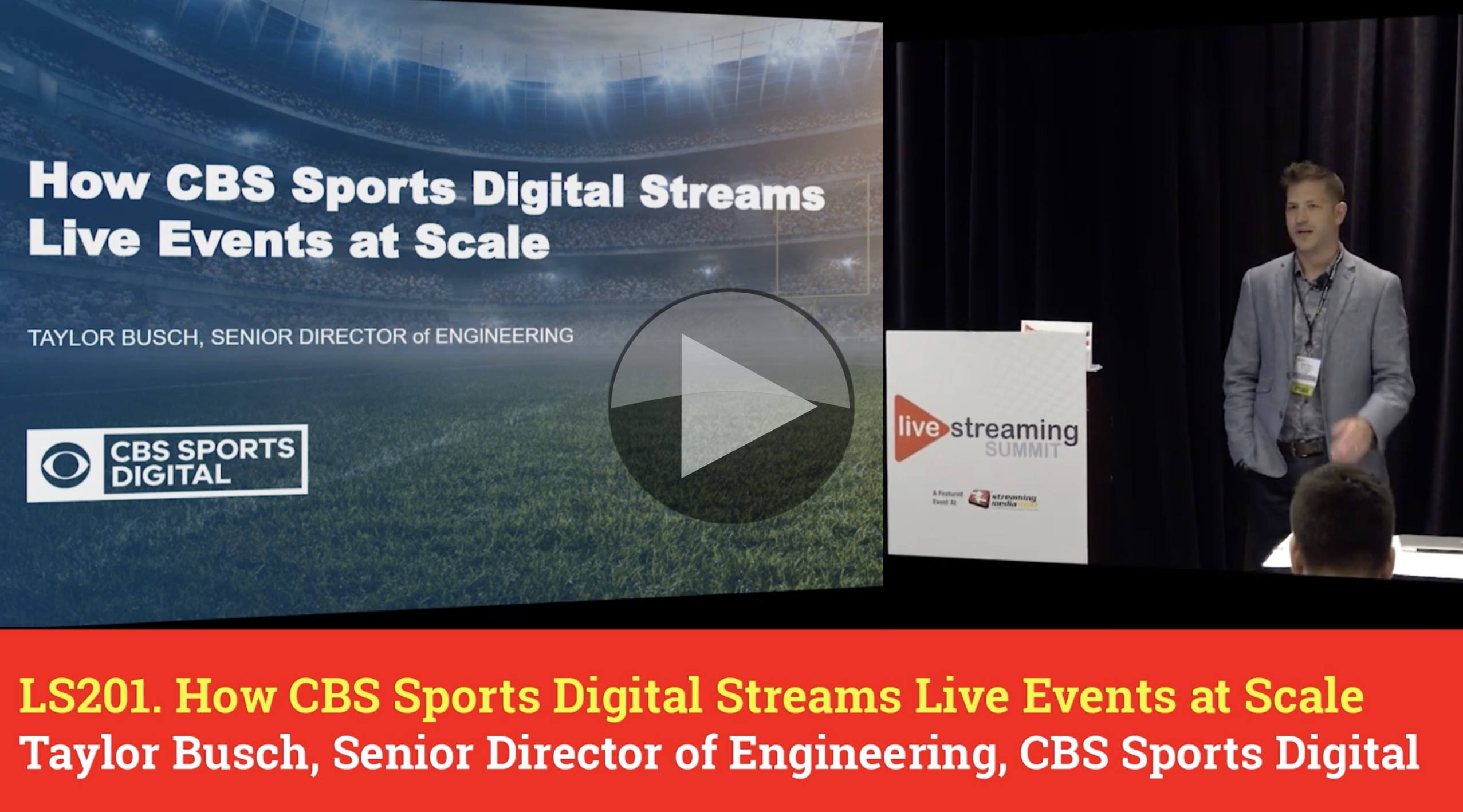 Delivering high scale in streaming really exposes the weaknesses of every point of your workflow, so even those of us who are not streaming at maximum scale, there are many lessons to be learnt. CBS Sports Digital delivered the Super Bowl using the principles of 'practice, practice, practice', keeping the solution as simple as possible and making mitigation of problems primary to solving them.
Taylor Busch tells walks us through their solution explaining how it supported their key principles and highlighting the technology used. Starting with Acquisition, he covers the SDI fibre delivery to a backup facility as well as the AWS Direct Connect links for their Elemental Live encoders. The origin servers were in two different regions and both received data from both sets of encoders.
CBS used 'Output locking' which ensures that the TS segments are all aligned even across different encoders which is done by respecting the timecode in the SDI and helps in encoder failover situations. QVBR encoding is a method of encoding up to a quality level rather than simply saying '7000 kbps'. QVBR provides a more efficient use a bandwidth since in the situations where a scene doesn't require a lot of bandwidth, it won't be sent. This variability, even if you run in capped mode to limit the bandwidth of particularly complex scenes, can look like a failing encoder to some systems, so the fact this is now in 'VBR' mode, needs to be understood by all the departments and companies who monitor your feed.
Advertising is famously important for the Super Bowl, so Taylor gives an overview of how they used the CableLabs ESAM protocol and SCTE to receive information about and trigger the adverts. This combined SCTE-104, ESAM and SCTE-35 as we'll as allowing clients to use VAST for tracking. Extra caching was provided by Fastly's Media Shield which tests for problems with manifests, origin servers and encoders. This fed a Multi-CDN setup using 4 CDNs which could be switched between. There is a decision point for requests to determine which CDN should answer.
Taylor then looks at the tools, such as Mux's dashboard, which they used to spot problems in the system; both NOC-style tools and multiviewers. They set up three war rooms which looked at different aspects of the system, connectivity, APIs etc. This allowed them to focus on what should be communicated keeping 'noise' down to give people the space they needed to do their work at the same time as providing the information required. Taylor then opens up to questions from the floor.
Watch now!
Speaker
Taylor Busch
Senior Director Engineering,
CBS Sports Digital