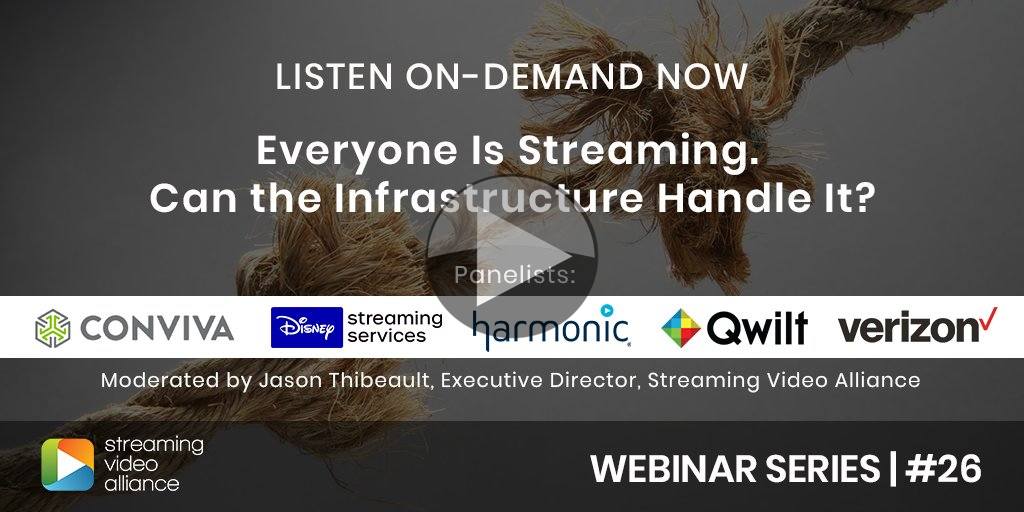 How well is the internet infrastructure dealing with the increase in streaming during the Covid-19 pandemic? What have we learnt in terms of delivering services and have we seen any changes in the way services are consumed? This video brings together carriers, vendors and service providers to answer these questions and give a wider picture.
The video starts off by getting different perspectives on how the pandemic has affected their business sharing key data points. Jeff Budney from Verizon says that carriers have had a 'whirlwind' few weeks. Conviva's José Jesus says that while they are only seeing 3% more devices, there was a 37% increase in hours of video consumed. Peaks due to live sports have done but primetime is now spread and more stable, a point which was made by both Jeff Gilbert from Qwilt as well as José.
"We've seen a whole year's worth of traffic growth…it's really been incredible" — Jeff Budney, Verizon
So while it's clear that growth has happened, but the conversation turns to whether this has caused problems. We hear views about how some countries did see reductions in quality of experience and some with none. This experience is showing where bottlenecks are, whether they are part of the ISP infrastructure or in individual players/services which haven't been well optimised. Indeed, explains Jason Thibeault, Executive Director of the Streaming Video Alliance, the situation seems to be shining a light on the operational resilience, rather than technical capacity of ISPs.
Thierry Fautier from Harmonic emphasises the benefits of content-aware encoding whereby services could reduce bandwidth by "30 to 40 percent" before talking about codec choice. AVC (A.K.A. H.264) accounts for 90%+ of all HD traffic. Thierry contents that by switching to both HEVC and content-aware encoding services could reduce their bandwidth by up to a factor of four.
Open Caching is a working group creating specifications to standardise an interface to allow ISPs to pull information into a local cache from service providers. This moving of content to the edge is one way that we can help avoid bottlenecks by locating content as close to viewers as possible.
The elephant in the room is that Netflix reduced quality/bitrate in order to help some areas cope. Verizon's Jeff Budney points out that this is contra to the industry's approach to deployment where they have assumed there is always the capacity to provide the needed scale. If that's true, how can one tweet from a European Commissioner have had such an impact? The follow on point is that if YouTube and Netflix are now sending 25% less data, as reports suggest, ABR simply means that other providers' players will take up the slack, as is the intent-free way ABR works. If the rest of the industry benefits from the big providers 'dialling back' is this an effective measure and is it fair?
The talk concludes hitting topics on ABR Multicast, having more intelligent ways to manage large-scale capacity issues, more on Open Caching and deliver protocols.
Watch now!
Speakers
Thierry Fautier
VP Video Strategy, Harmonic Inc.
President-Chair, Ultra HD Forum
Eric Klein
Director, Content Distribution – Disney+/ESPN+, Disney Streaming Services
Co-Chair, Open Cache Working Group, Streaming Video Alliance
José Jesus
Senior Product Manager,
Conviva
Jeff Budney
Manager,
Verizon
Jeffrey Gilbert
VP strategy and Business Development, CP,
Qwilt
Jason Thibeault
Executive Director,
Streaming Video Alliance