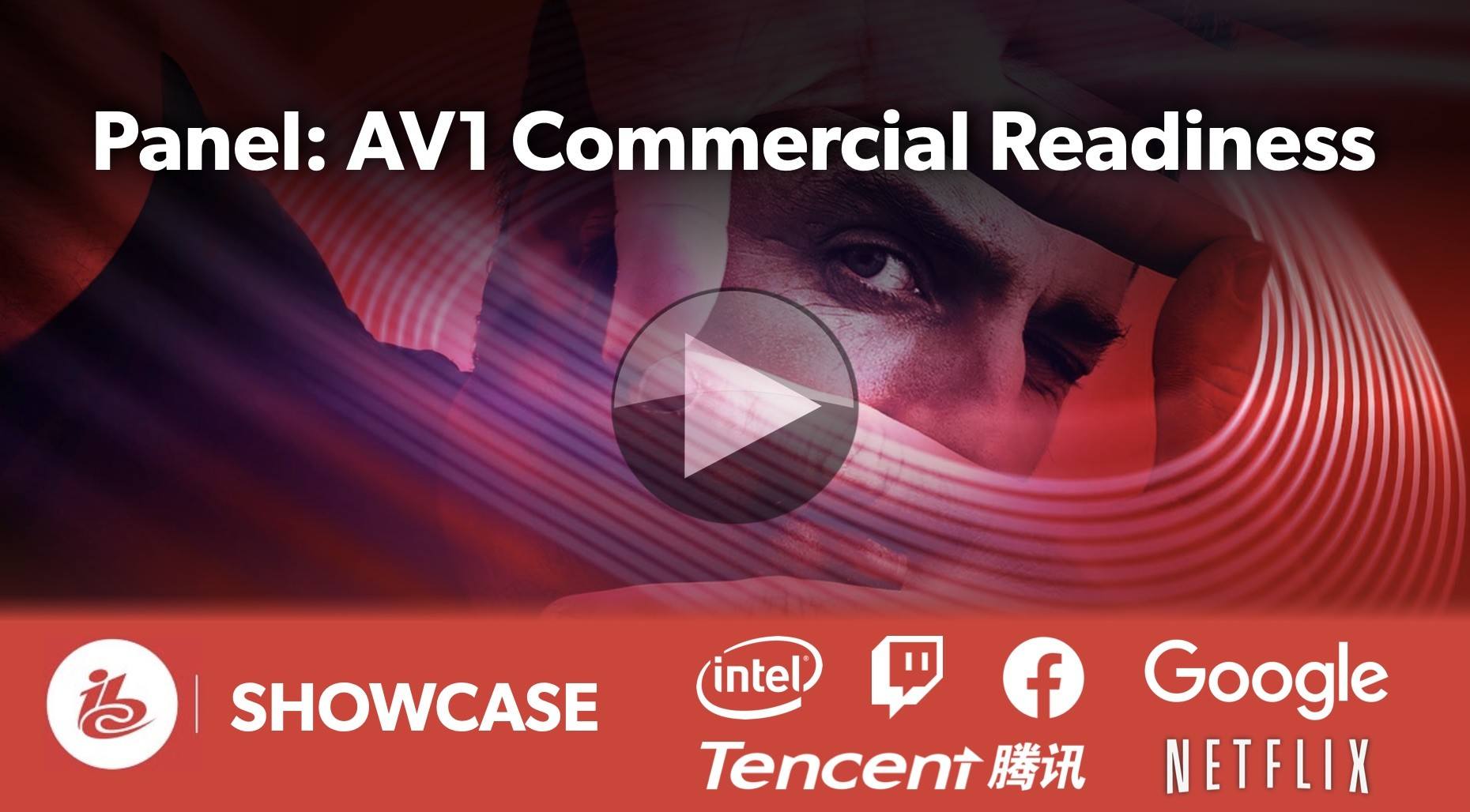 With two years of development and deployments under its belt, AV1 is still emerging on to the codec scene. That's not to say that it's no in use billions of times a year, but compared to the incumbents, there's still some distance to go. Known as very slow to encode and computationally impractical, today's panel is here to say that's old news and AV1 is now a real-time codec.
Brought together by Jill Boyce with Intel, we hear from Amazon, Facebook, Googles, Amazon, Twitch, Netflix and Tencent in this panel. Intel and Netflix have been collaborating on the SVT-AV1 encoder and decoder framework for two years. The SVT-AV1 encoder's goal was to be a high-performance and scalable encoder and decoder, using parallelisation to achieve this aim.
Yueshi Shen from Amazon and Twitch is first to present, explaining that for them, AV1 is a key technology in the 5G area. They have put together a 1440p, 120fps games demo which has been enabled by AV1. They feel that this resolution and framerate will be a critical feature for Twitch in the next two years as computer games increasingly extend beyond typical broadcast boundaries. Another key feature is achieving an end-to-end latency of 1.5 seconds which, he says, will partly be achieved using AV1. His company has been working with SOC vendors to accelerate the adoption of AV1 decoders as their proliferation is key to a successful transition to AV1 across the board. Simultaneously, AWS has been adding AV1 capability to MediaConvert and is planning to continue AV1 integration in other turnkey content solutions.
David Ronca from Facebook says that AV1 gives them the opportunity to reduce video egress bandwidth whilst also helping increase quality. For them, SVT-AV1 has brought using AV1 into the practical domain and they are able to run AV1 payloads in production as well as launch a large-scale decoder test across a large set of mobile devices.
Matt Frost represent's Google Chrome and Android's point of view on AV1. Early adopters, having been streaming partly using AV1 since 2018 in resolution small and large, they have recently added support in Duo, their Android video-conferencing application. As with all such services, the pandemic has shown how important they can be and how important it is that they can scale. Their move to AV1 streaming has had favourable results which is the start of the return on their investment in the technology.
Google's involvement with the Alliance for Open Media (AOM), along with the other founding companies, was born out of a belief that in order to achieve the scales needed for video applications, the only sensible future was with cheap-to-deploy codecs, so it made a lot of sense to invest time in the royalty-free AV1.
Andrey Norkin from Netflix explains that they believe AV1 will bring a better experience to their members. Netflix has been using AV1 in streaming since February 2020 on android devices using a software decoder. This has allowed them to get better quality at lower bitrates than VP9 Testing AV1 on other platforms. Intent on only using 10-bit encodes across all devices, Andrey explains that this mode gives the best efficiency. As well as being founding members of AoM, Netflix has also developed AVIF which is an image format based on AV1. According to Andrey, they see better performance than most other formats out there. As AVIF works better with text on pictures than other formats, Netflix are intending to use it in their UI.
Tencent's Shan Liu explains that they are part of the AoM because video compression is key for most Tencent businesses in their vast empire. Tencent cloud has already launched an AV1 transcoding service and support AV1 in VoD.
The panel discusses low-latency use of AV1, with Dave Ronca explaining that, with the performance improvements of the encoder and decoders along-side the ability to tune the decode speed of AV1 by turning on and off certain tools, real-time AV1 are now possible. Amazon is paying attention to low-end, sub $300 handsets, according to Yueshi, as they believe this will be where the most 5G growth will occur so site recent tests showing decoding AV1 in only 3.5 cores on a mobile SOC as encouraging as it's standard to have 8 or more. They have now moved to researching battery life.
The panel finishes with a Q&A touching on encoding speed, the VVC and LCEVC codecs, the Sisvel AV1 patent pool, the next ramp-up in deployments and the roadmap for SVT-AV1.
Watch now!
Please note: After free registration, this video is located towards the bottom of the page
Speakers
Yueshi Shen
Principle Engineer
AWS & Twitch
David Ronca
Video Infrastructure Team,
Facebook
Matt Frost
Product Manager, Chome Media Technologies,
Google
Andrey Norkin
Emerging Technologies Team
Netflix
Dr Shan Liu
Chief Scientist & General Manager,
Tencent Media Lab
Jill Boyce
Intel