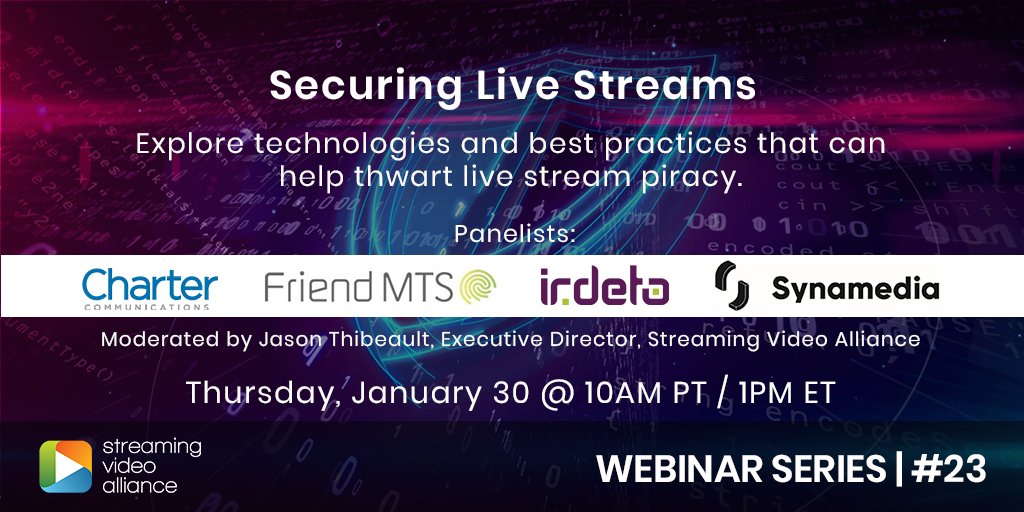 Piracy in France cost €1.2bn in 2017 and worldwide the loss has been valued up to US$52 billion. Even if these numbers are inflated, over-counted or similar, it's clear there is a lot of money at stake in online streaming. There are a number of ways of getting to protect your content, encryption, Digital Rights Management (DRM) and tokenisation are three key ones and this webinar will examine what works best in the real world.
All these technologies used together don't always stop piracy 100%, but they can significantly impact the ease of pirating and the quality of the final material.
Date: Thursday January 30th – 10a.m. PT / 1p.m. / 18:00 GMT
It's important to understand the difference between encryption and Digital Rights Management. In general DRM relies on encryption, whereby encryption is a way of making sure that decodable video only lands in the hands of people who have been given the encryption key. This means that people who are snooping on traffic between the video provider and consumer can't see what the video is and can be accomplished in a similar way to secure web pages which are secured against eavesdroppers. The problem with encryption is, however, that it doesn't intrinsically decide who is allowed to decode the video meaning anyone with the decryption key can video the content. Often this is fine, but if you want to run a pay-TV service, even ignoring content, it's much better to target customer by customer who can video the video. And this is where DRM comes in.
DRM is multi-faceted and controls the way in which consumers can view/use the content as much as whether they can access it to start with. DRM, for instance, can determine that a display device can show the work, but a recorder is not allowed to make a recording. It can also determine access based on location. Another aspect of DRM is tracking in the form of insertion of watermarks and metadata which mean that if a work is pirated, there is a way to work back to the original subscriber to determine the source of the leak.
Tokenisation is a method in which the player requests access to the material and is passed a token, by means of a response from the server after it has checked if the player is allowed access. Because of the way this token is created, it is not possible for another player to use it to access the content which means that sharing a URI won't allow another user access to the video. Without some form of access control, once one subscriber has received a URI to access the video, they could pass that to another user who could also then access it.
What's the best way to use these technologies? What are the pros and cons and what are the other methods of securing media? These questions and more will be discussed in this Streaming Video Alliance webinar on January 30th.
Register now!
Speakers
Peter Cossack
Vice President Cybersecurity services,
Irdeto
Kei Foo
Director of Advanced Video Engineering,
Charter Communications
Orly Amsalem
Product Manager, AI/ML based video security and anti-piracy solutions ,
Synamedia
Marvin Van Schalkwyk
Senior Solutions Architect,
FriendMTS
Jason Thibeault
Executive Director,
Streaming Media Alliance