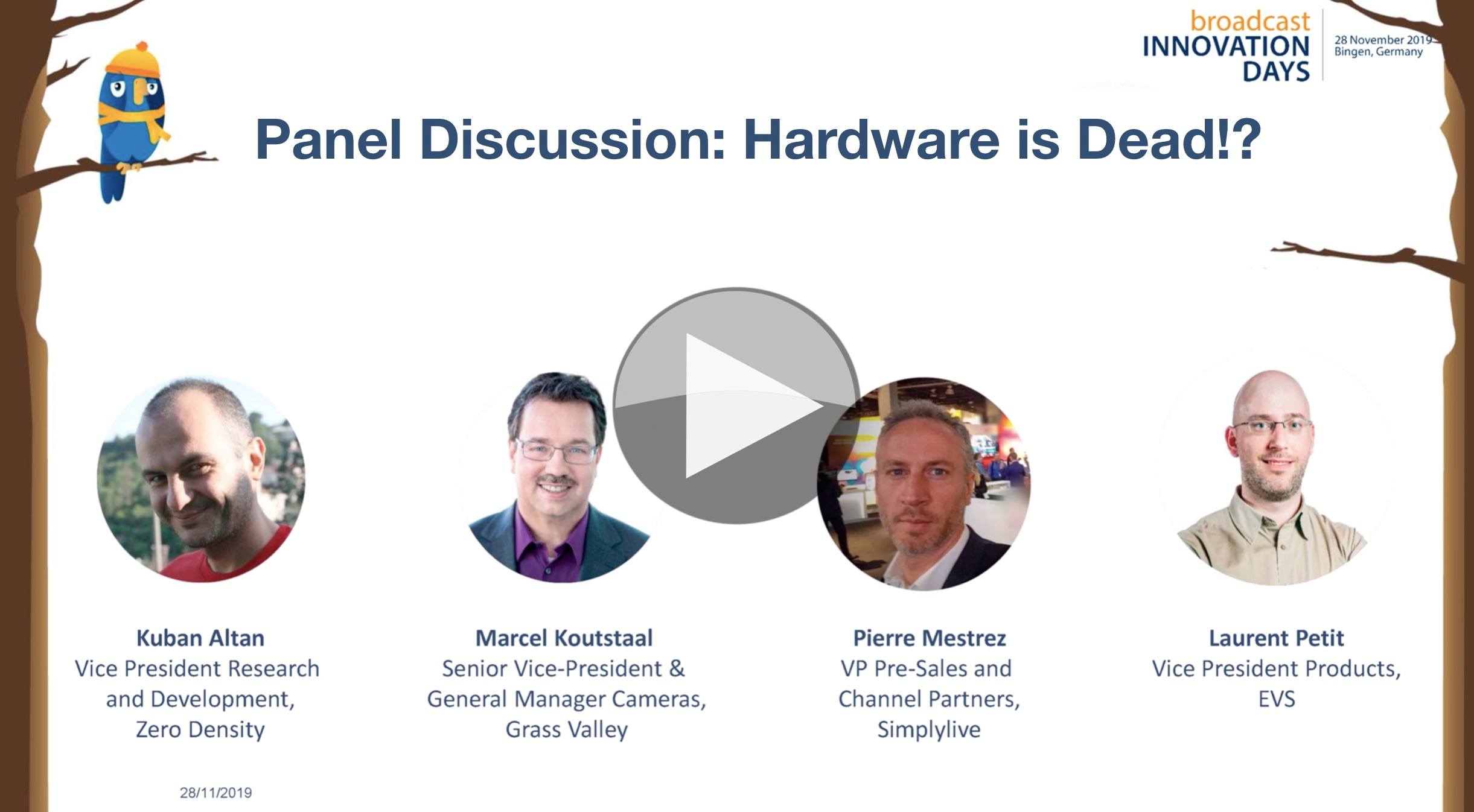 The broadcast industry is still producing many new hardware-based products with FPGAs and encoding ASICs still ruling the roost for many companies when it comes to fitting video products into small, power efficient spaces. But the battle continues as software-based products continue to ramp up, server-based products continue to improve and the need to be able to virtualise or place functions into the cloud drives the desire for software-based solutions.
We all know that hardware isn't dead and that the interest of the topic is where we are today, what is possible and why people are choosing this route and that's what Broadcast Solutions' panel discusses in this video. Often called COTS – commercial off-the shelf – hardware, the idea is that you can buy the same server that any other industry does and run your broadcast-related functions on it. When it's in the cloud, you're not even selecting the hardware as much as saying how many CPUs and other resources you'd like.
The first comments made come from Marcel Koustaal from Grass Valley who feels that the industry doesn't entirely appreciate the value software as it's less tangible than hardware but Pierre Mestrez from Simplylive makes the point that creating products quickly in a modular way is an important part of that company's success. Zero Density makes the point that they can work quickly as they can build their software on top of other software, Unreal Engine, for example.
Troubleshooting changes for those who run of the systems, we hear from Laurent Petit from EVS. It takes a different set of thinking and processes compared to the idea of swapping a card. The transition to IP, adds Marcel, creates a training opportunity where the technology and the workflows are changing at the same time.
Kuban Altan compares the ability with audio to be processed in real time, easily, by CPUs, by consumer laptops with the future of video processing. Whilst now it's not so easy to process video with CPUs at the moment, this will change over the coming decade as CPUs improve significantly. Moreover, Kuban looks towards a day where IO is reduced between devices and rather stays within the same CPU/GPU.
The move to software is a global trend, states Laurent, partly because of the imperative to work quickly and efficiently in our small industry whereby we can benefit by building on software developed for similar uses in other industries. The move will take time, however explains Marcel, and will take longer than bringing online the technology itself.
The video ends with a discussion of how clearly hardware-bound devices such as cameras can still embrace software in order, in the future, to create lighter, more flexible cameras which will improve the range of what you can do with each camera and, ultimately, enhance the creative options available to programme makers.
Watch now!
Speakers
Kuban Altan
Vice President Research and Development,
Zero Density
Marcel Koutstaal
Senior Vice President and General Manager of Camera Product Group,
Grass Valley
Pierre Mestrez
VP Pre-Sales & Channel Partners,
Simplylive
Laurent Petit
SVP Product,
EVS