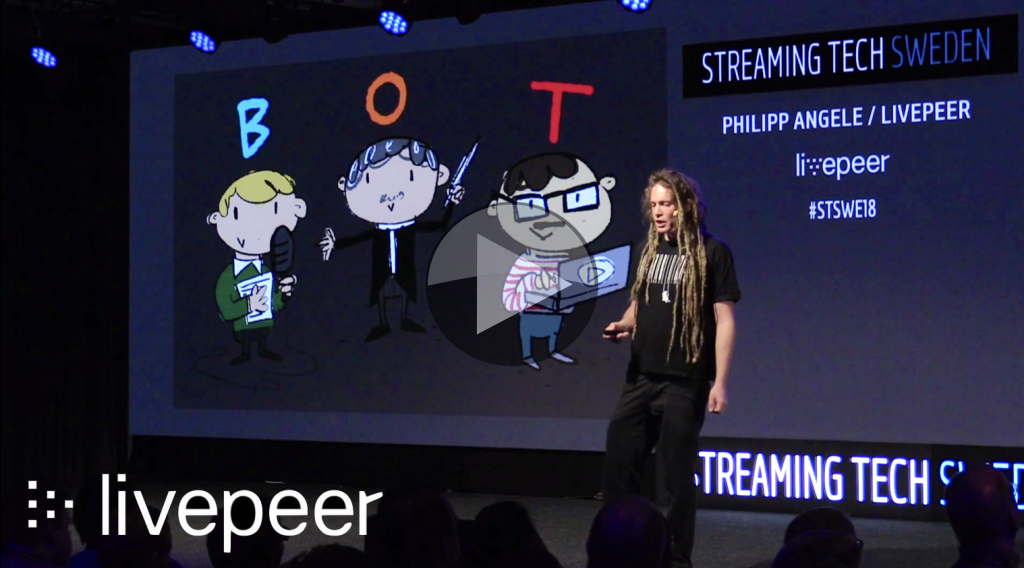 It's all very well talking about 'blockchain' but where's the use case? This working transcoding and distribution platform is one example and LivePeer's Philipp Angele steps onto the stage to explain how they have created this platform as a service using the under-utilised video encoding capability of GPUs used in crypto currency mining.
Whilst there is a lot of hype around blockchain, the fact remains that many blockchains are in constant use throughout the world and, unrelated to any currency aspect, they have a robust way of solving certain problems – the main one being ensuring exchanges of data are completed fairly and without any fraud. This can be applied to distribution of content as much as it can be to 'smart contracts' which, Philipp explains are like legal contracts in as much as they are a promise to do certain things. They are 'smart', because the blockchain network can verify that the contract has been completed.
Livepeer's open source platform on which developers can build services works, we hear, by brokering interactions between 'broadcasters', 'orchestrators' and 'transcoders'. Philipp details how these work together and also looks at the incentives miners have to participate by analysing their profits for different tasks.
To finish off, this talk then takes focusses on the other elements of online streaming services and examines what services are available to accomplish those tasks using distributed/blockchain technology.
Watch now!
Free registration required
This talk was given at Streaming Tech Sweden which is an annual conference from Eyvinn Technology. Streamed on their own video platform, talks are initially available exclusively to all conference attendees, but are released free-to-view during the subsequent year. Free registration is required to watch the videos.
Speaker
Philipp Angele
Head of Product,
Livepeer