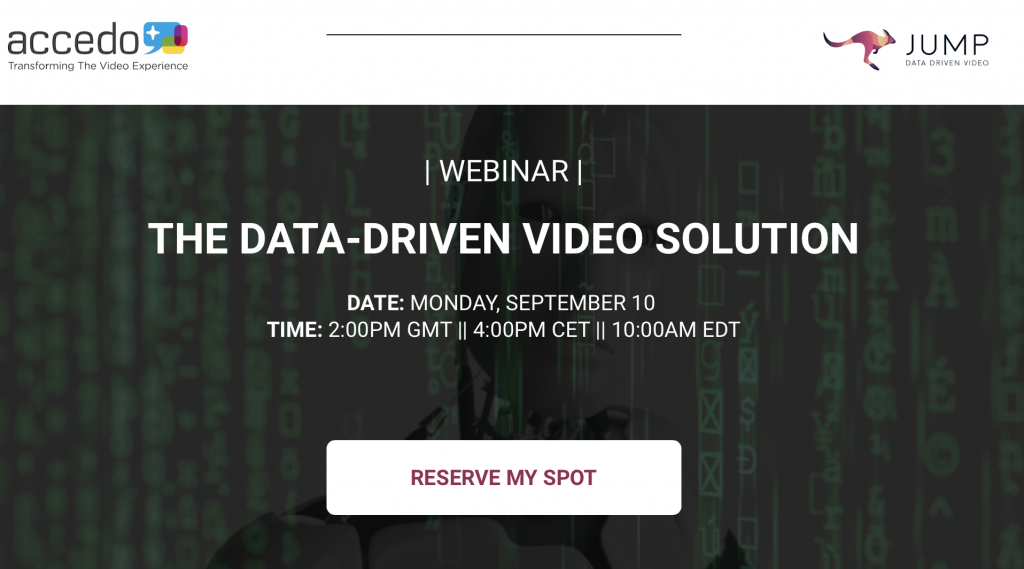 Date: 10th September, 2018. 15:00 BST / 16:00 CET / 10am EDT
The video industry is evolving, and increasingly video service providers are looking to cutting-edge data technologies to help them compete in the OTT space.
Accedo is partnering with JUMP-Data-Driven Video to discuss a new data-driven approach to the video user experience.
This webinar focusses on both the problems and opportunities impacting today's video service providers such as customer churn and content performance. Jump is a data-driven solution to increase service monetisation.
Speakers
Jerónimo Macanás | CEO | JUMP-Data-Driven Video

As a digital entrepreneur, Jerónimo is passionate about media and entertainment and he has been working for almost 20 years growing B2B businesses from the greenfield to profitability. Previous ventures to JUMP-Data-Driven Video includes VP Latin America and Southern Europe at Accedo and CEO at mgMEDIA.

Luke Gaydon | VP Solution Management | Accedo

Luke has 20 years of experience in the digital and online video spaces. As VP of Solution Management, Luke is responsible for identifying growth opportunities and then defining and building Accedo-led Solutions to meet them. Prior to joining Accedo, Luke ran Brightcove's OTT Solutions business and held roles at OC&C Consulting, Channel4 Future Media & Technology & Kaufman Patricof Enterprises.