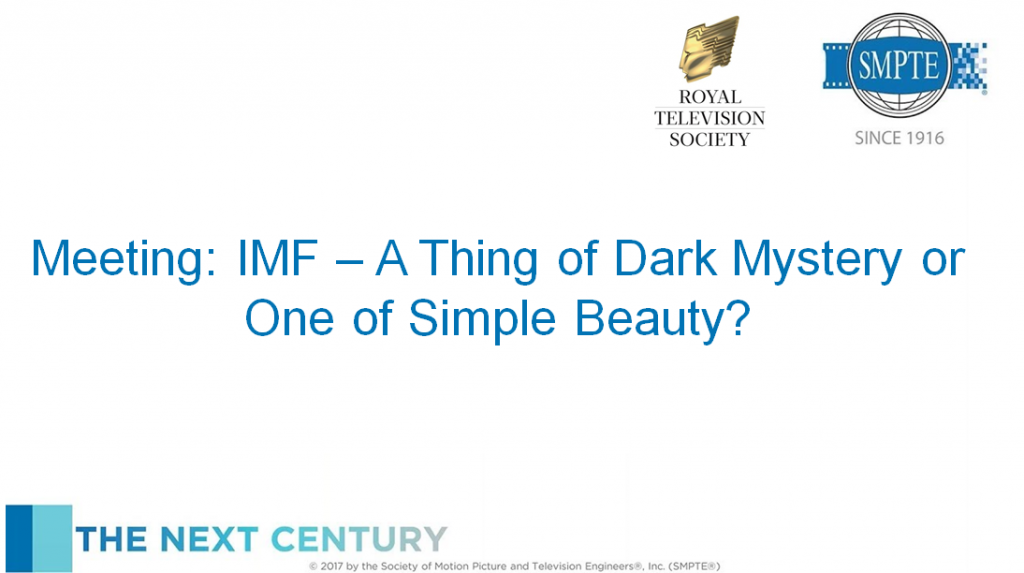 Date: Wednesday, 6 June, 2018, 18:30 BST
Location: Pincents Manor, Pincents Lane, Calcot, Berks, RG31 4UQ
In a joint event between RTS Thames Valley and SMPTE UK Section, discover how IMF (Interoperable Master Format) will benefit broadcast and online workflows just as it has changed existing subtitling and dubbing pipelines for Film Localisation.
This meeting starts with a primer on IMF from SMPTE Standards VP Bruce Devlin (Mr MXF) who discusses the significance of the first specification (as opposed to standard) coming out of SMPTE. Steve Fish will then look at the use of IMF in Turner Internationals Television business. Finally Andy Lampard delves in to IMF for Film Localistion.
As a bonus, you may find out something about ST 2110 as well!
Speakers:
Bruce Devlin, @MrMXF
Steve Fish is VP Media & Technology Architecture, Turner Broadcasting
Andy Lampard is the Head of Research and Development at Motion Picture Solutions.