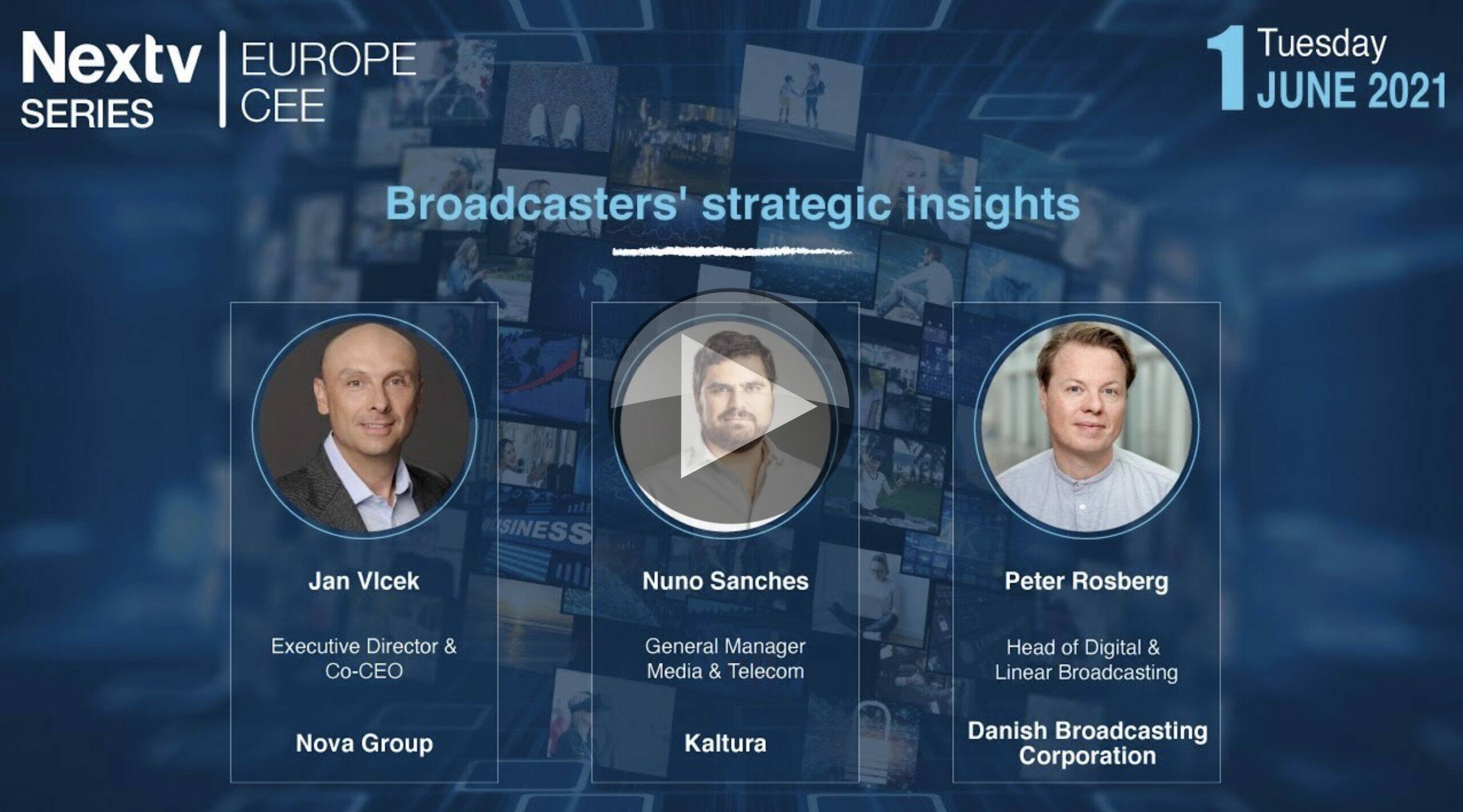 There is a lot of change underway as broadcasters not only update their distribution models to match the changing viewership but also position themselves to stand up to the increased competition from the internet giants. To find out what's happening in the markets, Dataxis invited DR's Peter Rosberg, Jan Vlcek CEO of Czech broadcaster Nova and Nuno Sanches of Kaltura to speak to Monique van Dusseldorp
From Peter's perspective, Denmark's broadband has been very good for a number of years which has led to a very fast uptake of digital platforms compared to other markets. It's no surprise that he finds the 3 to 45 year old demographic is much more amenable to streaming rather than broadcast channels. He does, however, mention that DR no longer has a broadcast channel catering to young and older children. Peter says there will be a tipping point for them soon when they'll find their broadcast numbers beaten by streaming.
Jan says that, for Nova, 'local content is king' which is a sentiment we've heard before in the ongoing attempt to carve a stable position among the global brands such as Netflix and Amazon Prime. Jan says that Netflix has produced some Croatian-language programming, but they can't compete with Nova and other in-country broadcasters when it comes to producing enough, good quality content. Monique asks about forcing Netflix and others to have local content to which Jan says that those who have the best content will win. A global player can't work locally in every market, there are too many.
On the flip side, broadcasters continue to find a global audience for their content and the internet makes getting it to their customers easier. Nuno says that Kaltura has seen a lot of these global trends. Many broadcasters find that the ex-pat market is big enough to be a useful demographic to deliver to either directly or via third-party streaming platforms. DR has a number of internationally received TV series such as 'The Bridge' but Peter says these are not made for an international audience, quoting a former head of drama saying 'you have be local to go global'.
Marketing has changed with the diversification of distribution. When a linear channel moves to OTT such as the BBC's BBC Three, the inherent promotion of the linear channel is lost. Broadcasters rely on the programme before to bring viewers into the current programme. When every single programme needs to be deliberately selected by viewers, the thumbnail needs to be right, the name and metadata need to be there but most importantly, people won't click on something they don't know, notes Peter. This means that a lot of work needs to go into ensuring viewers know about programmes and have the context they need to press play. Jan comments that the linear TV channel Nova helps raise awareness off their online platform, but for individual programmes, social media is the best promotion.
Looking to the future, Nuno says that last year everyone was discussing launching SVOD channels, this year it's much more about freemium live channels and this will change again next year. Technologically, he feels that metadata layers in apps will be the future where products present in the scene will be called out in the viewing interface with an ability to immediately buy or find out more for instance booking a test drive for James Bond's car.
Watch now!
Speakers
Peter Rosberg
Head of Digital & Linear Broadcasting
Danish Broadcasting Corporation
Jan Vlcek
Executive Director & Co-CEO
Nova Group
Nuno Sanches
General Manager Media & Telecom
Kaltura
Monique van Dusseldorp
NEXT Curator, International Programme Director