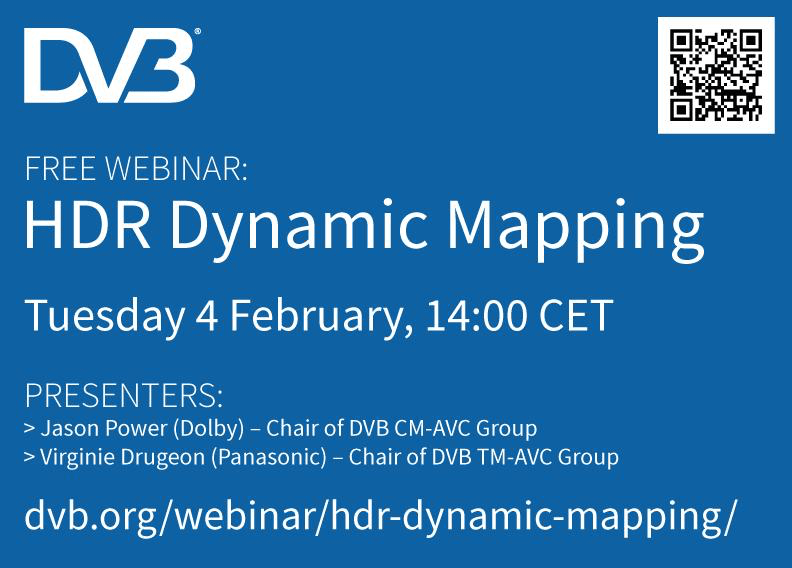 HDR broadcast is on the rise, as we saw from the increased number of ways to watch this week's Super Bowl in HDR, but SDR will be with us for a long time. Not only will services have to move seamlessly between SDR and HDR services, but there is a technique that allows HDR itself to be dynamically adjusted to better match the display its on.
Introduced in July 2019, content can now be more accurately represented on any specific display, particularly lower end TVs. Dynamic Mapping (DM), is applies to PQ-10 which is the 10-bit version of Dolby's Perceptual Quantizer HDR format standardised under SMPTE ST-2084. Because HLG (ARIB STV-B67) works differently, it doesn't need dynamic mapping. Dynamic Metadata to support this function is defined as SMPTE ST 2094-10, -40 and also as part of ETSI TS 103 433-2.
Stitching all of this together and helping us navigate delivering the best HDR is Dolby's Jason Power and Virginie Drugeon from Panasonic in this webinar organised by DVB.
Register now!
Speakers
Virginie Drugeon
Senior Engineer for Digital TV Standardisation, Panasonic
Chair, DVB TM-AVC Group
Jason Power
Senior Director, Commercial Partnerships and Standards, Dolby Laboratories
Chair, DVB CM-AVC Group