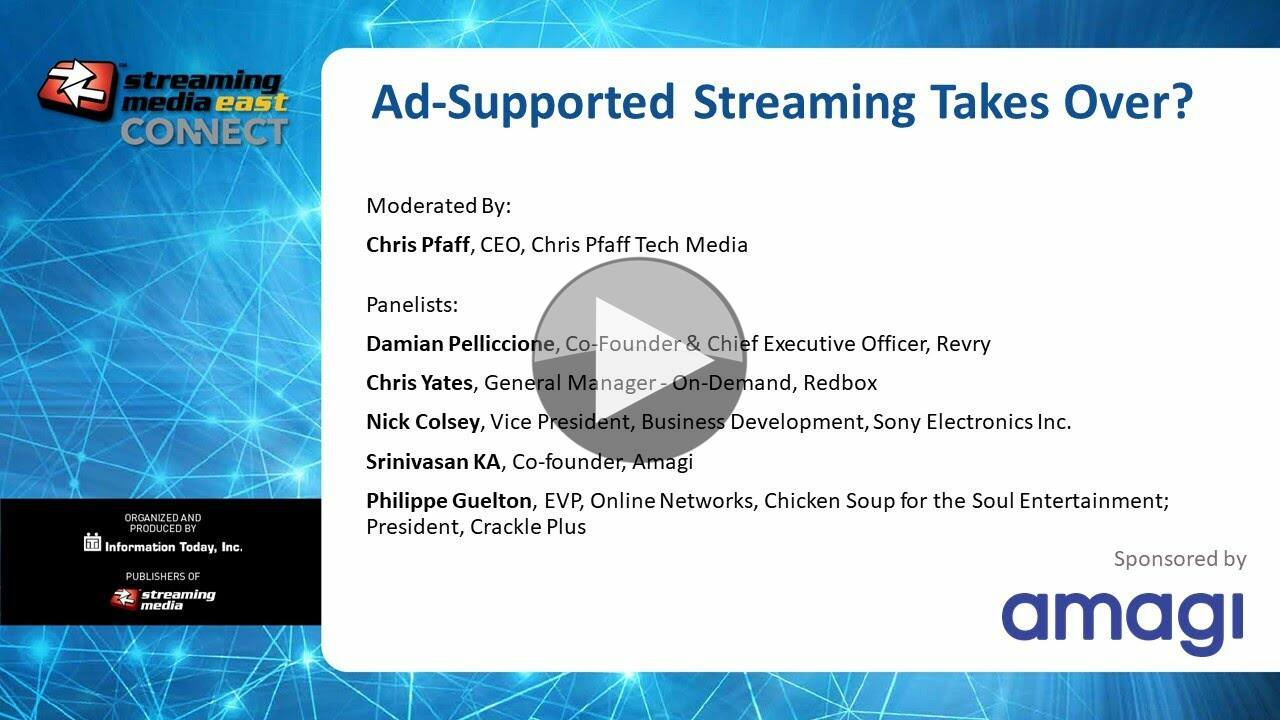 FAST, SVOD and AVOD are all different ways to bring programming to viewers with different costs to the viewer. All delivered over the internet, FAST is a service that unites live, linear TV with a VOD service whereas AVOD only has video on demand. Both FAST and AVOD are free to watch thanks to adverts whereas SVOD is usually advert-free as this is subscriber VOD where you pay monthly. This video from Streaming Media discusses the rise of FAST and its importance in the market.
'Is niche content key?' askes moderator Chris Pfaff to Damian Pelliccione from Revry. Damian distances his service from niche as it serves the over 5% of the US population who identify as LGBTQ+ or similar, Despite not being niche, in common with niche channels, Revry's content is not typically provided by the mainstream and has a very deep meaning to those watching. because they are working with an underserved demographic, they feel FAST is much more appropriate than SVOD as equal access is important. However, Damian is at pains to point out that, in reality, the service is a 'tribrid' of FAST, AVOD and SVOD. Revry's marketing has moved to buying hero units to position itself on smart TVs and STBs in pole position and also aligning its brand outside of the streaming market such as associating with pride festivals. One advantage of FAST is the cost of user is far lower than SVOD which can be in the realms of $9 per user.
One of the motivators for Sony to start its BRAVIA brand of smart TVs was, Nick Colsey explains, to enable people to access niche streaming services to supplement the mainstream linear channels. This was done through a menu of apps, much like mobile computing, each one a window into a different walled garden. Now, Sony integrates streaming services into the same EPG as linear which shows that convergence continues unabated, in common with ATSC 3.0's indifference to delivery method. Nick views Sony as a 'Switzerland' of content aggregation as it has no conflict of interest given it doesn't run a rival service.
Chris Yates from Redbox says that FAST channels work well for them as they site well alongside customers' other SVOD bundles remaining highly accessible. Finding customers, Chris states is harder than it used to be and now the gatekeepers are increasingly equipment manufacturers. Getting yourself on Sony TVs or Samsung equipment is a major vector for exposure but is not always practical. Chris says that rather than competing with youtube, it's more general than that, he sees Redbox competing for leisure time. Asked later in the session, Chris says he sees consolidation on the horizon for both studios and streaming services.
Amagi's Srinivasan KA is pleased to claim that they deliver up to 45% of all content on FAST platforms. He sees FAST as growing because it's more demographic than cable without the need to get 100 services when only 2 would do. And those 2 channels can go much deeper into a topic than mainstream channels would. Not only can you go into a topic deeper, but with more choice of topics, you can go deeper into discovering, understanding and following up your own interests.
Philippe Guelton from Crackle explains their efforts to create programmes differently whether live drama or close-to live. He feels innovation is important and is one way to deal with companies who are spending 'too much money on streaming, implying they are loss-leaders and therefore ripe for acquisition.
Watch now!
Speakers
Srinivasan KA
Co-founder,
Amagi
Chris Yates
General Manager – On-Demand
Redbox
Damian Pelliccione
Co-Founder & Chief Executive Officer,
Revry
Nick Colsey
Vice President, Business Development
Sony Electronics Inc.
Philippe Guelton
EVP, Online Networks, Chicken Soup for the Soul Entertainment
President, Crackle Plus
Moderator: Chris Pfaff
CEO,
Chris Pfaff Tech Media