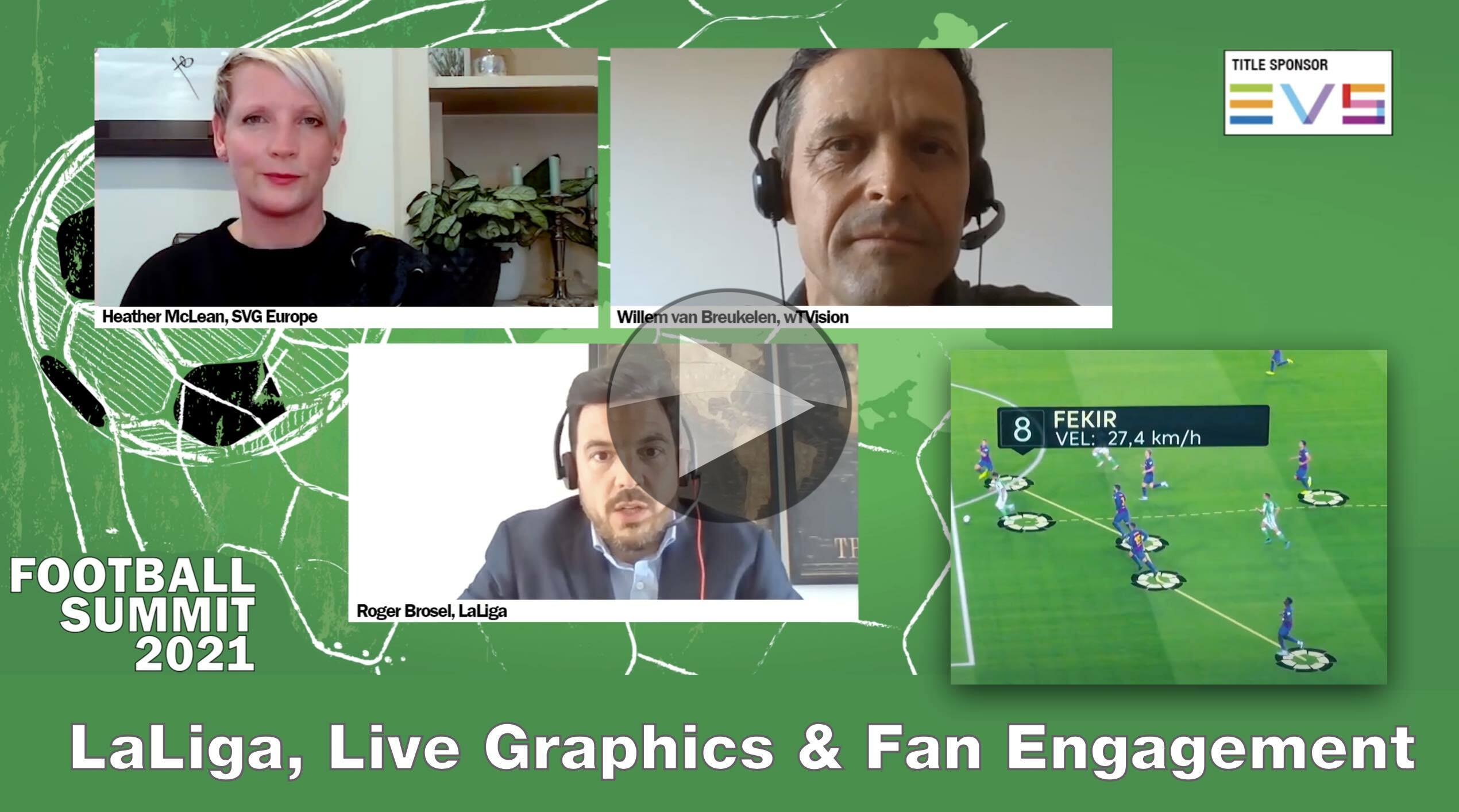 Commentary is transformative to any sport, allowing casual viewers to understand the significance of what happens in the game along with dyed-in-the-wool fans who also benefit from the facts and figures brought up by the commentators. Increasingly, commentators have had facts and figures at their fingertips to seamlessly weave into the narrative. Now, the amount of data is such that companies like LaLiga are looking for other ways to enhance the viewing experience by inserting stats into the on-screen graphics.
Roger Brosel Head of Content & Programming at LaLiga explains that Mediacoach is a Spanish company that provides match analysis tools to teams and their coaches. But just as Formula One's stats which are collected to help team engineers are now used on-screen in the broadcast, LaLiga realised they could be using this data during the live game.
WTVision's Wilem van Breukelen discusses how they integrated Mediacoach data so they could show stats on people and show the lineup. When there's a corner, they can show where, statistically speaking, the ball may end up and similar facts.
Roger continues that the value for LaLiga in being able to show these stats is to build on the entertainment proposition. Adding an informative layer to the game adds to the enjoyment helping people of all levels learn more about the game and the players; it helps editorially telling the story of the game.
Wilem explains that they are easily able to take LSM clips from operators and edit them during the game adding factual graphics on top. These can be immediately re-used or offered on to broadcasters to incorporate into their coverage or social media feeds. After the broadcasters' exclusivity window, LaLiga can then publish those, or similar feeds during the week as part of their push to keep LaLiga relevant when there are no games and extending the interest in the weekend's activities. Doing this has shown a clear increase in social media engagement.
It's important, cautions Roger, to keep a balance between on-screen stats and the pure sport underneath whose story can be overwhelmed by distracting viewers with too many numbers. This is why the graphics team also have editorial understanding and know the game of football well.
Watch now!
Speakers
Roger Brosel
Head of Content and Programming,
LaLiga
Willem van Breukelen
LaLiga Graphics Lead
wTVision