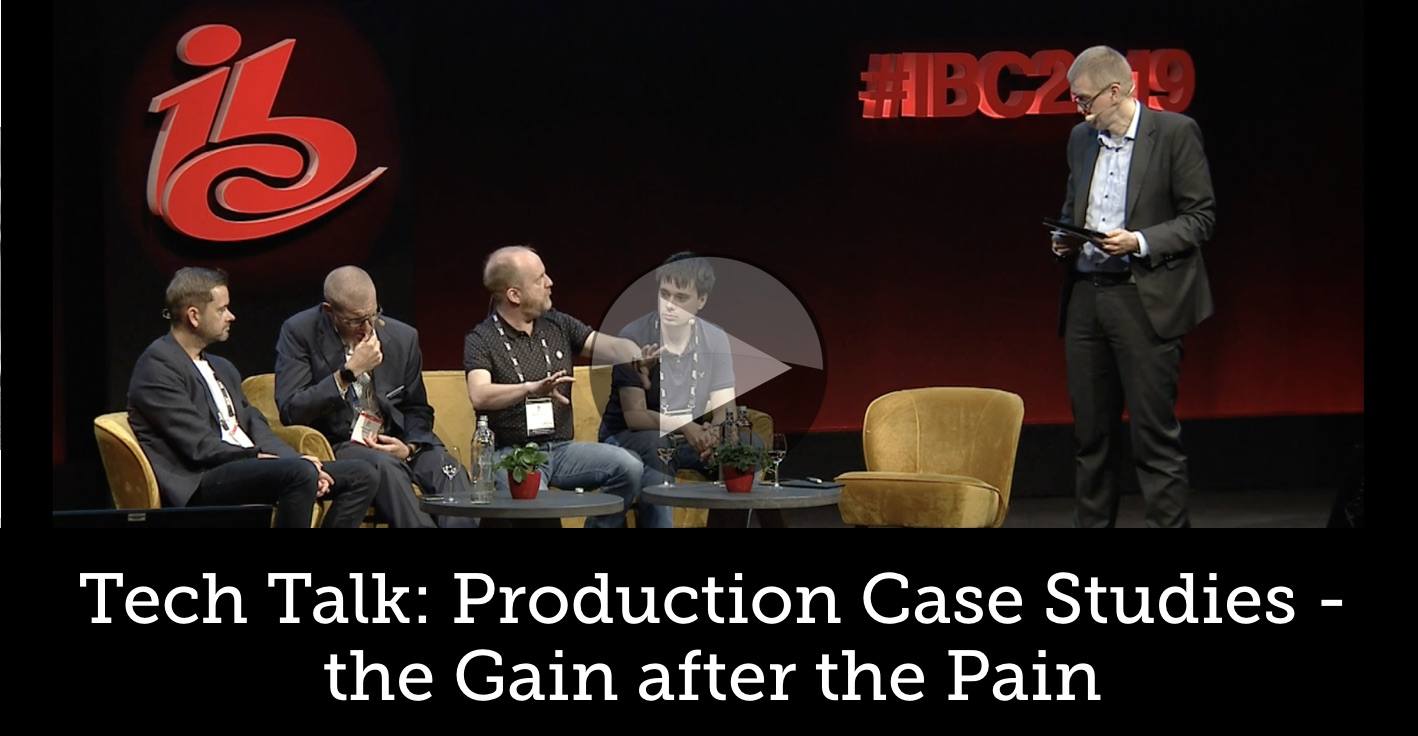 Technology has always been harnessed to improve, change and reinvent production. Automated cameras, LED walls, AR, LED lighting among many other technologies have all enabled productions to be done differently creating new styles and even types of programming.
In this Tech Talk from IBC 2019, we look at disruptive new technologies that change production, explained by the people who are implementing them and pushing the methods forward.
TV2 Norway's Kjell Ove Skarsbø explains how they have developed a complete IP production flow and playout facility. This system allows them more flexibility and scalability. They did this by creating their own ESB (Enterprise Service Bus) to decouple the equipment from direct integrations. Working in an agile fashion, they delivered incremental improvements. This means that Provys, Mayam, Viz, Mediator amongst other equipment communicate with each other by delivering messages in to a system framework which passes messages on their behalf in a standard format.
Importantly, Kjell shares with us some mistakes that were made on the way. For instance, the difficulties of the size of the project, the importance of programmers understanding broadcast. "Make no compromise" is one of the lessons learnt which he discusses.
Olie Baumann from MediaKind presents live 360º video delivery, "Experiences that people have in VR embed themselves more like memories than experiences like television" he explains. Olie starts. by explaining the lay of the land in today's VR equipment landscape then looking at some of the applications of 360º video such as looking around from an on-car camera in racing.
Olie talks us through a case study where he worked with Tiledmedia to deliver an 8K viewport which is delivered in full resolution only in the direction the 360º viewer and a lower resolution for the rest. When moving your head, the area in full resolution moves to match. We then look through the system diagram to understand which parts are in the cloud and what happens.
Matthew Brooks with Thomas Preece from BBC R&D explain their work in taking Object-based media from the research environment into mainstream production. This work allows productions to deliver object-based media meaning that the receiving device can display the objects in the best way for the display. In today's world of second screens, screen sizes vary and small screens can benefit from larger, or less, text. It also allows for interactivity where programmes fork and can adapt to the viewers tastes, opinions and/or choices. Finally, they have delivered a tool to help productions manage this themselves and they can even make a linear version of the programme to maximise the value gained out of the time and effort spent in creating these unique productions.
Watch now!
Speakers
Kjell Ove Skarsbø
Chief Technology Architect,
TV2 Norway
Olie Baumann
Senior Technical Specialist,
MediaKind
Matthew Brooks
Lead Engineer,
BBC Research & Development
Thomas Preece
Research Engineer,
BBC Research & Development