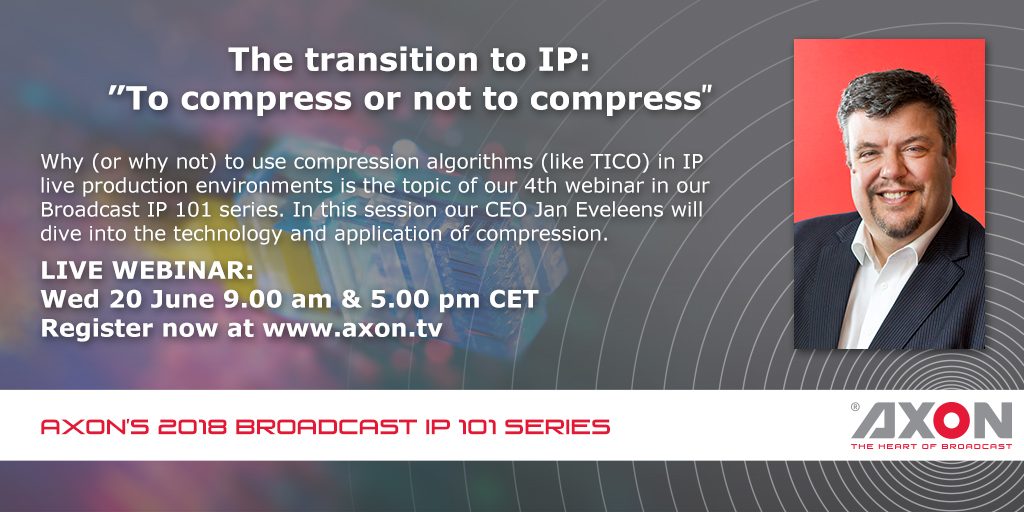 Webinar: 20th June 2018 at 08:00 BST and 16:00 BST
Axon continue their IP 101 webinar series by looking at when to use compression like TICO and when not to. CEO Jan Eveleens will dive into the technology and application of compression covering the basic principles of compression, the mechanisms behind it and the reasons for using it.
This webinar will be presented twice on 20th June. Register now
Have a look at the previous webinars:
Transport Formats Demystified
Key Ingredients & Standards
Prepare for IP
Transition to IP: Broadcast 101 Series
Broadcasters are increasingly considering IP as the next step in their workflows and operations, attracted by the potential of greater agility, flexibility and efficiency. As an industry we have finally built a consensus on a common IP standard and are forging ahead with the SMPTE ST 2110 suite of standards. However, there are more challenges to conquer when moving to an IP broadcast infrastructure.