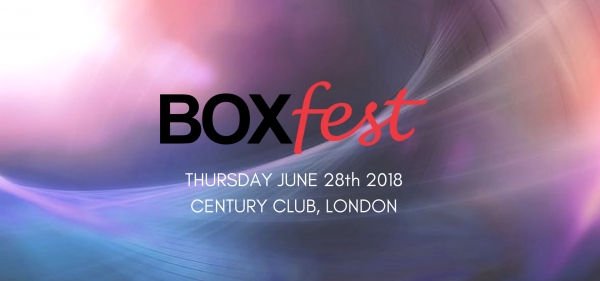 Date: Thu, June 28, 2018 12:00 PM – 4:00 PM BST
Location: Century Club, 61-63 Shaftesbury Ave, London, W1D 6LQ
The excellent BOXfest is back for its sixth year! On the theme of 'Disruption', this is a one day technology event in Central London. Following on from NAB, BOXfest highlights key technologies and products concentrating on customer case studies, sharing technology roadmaps and market trends. The audience is typically senior, technical management and engineers, with the day designed to allow time for people to network with their peers.
With the escalation of technologies including IP, AI and cloud alongside ever-changing business requirements how do you deliver future-proof solutions and innovation to your organisation?
Several technical authorities from a number of key vendors for product-agnostic presentations will provide insight into these topics:
IP – Where are we with IP?
AI – What is it and how does it affect me?
AI – Real world applications
Cloud – creating flexible infrastructure that works for media
IMF – What, why?
HDR – Real world experiences.