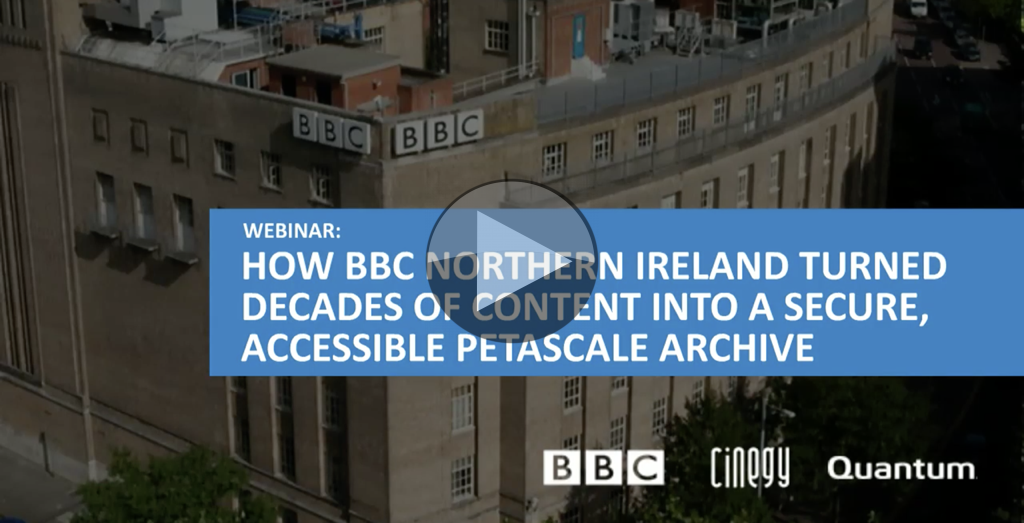 BBC Northern Ireland produces a complete schedule of news and current affairs programming that it distributes over two television channels, two radio stations, and multiple online platforms.
BBC NI also delivers content from other BBC production centers to Northern Ireland audiences. In addition, its facilities also serve as a central digital archive for the Rewind Projects, hosting thousands of hours of existing content from all of the BBC's different national sites.
To meet their challenge of storing, protecting, and making the content available for reuse, they turned to a workflow management solution from Cinegy built on the Quantum StorNext storage platform.
Attend this webinar and learn more about key elements of the BBC NI solution:
• Unified asset management environment spans multiple, discrete storage tiers for storing video and audio essences together with metadata
• Teams of users and applications in all areas have fast, simultaneous access to all media content on disk and tape
• Automated movement of data between disk and tape tiers for backup and archive
• High-speed, multi-stream transcoding delivers content quickly for accelerated production because data is visible on any computer
• Dual-redundant systems supports around-the-clock operations and provides back-end storage support to ensure DR protection
• A scalable solution that can grow as storage demands increase in the future