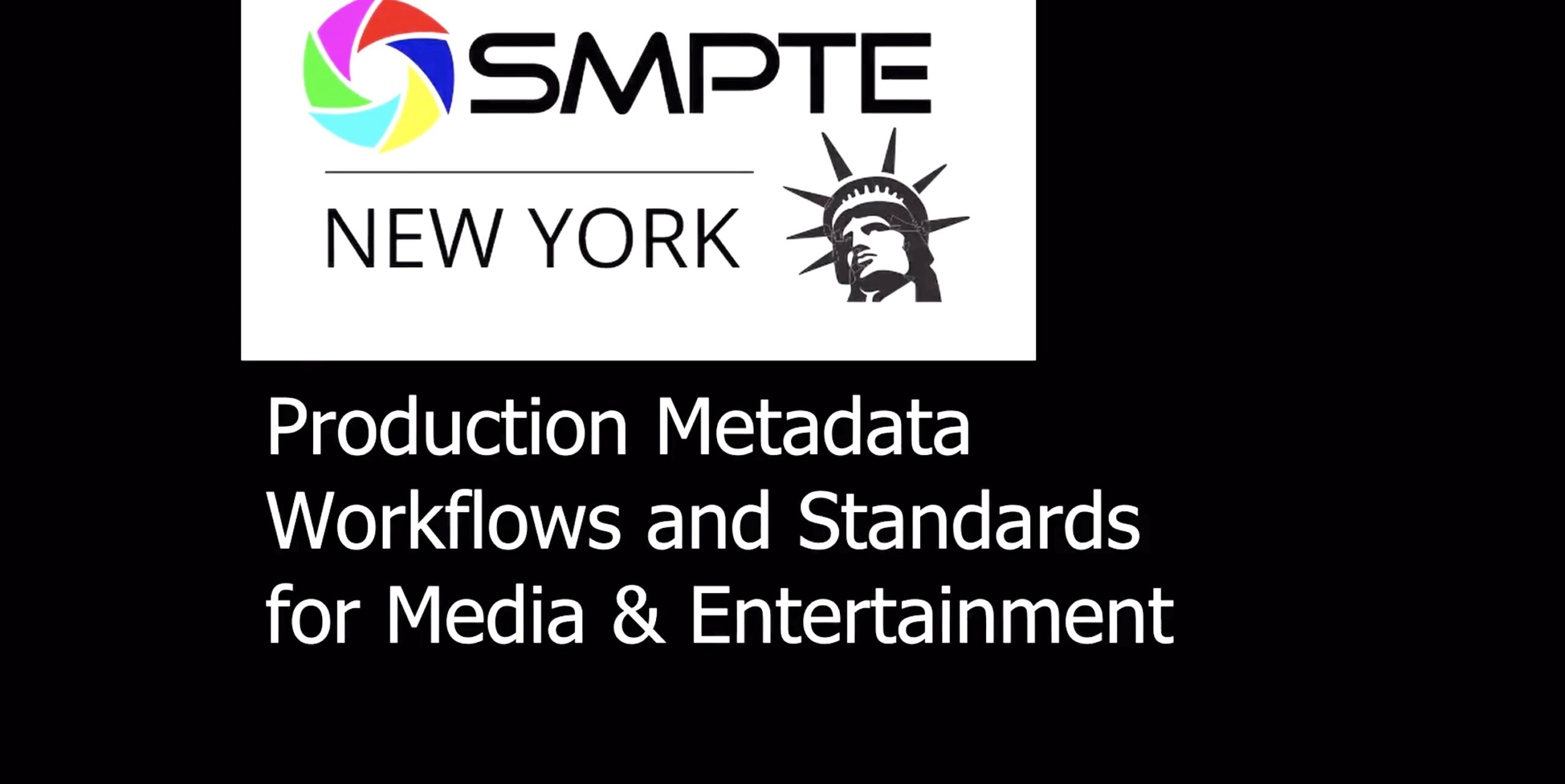 Metadata has long been understood as important, particularly by archivists. But it's only in recent years that a renewed focus has been put on metadata. As the large broadcasters and media houses have expanded and as streaming has become a bigger and bigger proportion of output, it's become increasingly clear that a coherent, already-executed metadata strategy is essential. Recently, A+E had 5 weeks to transfer much of their inventory to Discovery+ which was achieved largely thanks to a cloud-to-cloud transfer and ingest workflow which not only checked the integrity of the media but also ensured metadata was correctly transferred.
In this video from SMPTE New York, we hear from WarnerMedia's Yonah Levenson and Dave Satin about metadata and workflows. Yonah starts by defining the different types of metadata: Descriptive (e.g. time of day), Technical (e.g. File size, Compression), Administrative (e.g. Who created, last modified, location), Usage (e.g. when last used. how many times, Structural (e.g. Page numbers. Scene numbers), Preservation (e.g. location of file, checksum, retention policy) and Rights (e.g. Licensing, Permissions, Contracts, who signed off on rights).
Yonah gives examples on all of the above and then discusses standards and best practices for metadata such as starting with a spreadsheet, ensuring you get the right governance from the start, writing every decision down and getting a whole range of people involved to ensure your metadata plan is going to suit the company as a whole and not just your part of it.
Dave Satin takes the floor next and shows how the logical technical blocks of the video workflow interact with external software and services. On top of this, he then overlays the people needed to run these functions as well as the problems that generally come up. His over-archine point being that complex supply chains cause complex problems. He continues to highlight metadata pain points and which workflow problems they give rise to.
Dave finishes on a very compelling iceberg graphic showing much of the required functions in metadata lie below the surface of obvious requirements. The trick is to identify and adopt them into your workflows before crashing.
Yonah returns to the stage to introduce the Language Metadata Table, also known as LMT. First started in 2017, it's grown to describing 239 languages with a further 150 on the way. Speaking earlier this year, Yonah explained "People speak different languages…you don't know what they're saying and we have this problem in the industry where there really hasn't been a definitive, unified standard of language codes." LMT addresses this problem and works for Audio, Visual (subs, narratives, Sign language), Content Licensing
Rights, Acquisition, Distribution content, Localisation preferences.
This is ongoing work between MESA and SMPTE to get this standardised. The working group will meet again soon.
The session closes with a long Q&A session which includes a discussion of camera-originated metadata, maximising metadata, when to start collecting metadata (when money starts being spent), use of metadata to tag 'sprites' used in films so the sprite can be localised to national sensitivities/cultural norms, finding 'homes' for metadata such as standards like AXF, logging regional restrictions on archive news footage, differences in camera-collected metadata, the importance of having the right metadata during obituaries, metadata conservation for archives intended for 150 years in the future.
Watch now!
Speakers
Will Kreth
Meta Data Systems & Simply.TV
DDEX WG co-chair
Yonah Levenson
Manager, Metadata Strategy & Taxonomy Governance,
WarnerMedia / HBOMax
James Snyder
Library of Congress and SMPTE board member
Dave Satin
Digital Imaging Technician, HDR & 4K expert