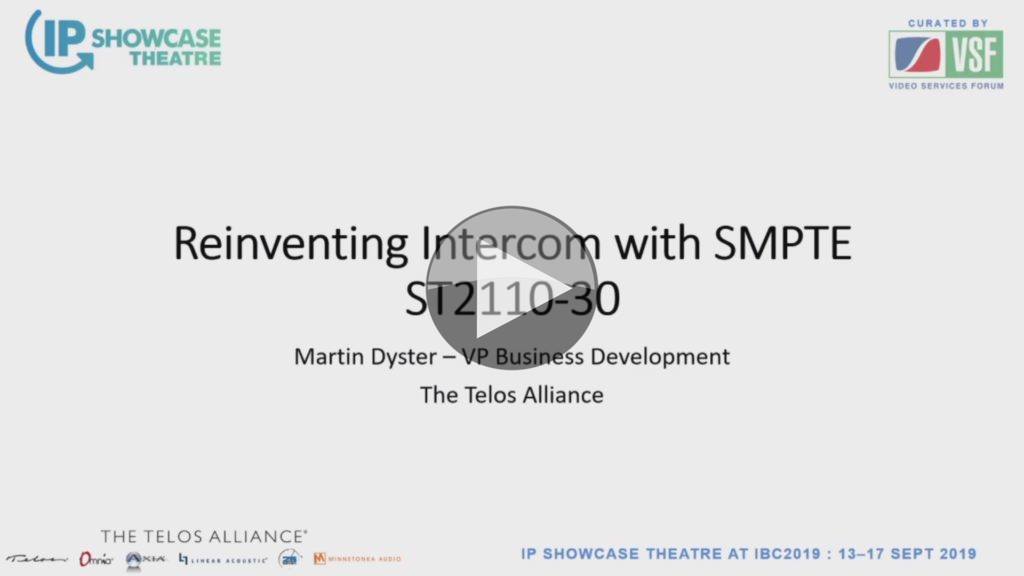 Intercom systems form the backbone of any broadcast production environment. There have been great strides made in the advancement of these systems, and matrix intercoms are very mature solution now, with partylines, IFBs and groups, wide range of connectivity options and easy signal monitoring. However, they have flaws as well. Initial cost is high and there's lack of flexibility as system size is limited by the matrix port count. It is possible to trunk multiple frames, but it is difficult, expensive and takes rack space. Moreover, everything cables back to a central matrix which might be a single point of failure.
In this presentation, Martin Dyster from The Telos Alliance looks at the parallels between the emergence of Audio over IP (AoIP) standards and the development of products in the intercom market. First a short history of Audio over IP protocols is shown, including Telos Livewire (2003), Audinate Dante (2006), Wheatstone WheatNet (2008) and ALC Networks Ravenna (2010). With all these protocols available a question of interoperability has arisen – if you try to connect equipment using two different AoIP protocols it simply won't work.
In 2010 The Audio Engineering Society formed the x192 Working Group which was the driving force behind the AES67. This standard was ratified in 2013 and allowed interconnecting audio equipment from different vendors. In 2017 SMPTE adapted AES67 as the audio format for ST 2110 standard.
Audio over IP replaces the idea of connecting all devices "point-to-point" with multicast IP flows – all devices are connected via a common fabric and all audio routes are simply messages that go from one device to another. Martin explains how Telos were inspired by this approach to move away from the matrix based intercoms and create a distributed system, in which there is no central core and DSP processing is built in intercom panels. Each panel contains audio mix engines and a set of AES67 receivers and transmitters which use multicast IP flows. Any ST 2110-30 / AES67 compatible devices present on the network can connect with intercom panels without an external interface. Analog and other baseband audio needs to be converted to ST 2110-30 / AES67.
Martin finishes his presentation by highlighting advantages of AoIP intercom systems, including lower entry and maintenance cost, easy expansion (multi studio or even multi site) and resilient operation (no single point of failure). Moreover, adaptation of multicast IP audio flows removes the need for DAs, patch bays and centralised routers, which reduces cabling and saves rack space.
If you want to refresh your knowledge about AES67 and ST2110-30, we recomend the Video: Deep Dive into SMPTE ST 2110-30, 31 & AES 67 Audio presentation by Leigh Whitcomb.
Speaker
Martin Dyster
VP Business Development
The Telos Alliance