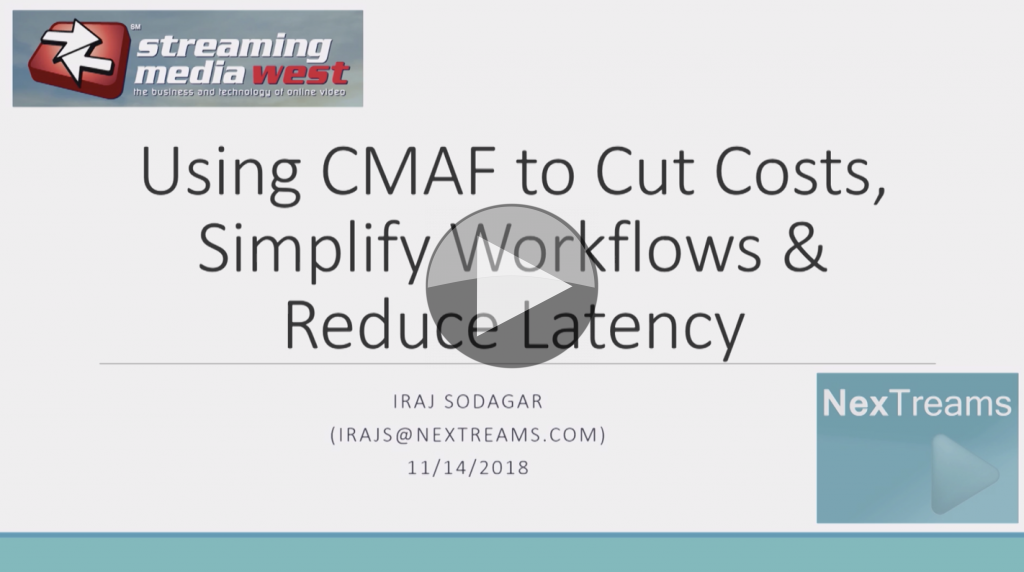 There are two ways to stream video online, either pushing from the server to the device like WebRTC, MPEG transport streams and similar technologies, or allowing the receiving device to request chunks of the stream which is how the majority of internet streaming is done – using HLS and similar formats.
Chunk-based streaming is generally seen as more scalable of these two methods but suffers extra latency due to buffering several chunks each of which can represent between 1 and, typically, 10 seconds of video.
CMAF is one technology here to change that by allowing players to buffer less video. How does this achieve this? An, perhaps more important, can it really cut costs? Iraj Sodagar from NexTreams is here to explain how in this talk from Streaming Media West, 2018.
Iraj covers:
A brief history of CMAF (Common Media Format)
The core technologies (ISO BMFF, Codecs, captions etc.)
Media Data Object (Chunks, Fragments, Segments)
Different ways of video delivery
Switching Sets (for ABR)
Content Protection
CTA WAVE project
Wave content specifications
Live Linear Content with Wave & CMAF
Low-latency CMAF usage
HTTP 1.1 Chunked Transfer Encoding
MPEG DASH
Speaker
Iraj Sodagar
Independant Consultant
Multimedia System Architect, NexTreams