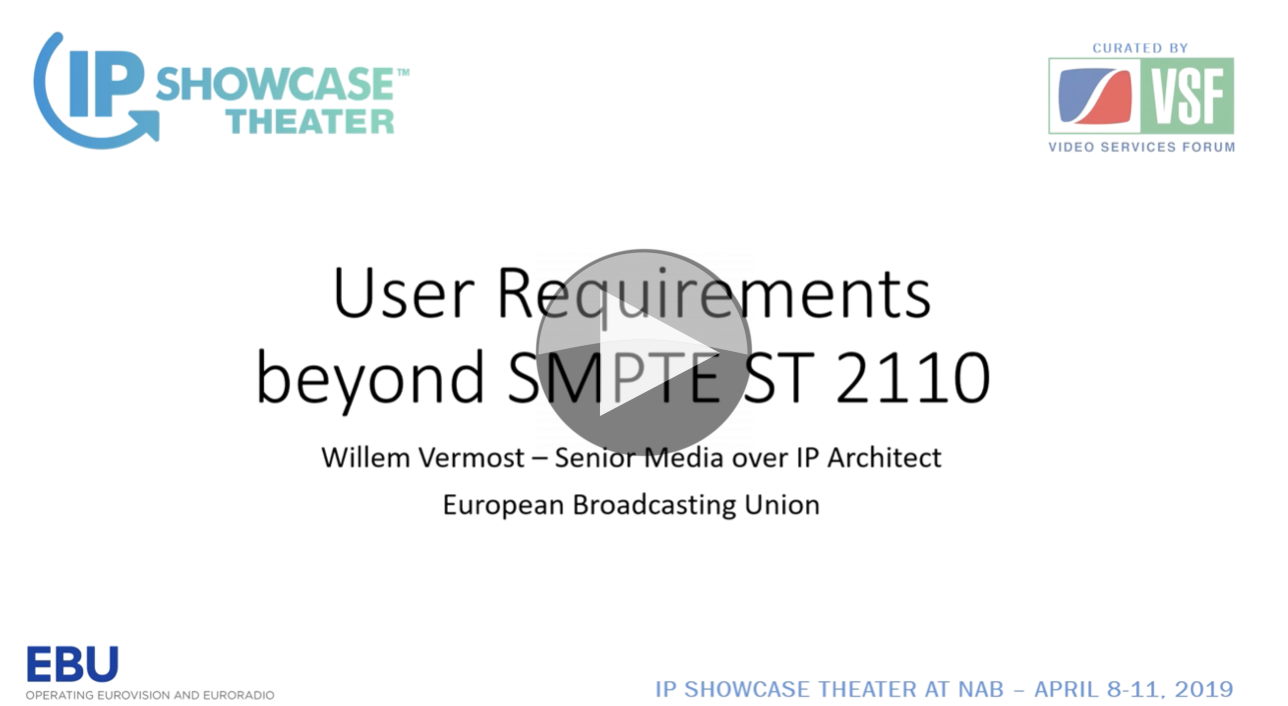 Work on ST 2110 continues although the main elements of it have been standardised for well over a year now, but many companies are thinking beyond ST 2110.
The EBU's Willem Vermost presents the wider picture of next generation broadcast facilities charting the need and desires of public broadcasters in Europe. We look here at the need for many broadcasters to move buildings and the problems they face doing so – only one of them being implementing a ST 2110 infrastructure.
The talk then goes on to the problems that broadcasters face and the need for a way of working which defines some common approaches. This has arrived in the form if a document with the lengthy title JT-NM TR-1001-1:2018 which outlines many practical approaches to making ST 2110 work. Many are simple, such as using DHCP but without an agreed set of practices, incompatibilities will come in.
Willem talks about the interoperability tests for this, the results of which are publicly available rather than previous closed-door tests. And before rounding off the talk with questions, he looks at the increasingly well-known EBU Pyramid which shows the availability of different parts of the IP ecosystem; media transport being green, configuration and security being red.
For more information about JT-NM, look at this talk from SMPTE and Imagine Communication's John Mailhot which covers it in much more detail.
Join Willem at IBC to find out more about ST 2110 at a panel from IET Media discussing ST 2110 and NDI. NDI provides video over IP and is more widely supported than ST 2110, yet major broadcasters seem blind to its benefits. Is this because NDI doesn't meet the needs of these broadcasters or are there other reasons? What are the use cases where both can be used together?
Join Willem Vermost, The Broadcast Knowledge Editor Russell Trafford-Jones, Marc Risby CTO of Boxer and Liam Hayter from Newtek/NDI to find out more at IBC, IABM Theatre, Future Zone. Friday 13th 15:00-15:45.
Speaker
Willem Vermost
Senior IP Media &Technology