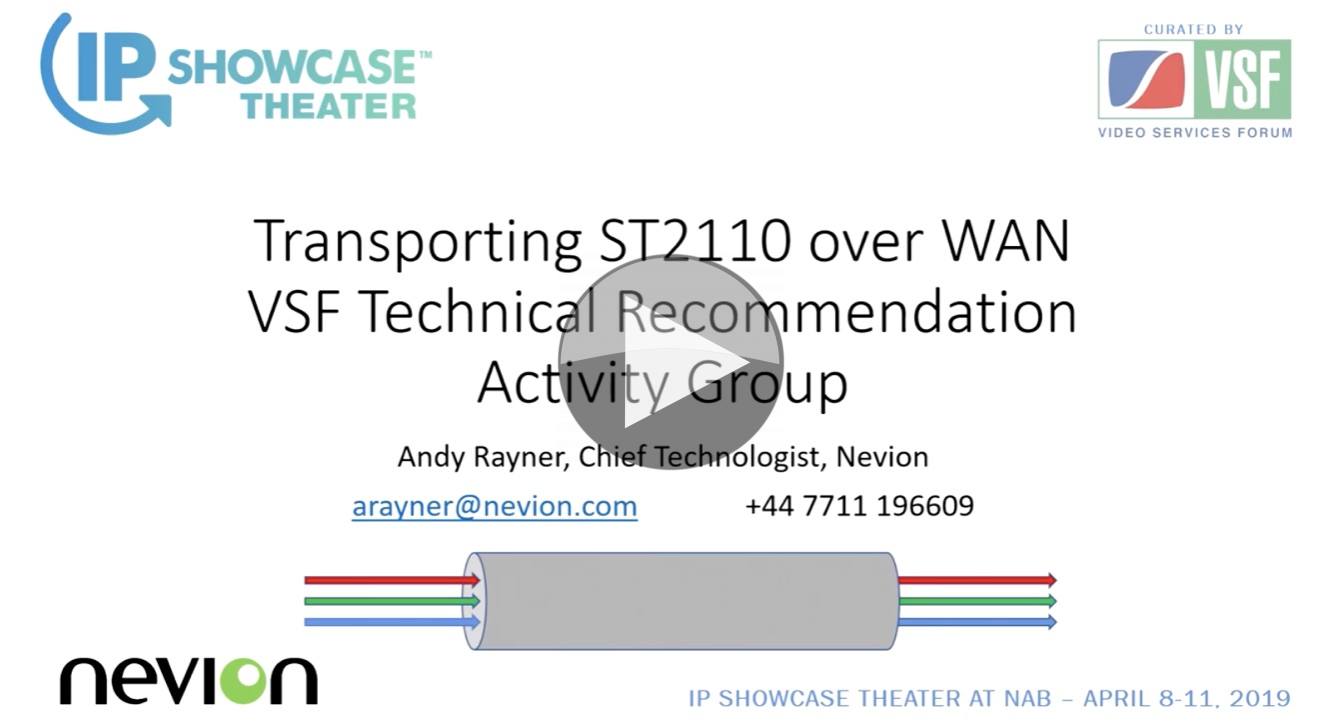 Is SMPTE ST 2110 suitable for inter-site connectivity over the WAN? As ST 2110 continues to mature and the first facilities are going live bringing 2110 into daily use, there are a number of challenges still to be overcome and moving a large number of essence flows long distances and between PTP time domains is one of them.
Nevion's Andy Rayner presents the work the VSF is doing to recommend transport of ST 2110 over WAN outlining where they have got to and what has been recommended to date.
The talk starts with SMPTE 2022-7 seamless protection which is recommended for dealing with path breaks. For compensating for transmission errors, FEC is recommended and Andy explains the parameters needed.
Key to the inter-site transport is trunking whereby the individual essences are mixed down to one flow. This has a number of advantages: Reducing the number of flows makes life simpler for service providers, all essences will now share the same signal path from site to site and it FEC protection can be more efficiently applied.
The trunks are made using GRE – Generic Routing Encapsulation – which is a pre-existing IT standard for grouping lots of traffic into a single tunnel whilst preserving the data inside. This then appears at the other end of the trunk with the same IP information as if nothing had happened. Andy looks at the extra encapsulation headers needed to make this work and goes on to discuss payload lengths as we need to keep them short so as not to result in fragmented packets.
Timing, as ever, is important meaning that the recommendation is to align all essences before sending them in to the trunk, though Andy looks at alternatives. Also of key concern is compression as there will be times when uncompressed video is simply too high a bandwidth to be carried on the WAN. JPEG 2000 and, now, JPEG XS are available for this task.
Andy covers timing, discovery, control, security and conversion to and from 2022-6 before finishing the talk by taking questions.
Watch now!
Speaker
Andy Rayner
Chief Technologist,
Nevion