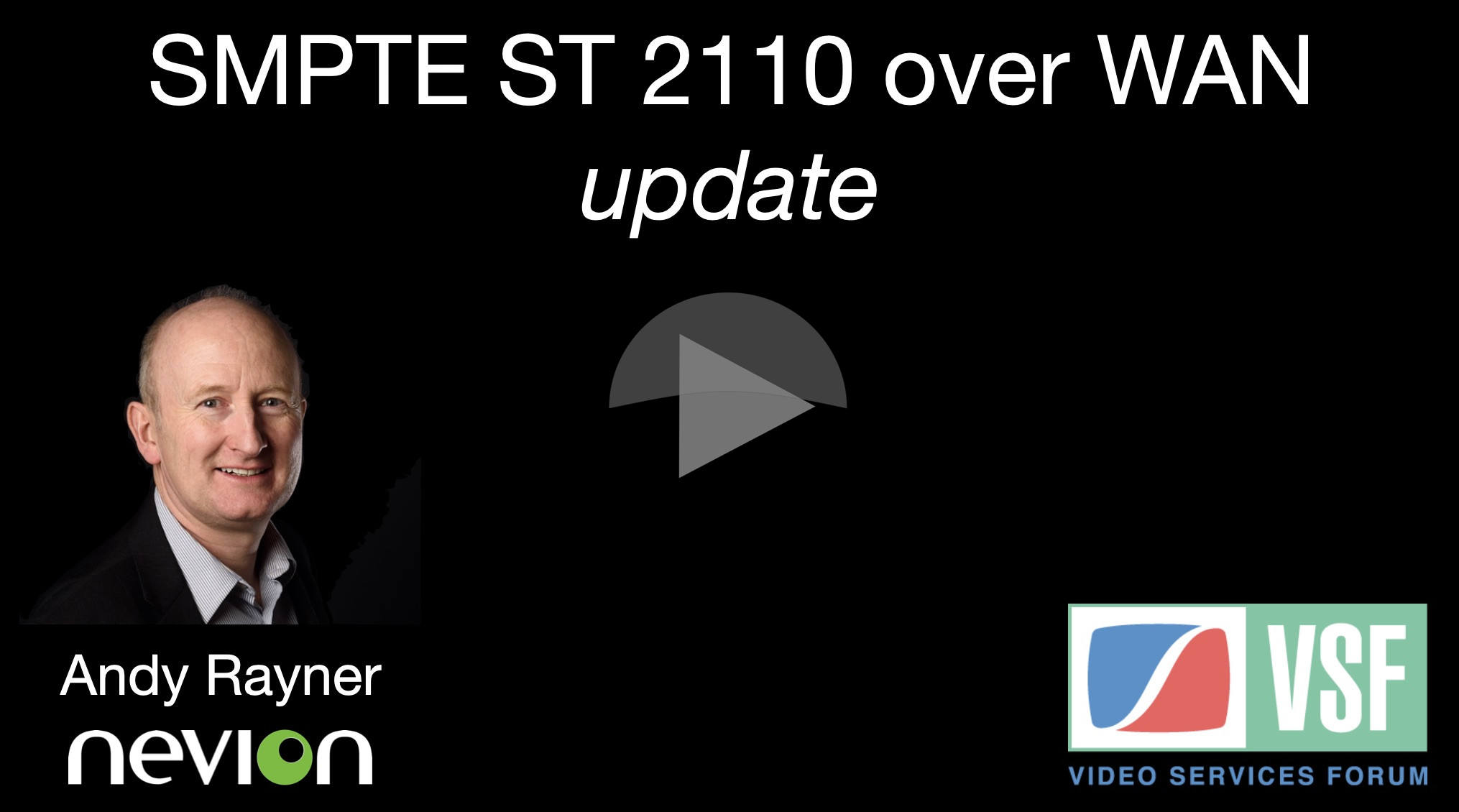 Is SMPTE ST 2110 suitable for inter-site connectivity over the WAN? ST 2110 is moving past the early adopter phase with more and more installations and OB vans bringing 2110 into daily use but today, each site works independently. What if we could maintain a 2110 environment between sites. There are a number of challenges still to be overcome and moving a large number of essence flows long distances and between PTP time domains is one of them.
Nevion's Andy Rayner is chair of the VSF Activity Group looking into transporting SMPTE ST 2110 over WAN and is here to give an update on the work in progress which started 18 months ago. The presentation looks at how to move media between locations which has been the primary focus to date. It then discusses how control over which media are shared will be handled as this is a new aspect to the work. Andy starts by outlining the protection offered in the scheme which supports both 2022-7 and FEC then explains that though FEC is valuable for single links where 2022-7 isn't viable, only some of the possible ST 2022-5 FEC configurations are supported, in part, to keep latency low.
The headline to carrying 2110 over the WAN is that it will be done over a trunk. GRE is a widely used Cisco trunking technology. Trunking, also known as tunnelling, is a technique of carrying 'private' traffic over a network such that a device sending into the trunk doesn't see any of the infrastructures between the entrance and the exit. It allows, for instance, IPv6 traffic to be carried over IPv4 equipment where the v4 equipment has no idea about the v6 data since it's been wrapped in a v4 envelope. Similarly, the ipv6 equipment has no idea that the ipv6 data is being wrapped and carried by routers which don't understand ipv6 since the wrapping and unwrapping of the data is done transparently at the handoff.
In the context of SMPTE ST 2110, a trunk allows one port to be used to create a single connection to the destination, yet carry many individual media streams within. This has the big benefit of simplifying the inter-site connectivity at the IT level, but importantly also means that the single connection is quite high bandwidth. When FEC is applied to a connection, the latency introduced increases as the bit rate reduces. Since ST 2110 carries audio and metadata separately, an FEC-protected stream would have variable latency depending on the type of the of traffic. Bundling them in to one large data stream allows FEC to be applied once and all traffic then suffers the same latency increase. The third reason is to ensure all essences take the same network path. If each connection was separate, it would be possible for some to be routed on a physically different route and therefore be subject to a different latency.
Entering the last part of the talk, Andy switches gears to talk about how site A can control streams in site B. The answer is that it doesn't 'control', rather there is the concept of requesting streams. Site A will declare what is available and site B can state what it would like to connect to and when. In response, site A can accept and promise to have those sources available to the WAN interface at the right time. When the time is right, they are released over the WAN. This protects the WAN connectivity from being filled with media which isn't actually being used. These exchanges are mediated and carried out with NMOS IS-04 an IS-05.
Watch now!
Speakers
Andy Rayner
Chief Technologist, Nevion,
Chair, WAN IP Activity Group, VSF
Moderator: Wes Simpson
Founder, LearnIPVideo.com
Co-chair RIST Activity Group, VSF