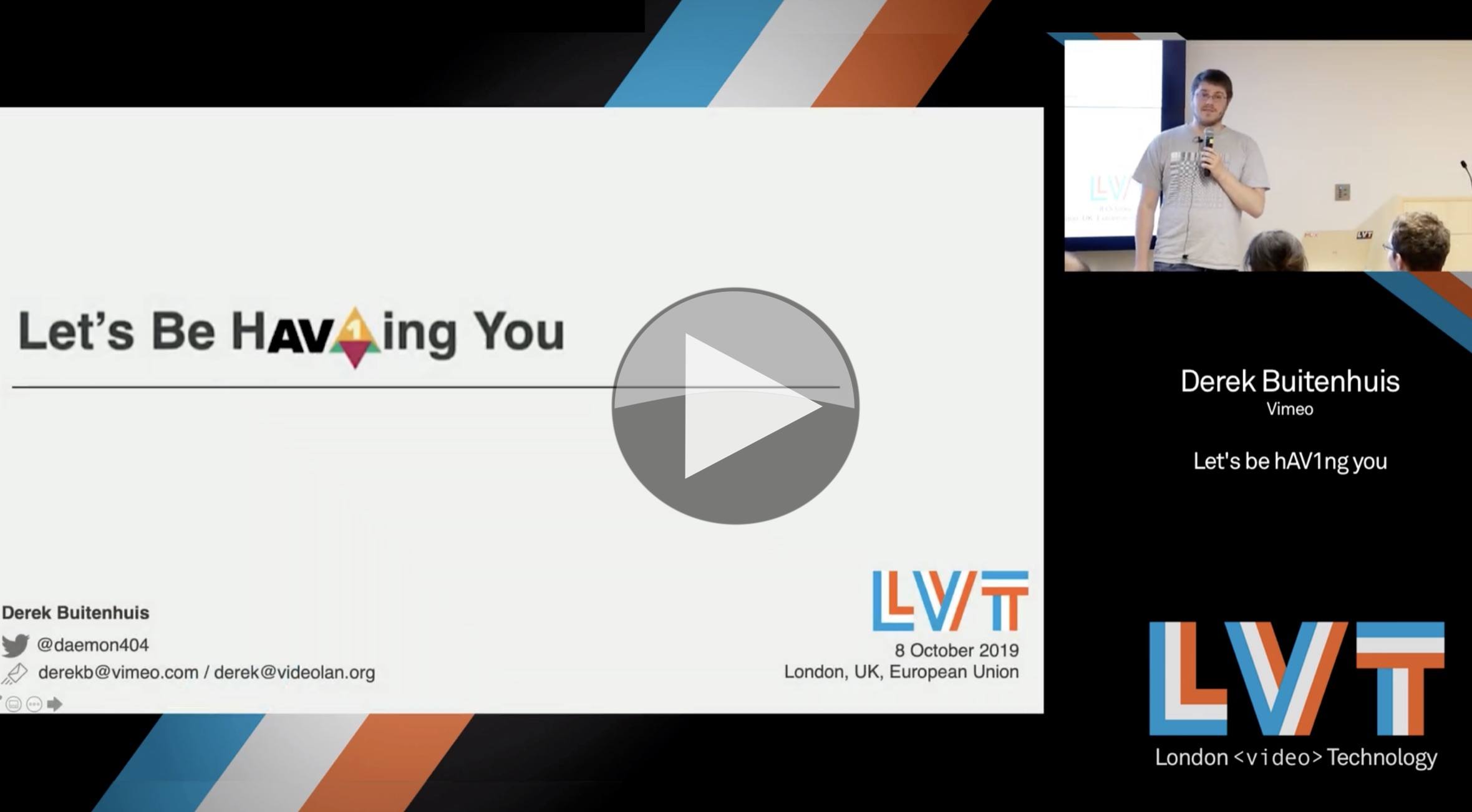 AV1 is now in use for some YouTube feeds, Netflix also can deliver AV1 to Android devices so we are no longer talking about "if AV1 happens" or "when AV1's finished". AV1 is here to stay, but in a landscape of 3 new MPEG codecs, VVC, EVC and LCEVC, the question moves to "when is AV1 the right move?"
In this talk from Derek Buitenhuis, we delve behind the scenes of AV1 to see which AV1 terms can be, more-or-less, mapped to which MPEG terms. AV1 is promoted as a royalty-free codec, although notably a patent pool has appeared to try and claim money from users. Because it's not reusing ideas from other technologies, the names and specific functions of parts of the spec are both not identical to other codecs, but are similar in function.
Derek starts by outlining some of the terms we need to understand before delving in further such as "Temporal Unit" which of course is called a TU and is analogous to a GOP. Then he moves on to highlight the many ways in which previous DCT-style work has been extended meaning the sizes and types of DCT have been increased, and the prediction modes have changed. All of this is possible but increases computation.
Derek then highlights several major tools which have been added. One is the prediction of the Chroma from the Luma signal. Another is the 'Constrained Direction Enhancement Filter' which improves the look of diagonal hard edges. The third is 'switch frames' which are similar to IDR frames or, as Derek puts it 'a fancy P-frame.' There is also a Multi-Symbolic Arithmetic Codec which is a method of guessing a future binary digit which, based on probability, allows you to encode a subset of the number but just enough to ensure that the algorithm will come out with the full number,
After talking about the Loop Restoration Filter Derek then critiques a BBC article which drew, it seems, incorrect conclusions based on not enabling the appropriate functions needed for good compression and also suggesting that there was not enough information provided for anyone else to replicate the experiment. Derek then finishes with MS-SIM plots of different encoders.
Watch now!
Download the slides.
Speaker
Derek Buitenhuis
Senior Video Encoding Engineer,
Vimeo