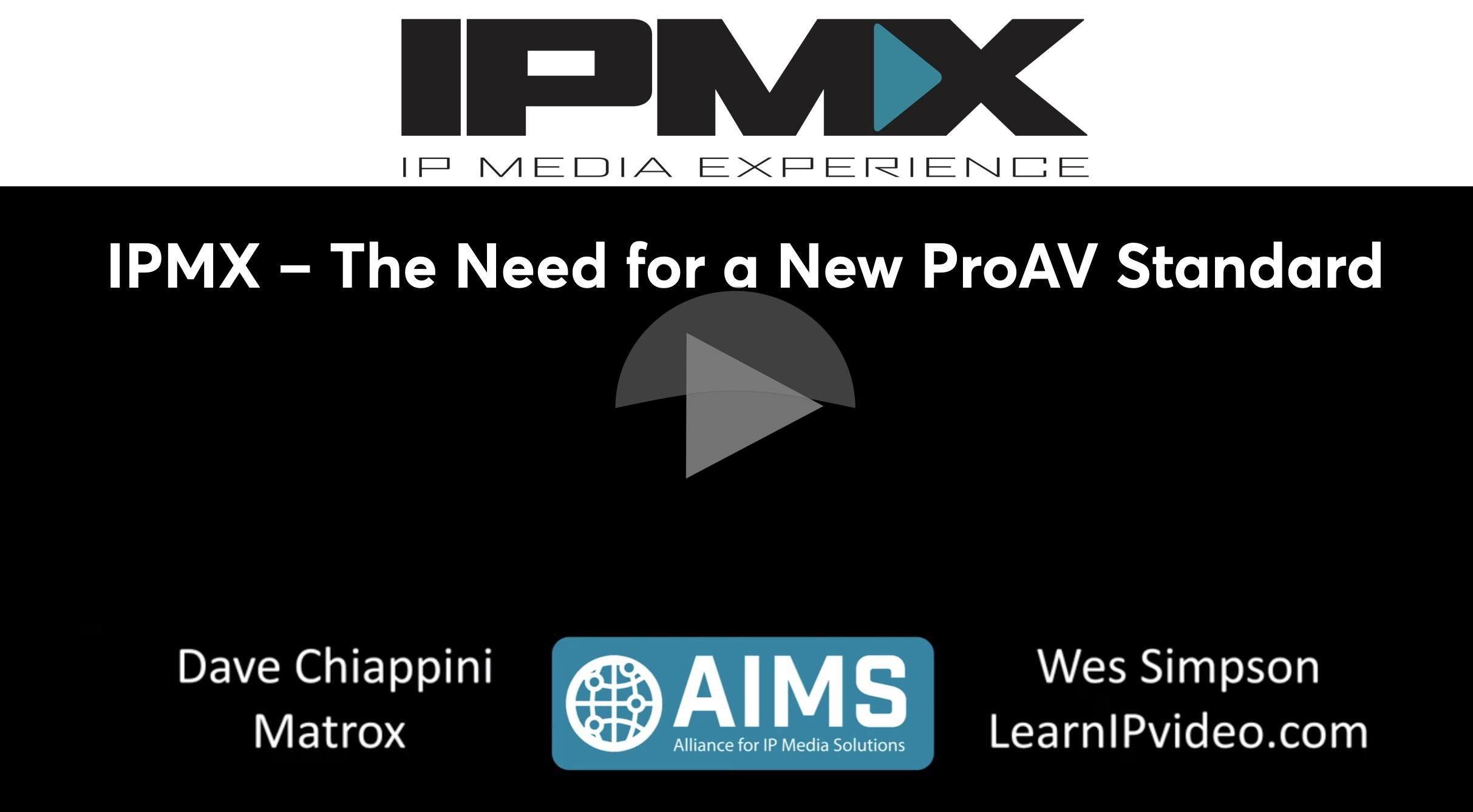 IPMX is an IP specification for interoperating Pro AV equipment. As the broadcast industry is moving towards increasing IP deployments based on SMPTE 2110 and AMWA's NMOS protocols, there's been a recognition that the Pro AV market needs to do many of the same things Broadcast wants to do. Moreover, there is not an open standard in Pro AV to achieve this transformation. Whilst there are a number of proprietary alliances, which enable wide-spread use of a single chip or software core, this interoperability comes at a cost and ultimately is underpinned by one, or a group of companies.
Dave Chiappini from Matrox discusses the work of the AIMS Pro AV working group with Wes Simpson from the VSF. Dave underlines the fact that this is a pull to unify the Pro AV industry to help people avoid investing over and over again in reinventing protocols or reworking their products to interoperate. He feels that 'open standards help propel markets forward' adding energy and avoiding vendor lock-in. This is one reason for the inclusion of NMOS, allowing any vendor to make a control system by working to the same open specification, opening up the market to both small and large companies.
Dave is the first to acknowledge that the Pro AV market's needs are different to broadcast's, and explains that they have calibrated settings, added some and 'carefully relaxed' parts of the standards. The aim is to have a specification which allows one piece of equipment, should the vendor wish to design it this way, that can be used in either an IPMX or ST 2110 system. He explains that the idea of relaxing some aspects of the ST 2110 ecosystem helps simplify implementation which therefore reduces cost.
One key relaxation has been in PTP. A lot of time and effort goes into making the PTP infrastructure work properly within SMPTE 2110 infrastructure. Having to do this at an event whilst setting up in a short timespan is not helpful to anyone and, elaborates Dave, a point to point video link simply doesn't need high precision timing. IPMX, therefore, is lenient in the need for PTP. It will use it when it can, but will gracefully reduce accuracy and, when there is no grandmaster, will still continue to function.
Another difference in the Pro AV market is the need for compression. Whilst there are times when zero compression is needed in both AV and Broadcast, Pro AV needs the ability to throw some preview video out to an iPad or similar. This isn't going to work with JPEG XS, the preferred 'minimal compression' codec for IPMX, so a system for including H264 or H265 is being investigated which could have knock-on benefits for Broadcast.
HDMI is essential for a Pro AV solution and needs its own treatment. Different from SDI, it has lots of resolutions and frame rates. It also has HDCP so AIMS is now working with the DCP on creating a method of carrying HDCP over 2110. It's thus hoped that this work will help broadcast use cases. TVs are already replacing SDI monitors, such interoperability with HDMI should bring down the costs of monitoring for non-picture critical environments.
Watch now!
Speakers
David Chiappini
Chair, Pro AV Working Group, AIMS
Executive Vice President, Research & Development,
Matrox Graphics Inc.
Wes Simpson
RIST AG Co-Chair, VSF
President & Founder, LearnIPvideo.com