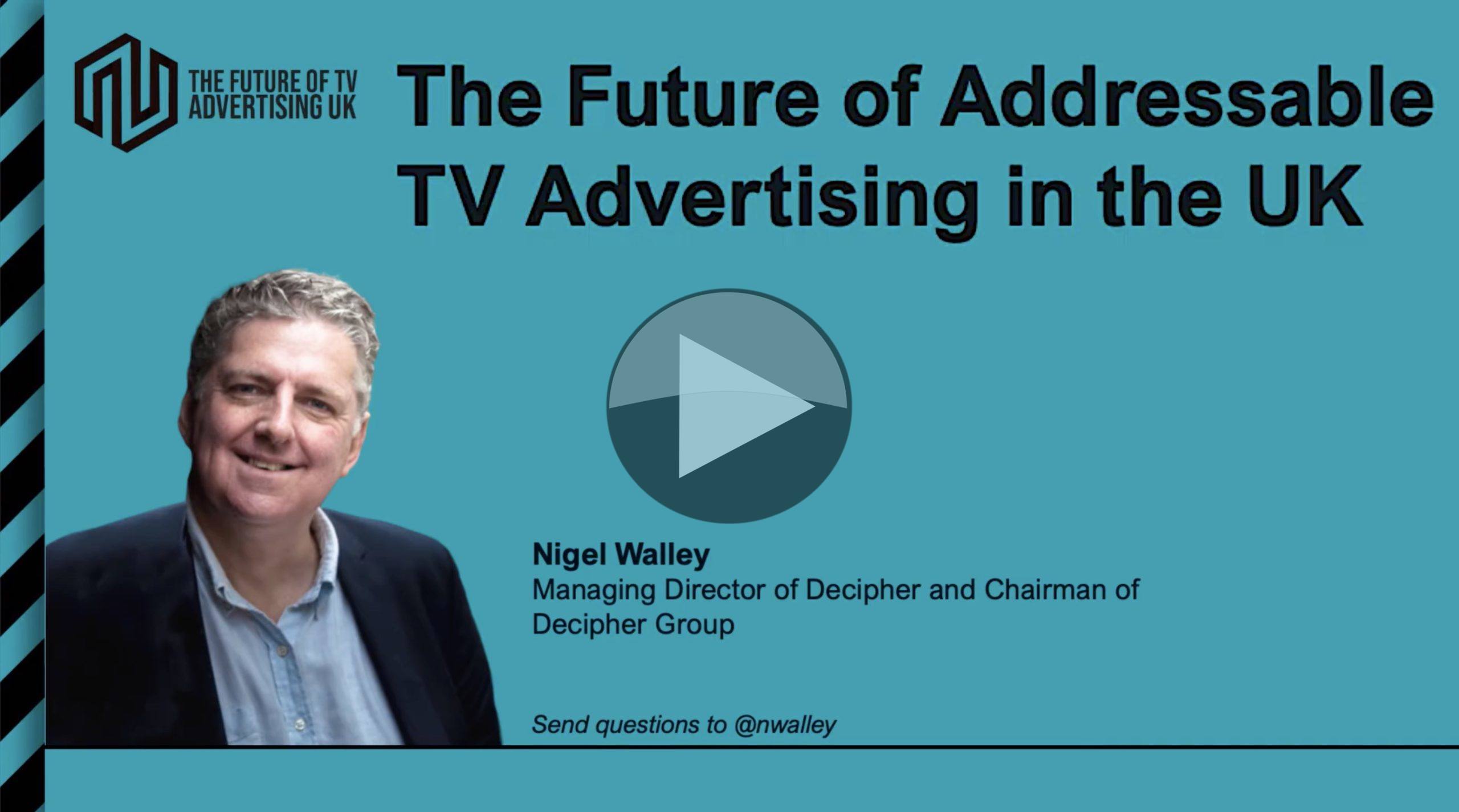 When it comes to advertising, there's a lot of value in understanding who you're talking to. This video examines the practicality of that within the UK and the relative value that brings. Nigel Walley from Decipher looks at how the landscape is changing both in the ability to address the TV externally and the information available within the home.
Nigel starts by looking at how the broadcast TV companies and the online streaming companies are able to target and concludes that broadcast can often fine tune to the region and and include dayparting whereas though we assume streaming companies can target by individuals, in reality Nigel asserts, they typically target by household. He goes further to explain that almost 50% of viewing is still linear TV with YouTube taking up 12.4% of the 50% which remains of the 4hours and 42 minutes of average viewing time per day.
Nigel makes the point that with HbbTV and many of the streaming services being available on the 'big screen', it makes the idea of 'broadcast' vs 'streaming' a nonsense as they are already converged. The big difference is in how we can provide the ads to these platforms. The Virgin and Sky closed platforms comprise nearly 13 million viewers with Freeview plus others making up nearly 16 million. Nigel highlights that 30% of viewing is with the BBC and hence no advertising, although trailers may be delivered using addressable technologies.
Nigel explains that Sky's Adsmart has been extended to Virgin cable. Then explains how YouView and other channels move up to the big screen – the TV. The important issue for publishers is how the Sky and Virgin platforms end up as controlling influences. Nigel explains the Linear Addressability of the platforms showing that YouView is the next potential area this will happen. There's also the opportunity for smart TVs themselves to help in delivering these ads. "What can a broadcaster do alone" asks Nigel which he answers by saying 'very little' unless they are Sky or Virgin in the UK. They can deliver addressable TV into apps and computers, however.
Nigel finishes with a call to action to the broadcasters to change their focus from individual apps to the ways they and agencies can work together to reach more, and more targeted viewers.
Watch now!
Speaker
Nigel Walley
Managing Director,
Decipher