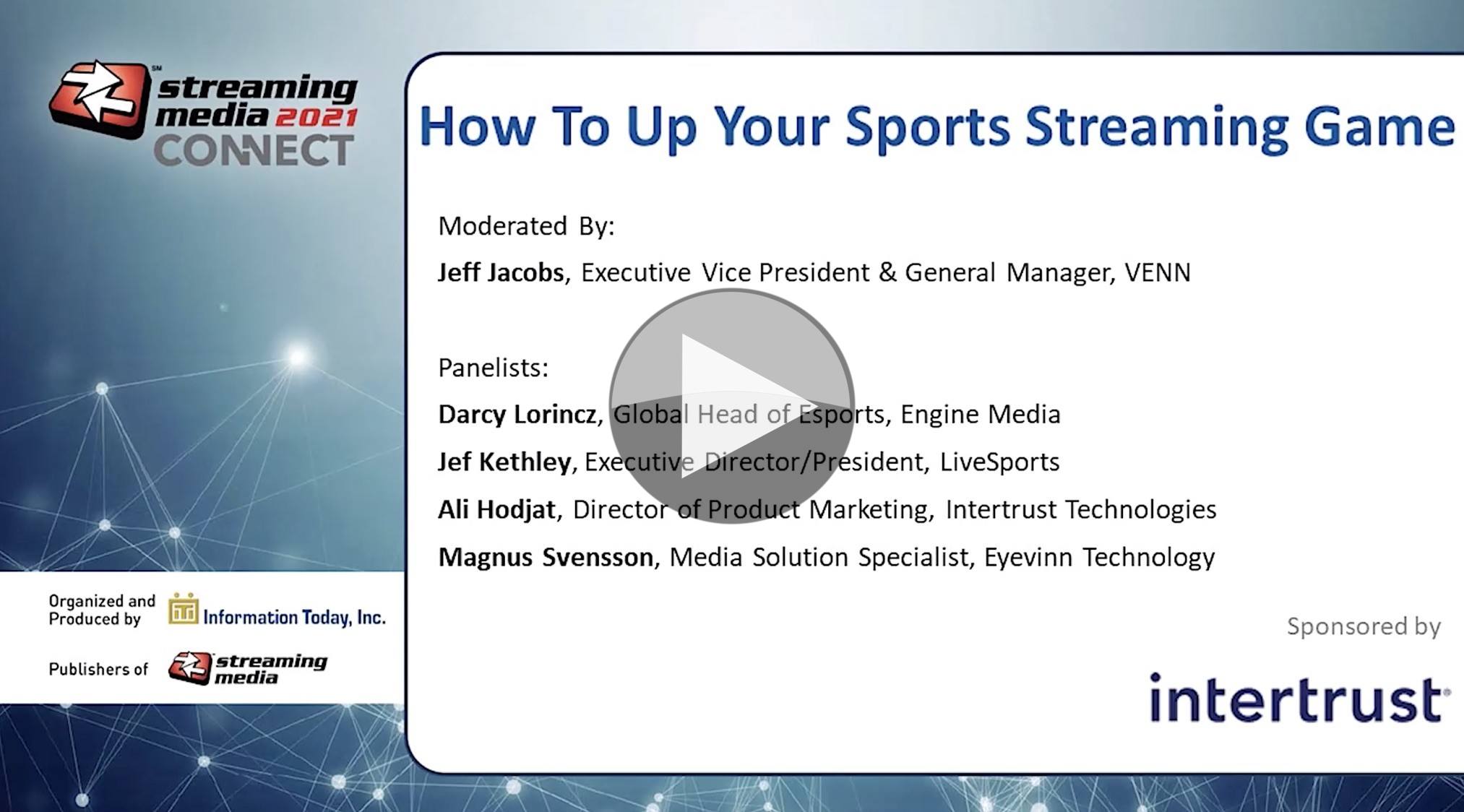 As countries seek to wrest themselves from lockdowns, however long that takes, we see the name of the game will be come out big and make the most of the renewed freedoms. Streaming has certainly seen a boost over the last year despite the challenges, but in order to make the most of that, as we switch up a gear in public life, now's the time up your game. Sports streaming is likely to see gradual improvement in the number of live fixtures to cover and employees should be able to find protuctivity gains in working more closely with their colleagues when the time is right the share space again.
In this panel from Streaming Media Connect, Jeff Jacobs from VENN talks to Magnus Svensson, from Eyevinn Technology, Ali Hodjat from Intertrust Technologies, Live Sports' Jef Kethley and Darcy Lorincz from Engine Media. Magnus kicks off the discussion highlighting the state of the sports streaming industry and the trends he's seeing. Magnus says that streaming providers are moving away from mimicing broadcast services and inovating in their own right. The younger audience are still more interested in highlights clips then older viewers and esports wiith its on-screen chat and interactivity represents a big departure from what we are used to from broadcasters. Low-latency streaming remains important but keeping feeds synchronised within the home is often seen as more important than the absolute latency.


Jef speaks about the complete cloud infrastructure he built for the Drone Racing League (DRL) which gave a computer to each player and ran the program and drone simulation in the cloud. Looking to the future, he sees streaming as now allowing monetisation of newer sports. Now that it's easier and/or cheaper to produce lower-interest sports, they can be economoical to monetise and deliver even to a small audience.
Darcy represents workflows where AI is doing the work. AI's understanding the goals, the numbers on shirts and much of the action within a game. Darcy's trying to find as many things AI can do to reduce our reliance on humans. Visualisation of data is grown in demand making these stats easily digestable for viewers by overlaying information in new ways on to the screen.
Ali's view is from the security angle. He's been focussed on protecting live sports. Weith the push to lower and lower latencies, the value of the streams has increased as they're more useful to use for betting. At the same time, lower latency makes it harder to add encryption. On top of encryption watermarking individual feeds and quickly identifying them online is a major focus. Protection, though, needs to extend from the media back to the web site itself, the payment gateway, the applications and much else.
The panel session finishes after discussing low-latency, the pros and cons of remote working, co-streaming, low-latency for backhaul/contribution and finishes with a round of advice to use with your service.
Watch now!
Speakers
Magnus Svensson
VP Sales and Business Development,
Eyevinn Technology
Ali Hodjat
Director Product Marketing,
Intertrust
Jef Kethley
Executive Director / President
LiveSports, LLC
Darcy Lorincz
Global head of Esports & Business Development,
Engine Media Inc.
Moderator: Jeff Jacobs
General Manager,
VENN