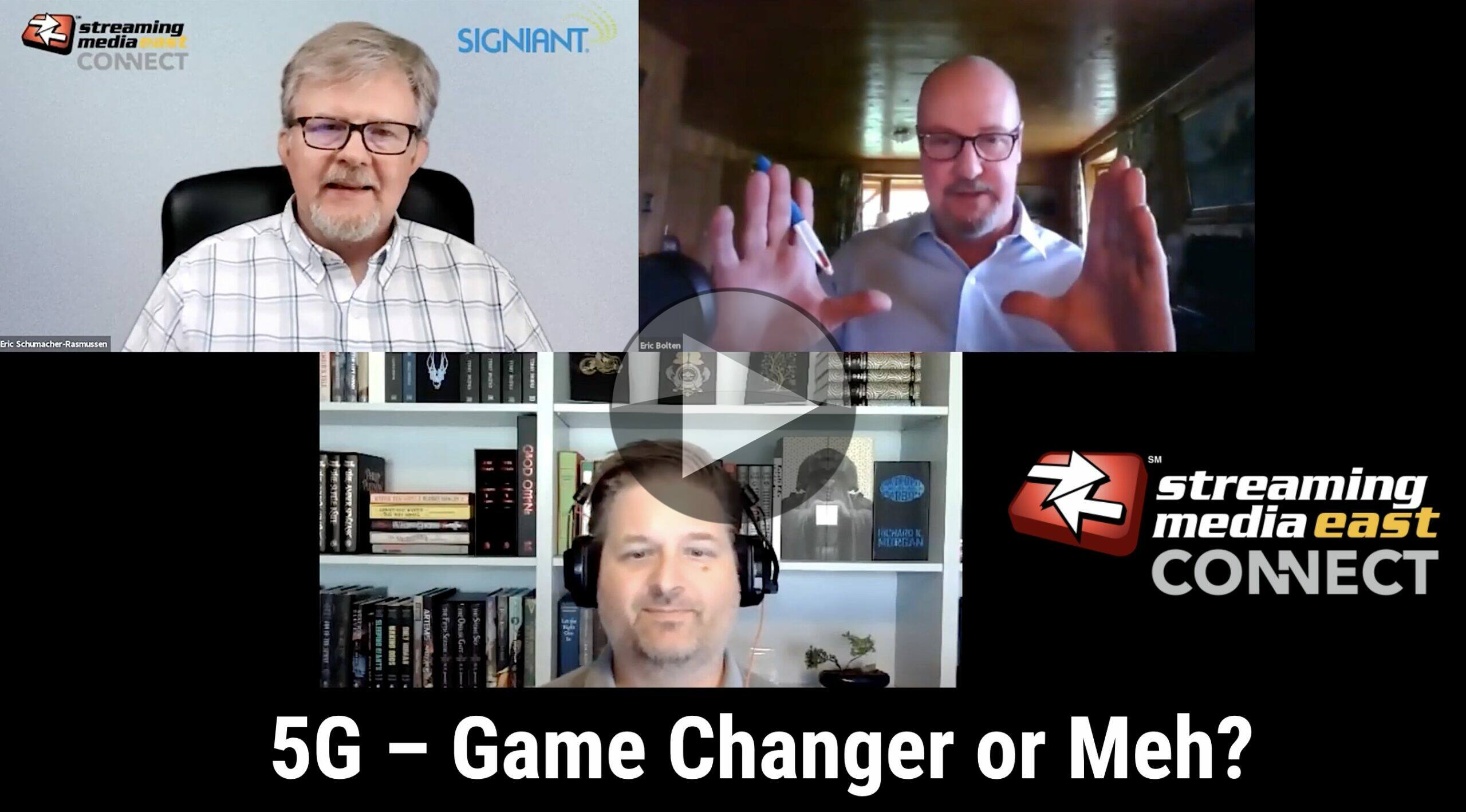 The 5G rollout has started in earnest in the UK, North America, Asia and many other regions. As with any new tech rollout, it takes time and currently centres on densely populated areas, but tests and trials are already underway in TV productions to find out whether 5G can actually help improve workflows. Burnt by the bandwidth collapse of 4G in densely populated locations, there's hope amongst broadcasters that the higher throughput and bandwidth slicing will, this time, deliver the high bandwidth, reliable connectivity that the industry needs.
Jason Thibeault from the Streaming Video Alliance join's Zixi's Eric Bolten to talk to Eric Schumacher-Rasmussen who moderates this discussion on how well 5G is standing up to the hype. For a deeper look at 5G, including understanding the mix of low frequencies (as used in 2G, 3G and 4G) and high, Ultra Wide Band (UWB) frequencies referred to in this talk, check out our article which does a deep dive on 5G covering roll out of infrastructure and many of the technologies that make it work.
Eric starts by discussing trials he's been working on in including one which delivered 8K at 100Mbps over 5G. He sees 5G as being very useful to productions whether on location or on set. He's been working to test routers and determine the maximum throughput possible which we already know is in excess of 100Mbps, likely in the gigabits. Whilst rollouts have started and there's plenty of advertising surrounding 5G, the saturation in the market of 5G-capable phones is simply not there but that's no reason for broadcasters of film crews not to use it. 30 markets in the US are planning to be 5G enabled and all the major telcos in the UK are rolling the technology out which is already in around 200 cities and towns. It's clear that 5G is seen as a strategic technology for governments and telcos alike.
Jason talks about 5G's application in stadia because it solves problems for both the on-location viewers but also the production team themselves. One of the biggest benefits of 5G is the ultra-low-latency. Having 5G cameras keeps wireless video in the milliseconds using low-latency codecs like JPEG XS then delivery to fans within the stadium can also be within milliseconds meaning the longest delay in the whole system is the media workflow required for mixing the video, adding audio and graphics. The panel discusses how this can become a strong selling point for the venue itself. Even supporters who don't go into the stadium itself can come to an adjacent location for good food, drinks a whole load of like-minded people, massive screens and a second-screen experience like nothing available at home. On top of all of that, on-site betting will be possible, enabled by the low latency.
Moving away from the stadium, North America has already seen some interest in linking the IP-native ATSC 3.0 broadcast network to the 5G network providing backhaul capabilities for telcos and benefits for broadcasters. If this is shown to be practical, it shows just how available IP will become in the medium-term future.
Jason summarises the near-term financial benefits in two ways: the opportunity for revenue generation by delivering better video quality and faster advertising but most significantly he sees getting rid of the need for satellite backhaul as being the biggest immediate cost saver for many broadcast companies. This won't all be possible on day one, remembering that to get the major bandwidths, UWB 5G is needed which is subject to a slower roll-out. UWB uses high-frequency RF, 24Ghz and above, which has very little penetration and relies on line-of-sight links. This means that even a single wall can block the signal but those that can pick it up will get gigabits of throughput.
The panel concludes by answering a number of questions from the audience on 5G's benefit over fibre to the home, the benefits of abstracting the network out of workflows and much more.
Watch now!
Speakers
Jason Thibeault
Executive Director,
Streaming Video Alliance
Eric Bolten
VP of Business Development,
Zixi
Moderator: Eric Schumacher-Rasmussen
Editor-in-Chief,
Streaming Media