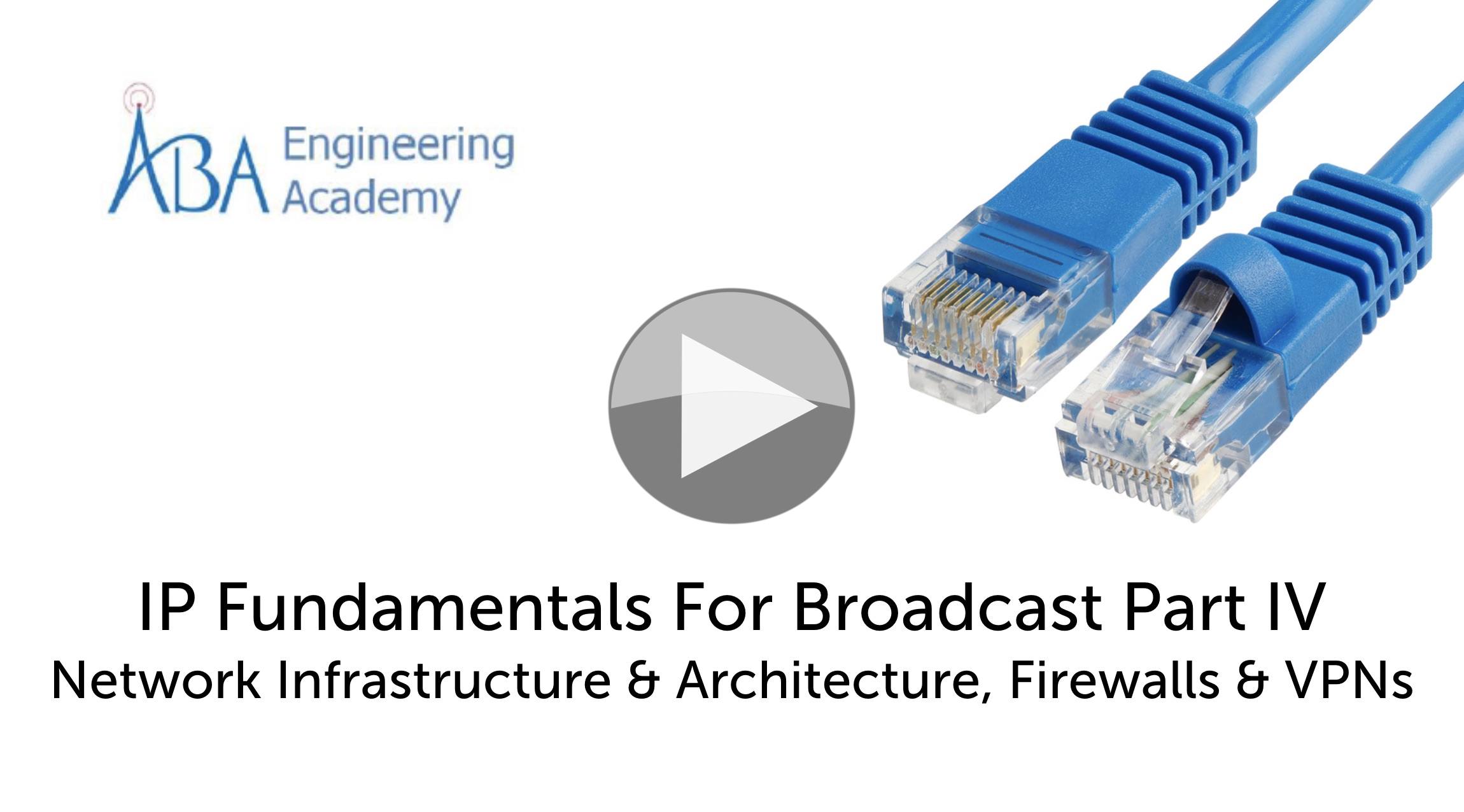 "When networking gets real", perhaps, could have been the title of this last of 4 talks about IP for broadcast. This session wraps up a number of topics from the classic 'TCP Vs. UDP' discussion to IPv6 and examines the switches and networks that make up a network as well as the architecture options. Not only that, but we also look at VPNs and firewalls finishing by discussing some aspects of network security. When viewed with the previous three talks, this discusses many of the nuances from the topics already covered bringing in the relevance of 'real world' situations.
Wayne Pecena, President of SBE, starts by discussing subnets and collision domains. The issue with any NIC (Network Interface Controller) is that it's not to know when someone else is talking on the wire (i.e. when another NIC is sending a message by changing the voltage of the wire). It's important that NICs detect when other NICs are sending messages and seek to avoid sending while this is happening. If this does't work out well, then two messages on the same wire are seen as a 'collision'. It's no surprise that collisions are to be avoided which is the starting point of Wayne's discussion.
Moving from Layer 2 to Layer 4, Wayne pits TCP against UDP looking at the pros and cons of each protocol. Whilst this is no secret, as part of the previous talks this is just what's needed to round the topic off ahead of talking about network architecture.
"Building and Securing a Segmented IP Network Infrastructure" is the title of the next talk which starts to deal with real-world problems when an engineer gets back from a training session and starts to actually specify a network herself. How should the routers and switches be interconnected to deliver the functionality required by the business and, as we shall see, which routers/switches are actually needed? Wayne discusses some of the considerations of purchasing switches (layer 2) and routers (layer 3 & 2) including the differing terms used by HP and Cisco before talking about how to assign IP addresses, also called an IP space. Wayne takes us through IP addressing plans, examples of what they would look like in excel along with a lot of the real-world thinking behind it.
Security is next on the list, not just in terms of 'cybersecurity' in the general sense but in terms of best practice, firewalls and VPNs. Wayne takes a good segment of time out to discus the different aspects of firewalls – how they work, ACLs (Access-control Lists), and port security amongst other topics before doing the same for VPNs (Virtual Private Networks) before making the point that a VPN and a firewall are not the same. A VPN allows you to extend a network out from a building to be in another – the typical example being from your work's address into your home. Whilst a VPN is secured so that only certain people can extend the network, a firewall more generally acts to prevent anything coming into a network.
As an addendum to this talk, Wayne explains IPV4 depletion and how IPv6 addressing works. In practice, for broadcasters deploying within their company in the year 2020, IPv6 is unlikely to be a topic needed. However, for people who are distributing to homes and working closer with CDNs and ISPs, there is a chance that this information is more relevant on a day-to-day basis. Whilst IP address depletion is a real thing, since every company has a 10.x.x.x address space to play with, most companies use internal equipment with an IPv4 address plan.
Watch now!
Speaker
Wayne Pecena
Director of Engineering, KAMU TV/FM at Texas A&M University
President, Society of Broadcast Engineers AKA SBE