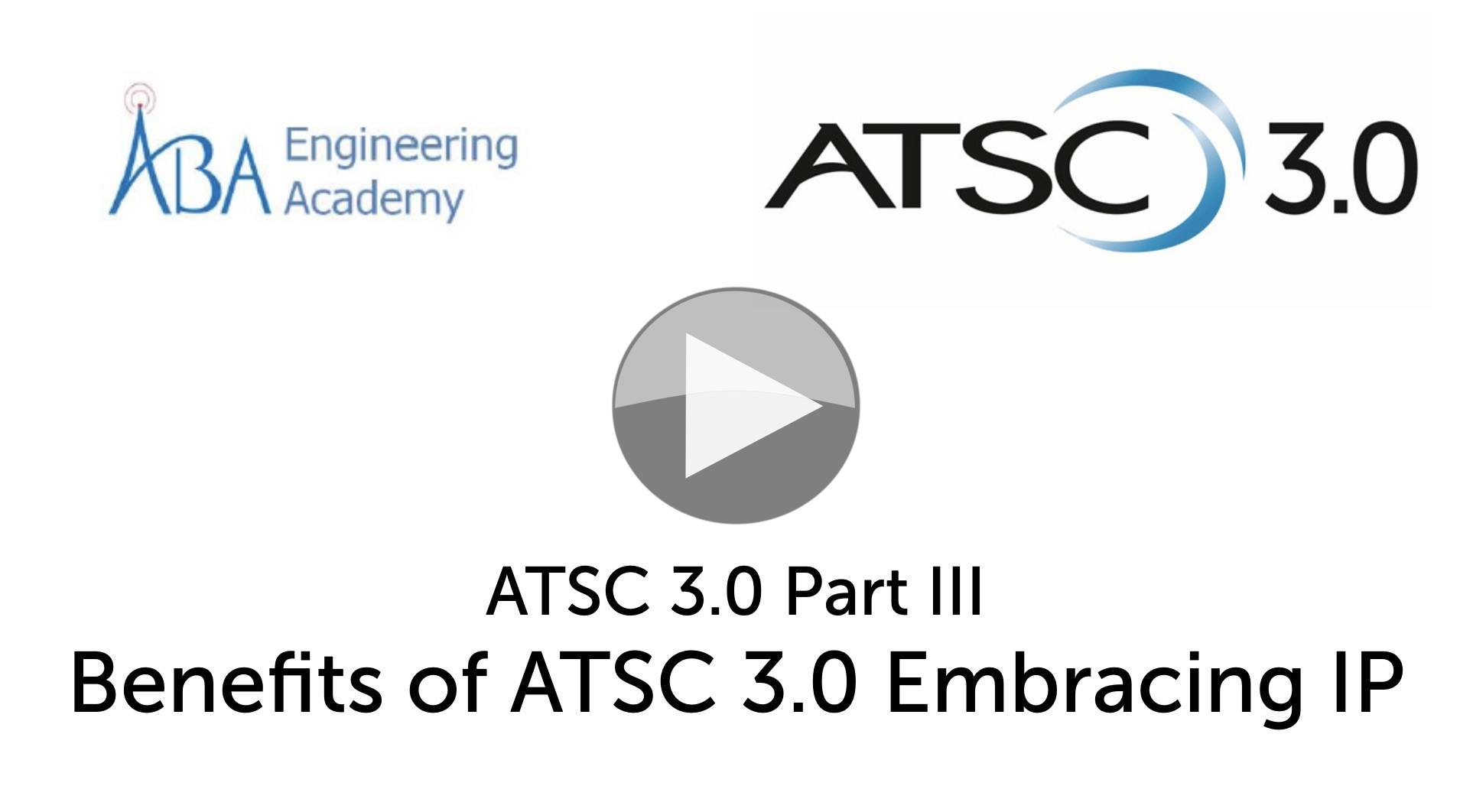 ATSC 3.0 is the US-developed set of transmission standards which is fully embracing IP technology both over the air and for internet-delivered content. This talk follows on from the previous two talks which looked at the physical and transmission layers. Here we're seeing how IP throughout has benefits in terms of broadening choice and seamlessly moving from on-demand to live channels.
Richard Chernock is back as our Explainer in Chief for this session. He starts by explaining the driver for the all-IP adoption which focusses on the internet being the source of much media and data. The traditional ATSC 1.0 MPEG Transport Stream island worked well for digital broadcasting but has proven tricky to integrate, though not without some success if you consider HbbTV. Realistically, though, ATSC see that as a stepping stone to the inevitable use of IP everywhere and if we look at DVB-I from DVB Project, we see that the other side of the Atlantic also sees the advantages.
But seamlessly mixing together a broadcaster's on-demand services with their linear channels is only benefit. Richard highlights multilingual markets where the two main languages can be transmitted (for the US, usually English and Spanish) but other languages can be made available via the internet. This is a win in both directions. With the lower popularity, the internet delivery costs are not overburdening and for the same reason they wouldn't warrant being included on the main Tx.
Richard introduces ISO BMFF and MPEG DASH which are the foundational technologies for delivering video and audio over ATSC 3.0 and, to Richard's point, any internet streaming services.
We get an overview of the protocol stack to see where they fit together. Richard explains both MPEG DASH and the ROUTE protocol which allows delivery of data using IP on uni-directional links based on FLUTE.
The use of MPEG DASH allows advertising to become more targeted for the broadcaster. Cable companies, Richard points out, have long been able to swap out an advert in a local area for another and increase their revenue. In recent years companies like Sky in the UK (now part of Comcast) have developed technologies like Adsmart which, even with MPEG TS satellite transmissions can receive internet-delivered targeted ads and play them over the top of the transmitted ads – even when the programme is replayed off disk. Any adopter of ATSC 3.0 can achieve the same which could be part of a business case to make the move.
Another part of the business case is that ATSC not only supports 4K, unlike ATSC 1.0, but also 'better pixels'. 'Better pixels' has long been the way to remind people that TV isn't just about resolution. 'Better pixels' includes 'next generation audio' (NGA), HDR, Wide Colour Gamut (WCG) and even higher frame rates. The choice of HEVC Main 10 Profile should allow all of these technologies to be used. Richard makes the point that if you balance the additional bitrate requirement against the likely impact to the viewers, UHD doesn't make sense compared to, say, enabling HDR.
Richard moves his focus to audio next unpacking the term NGA talking about surround sound and object oriented sound. He notes that renderers are very advanced now and can analyse a room to deliver a surround sound experience without having to place speakers in the exact spot you would normally need. Options are important for sound, not just one 5.1 surround sound track is very important in terms of personalisation which isn't just choosing language but also covers commentary, audio description etc. Richard says that audio could be delivered in a separate pipe (PLP – discussed previously) such that even after the
video has cut out due to bad reception, the audio continues.
The talk finishes looking at accessibility such as picture-in-picture signing, SMPTE Timed Text captions (IMSC1), security and the ATSC 3.0 standards stack.
Watch now!
Speaker
Richard Chernock
Former CSO,
Triveni Digital