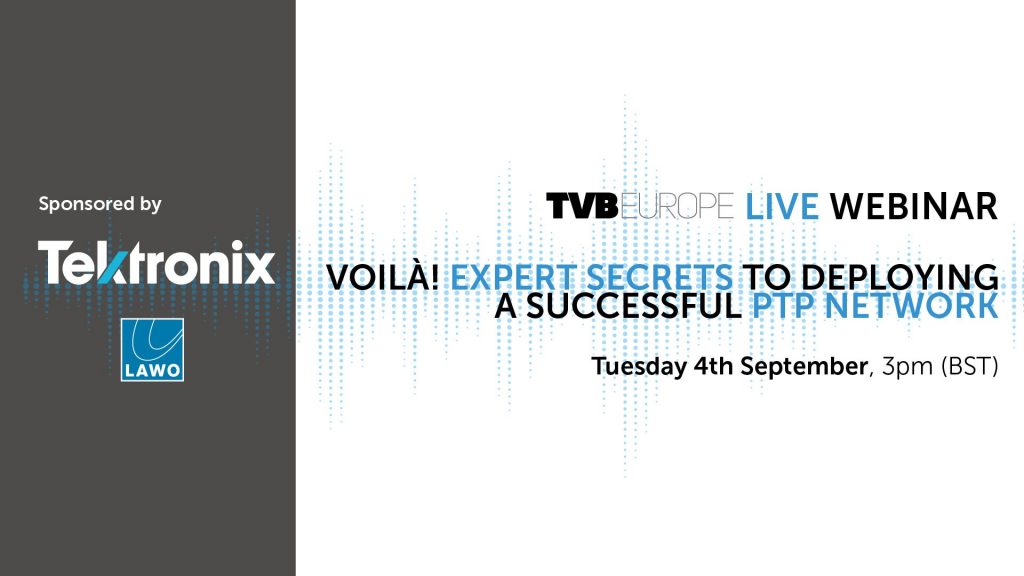 Tuesday 4th September 2018, 15:00 BST
Setting up a PTP Network shouldn't be difficult! Learn from the experts who have seen it all and know the tricks to keep you out of trouble and your IP network system perfectly timed. This webinar will discuss basic synchronization requirements and how PTP can serve them, provide a high-level view of how to clear PTP obstacles in media applications, and then launch into some monitoring and diagnosis best practices. Come, learn, and ask your toughest questions!
Erling Hedkvist
SVP and Product Manager
for Networked Audio & Video Solutions
Lawo
Erling Hedkvist is Senior Vice President and Business Development Manager at Lawo. Mr Hedkvist has been in the broadcast industry since 2000 and started his career in product management before making the move over to sales, business development and corporate management. Mr Hedkvist specialized early on in providing networking solutions for the broadcast and media & entertainment industry. Initially for contribution applications but lately with a focus on providing software defined networking solutions for live production workflows. As such he works with clients to design complete solutions for Remote Production, Master Control, Playout, PCR, OTT and other broadcast applications on top of IP and in a distributed and virtualized environment.
Andreas Hildebrand
RAVENNA Evangelist
ALC NetworX
Andreas Hildebrand is acting as Evangelist for the RAVENNA technology developed by ALC NetworX, Germany. His experience is based on more than 25 years of occupation in the Professional Audio / Broadcasting industry. He received a graduate diploma in computer science and worked as a software engineer and Head of Development for companies in Germany and the US for several years. He is a full-time participant in the AES Task Group defining and maintaining the AES67 AoIP standard. He is also participating in the AIMS Technical WG and the SMPTE ST2110 SVIP standardization.
Mike Overton
Principal Engineer
Tektronix
Mike Overton is a Principal Engineer at Tektronix. He has been a HW designer and project lead on SDI, MPEG, audio, signal generation, picture quality, and IP products. For the last 3 years, Mike has concentrated on IP-based systems, encompassing both the PTP reference and the ST2110 essence aspects. He led the definition and development of the SPG8000A PTP master and contributed to the definition and testing of the Prism IP monitor. He is the focal point for many POCs and recently helped define and execute the SMPTE-sponsored interoperability tests for PTP.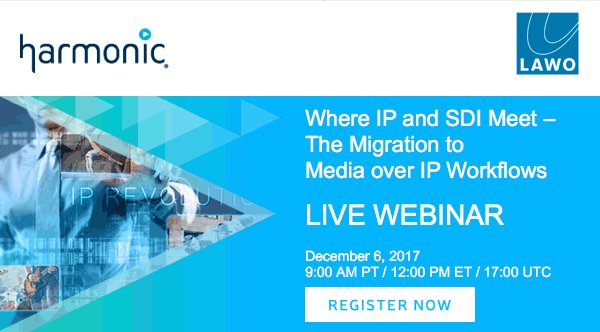 Webinar and On Demand: December 6th 09:00 PST, 17:00 GMT
Now that SMPTE ST 2110 has been approved, attention is focused more than ever on solving the practical challenges of migrating SDI workflows to IP.
Join industry experts from Harmonic and Lawo as they discuss the ins and outs of converting between SDI and IP, the benefits of a hybrid approach for migrating to "all IP" over time, and the implications of merging uncompressed IP with existing compressed IP transport downstream of production and playout workflows.
Topics include:
Opportunities for new and improved workflow efficiency offered by IP
How to deal with the conversion between SDI and IP, including playout and monitoring
What trends are guiding the move to all IP workflows
How to integrate the uncompressed ecosystem with compression and delivery systems