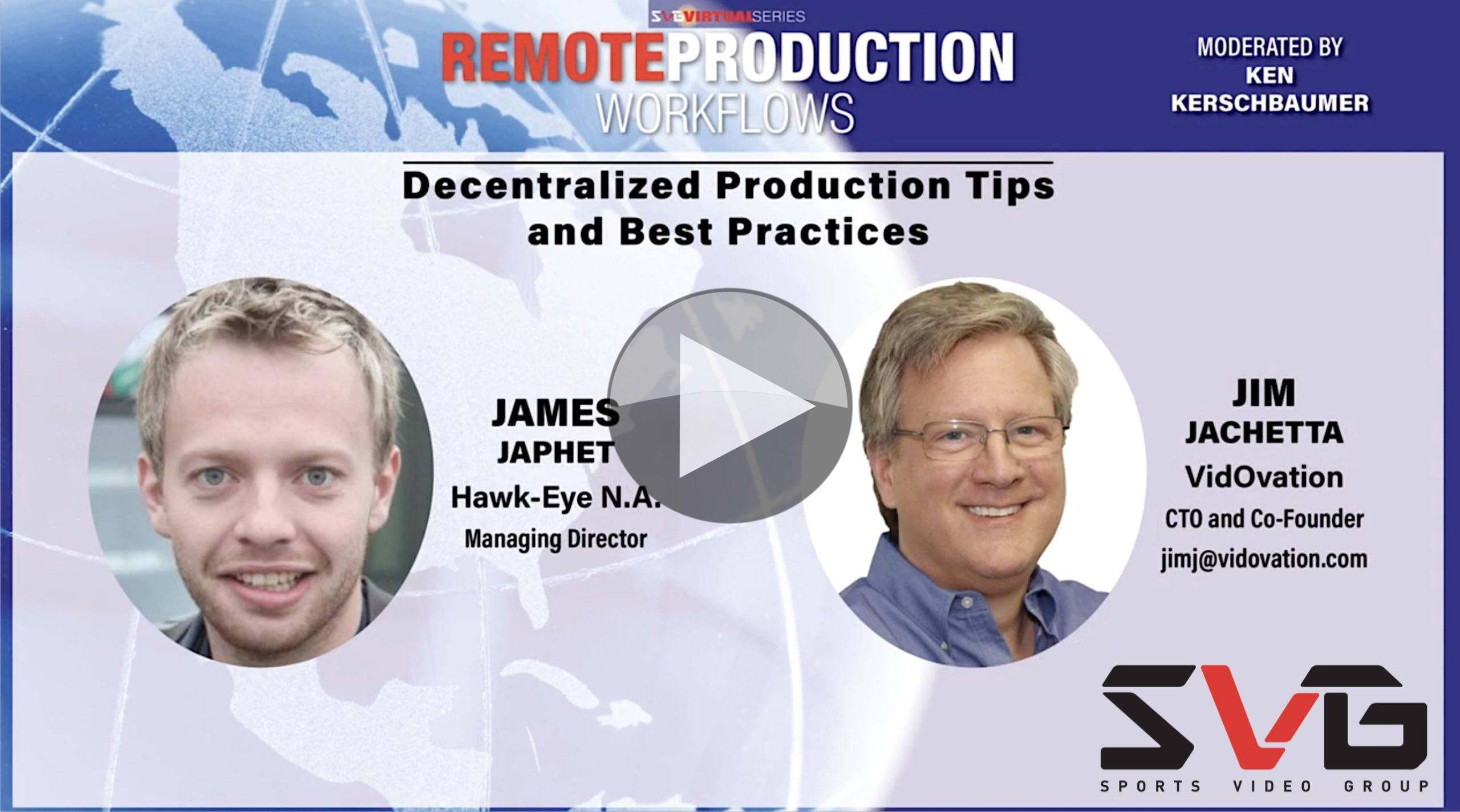 Live sports production has seen a massive change during COVID. We looked at how this changed at the MCR recently on The Broadcast Knowledge hearing how Sky Sports had radically changed along with Arsenal TV. This time we look to see how life in the truck has changed. The headline being that most people are staying at home, so how to you keep people at home and mix a multi-camera event?
Ken Kerschbaumer from Sports Video Group talks to VidOvation Jim Jachetta
and James Japhet from Hawk-Eye to understand the role they've been playing in bringing live sports to screen where the REMI/Outside Broadcast has been pared down to the minimum and most staff are at home. The conversation starts with the backdrop of The Players Championship, part of the PGA Tour which was produced by 28 operators in the UK who mixes 120+ camera angles and the audio to produce 25 live streams including graphics for broadcasters around the world.
Lip-sync and genlock aren't optional when it comes to live sports. Jim explains that his equipment can do up to fifty cameras with genlock synchronisation over bonded cellular and this is how The Players worked with a bonded cellular on each camera. Jim discusses how audio, also has to be frame-accurate as they had many, many mics always open going back to the sound mixer at home.
James from Hawk-Eye explained that part of their decision to leave equipment on-site was due to lip-sync concerns. Their system worked differently to VidOvation, allowing people to 'remote desktop', using a Hawk-Eye-specifc low-latency technology dedicated to video transport. This also works well for events where there isn't enough connectivity to support streaming of 10, 20 or 50+ feeds to different locations from the location.
The production has to change to take account of two factors: the chance a camera's connectivity might go down and latency. It's important to plan shots ahead of time to account for these factors, outlining what the backup plan is, say going to a wide shot on camera 3, if camera 1 can't be used. When working with bonded cellular, latency is an unavoidable factor and can be as high as 3 seconds. In this scenario, Jim explains it's important to explain to the camera operators what you're looking for in a shot and let them work more autonomously than you might traditionally do.
Latency is also very noticeable for the camera shaders who usually rack cameras with milliseconds of latency. CCU's are not used to waiting a long time for responses, so a lot of faked messages need to be sent to keep the CCU and controller happy. The shader operator needs to then get used to the latency, which won't be as high as the video latency and take things a little slower in order to get the job done.
Not travelling everywhere has been received fairly well by freelancers who can now book in more jobs and don't need to suffer reduced pay for travel days. There are still people travelling to site, Jim says, but usually, people who can drive and then will sit in the control room with shields. For the PGA Tour, the savings are racking up. Whilst there are a lot of other costs/losses at the moment for so many industries, it's clear that the reduced travel and hosting will continue to be beneficial after restrictions are lifted.
Watch now!
Speakers
Jim Jachetta
EVP & CTO: Wireless Video & Cellular Uplinks
VidOvation
James Japhet
Managing Director
Hawk-Eye North America
Ken Kerschbaumer
Editorial Director,
Sports Video Group