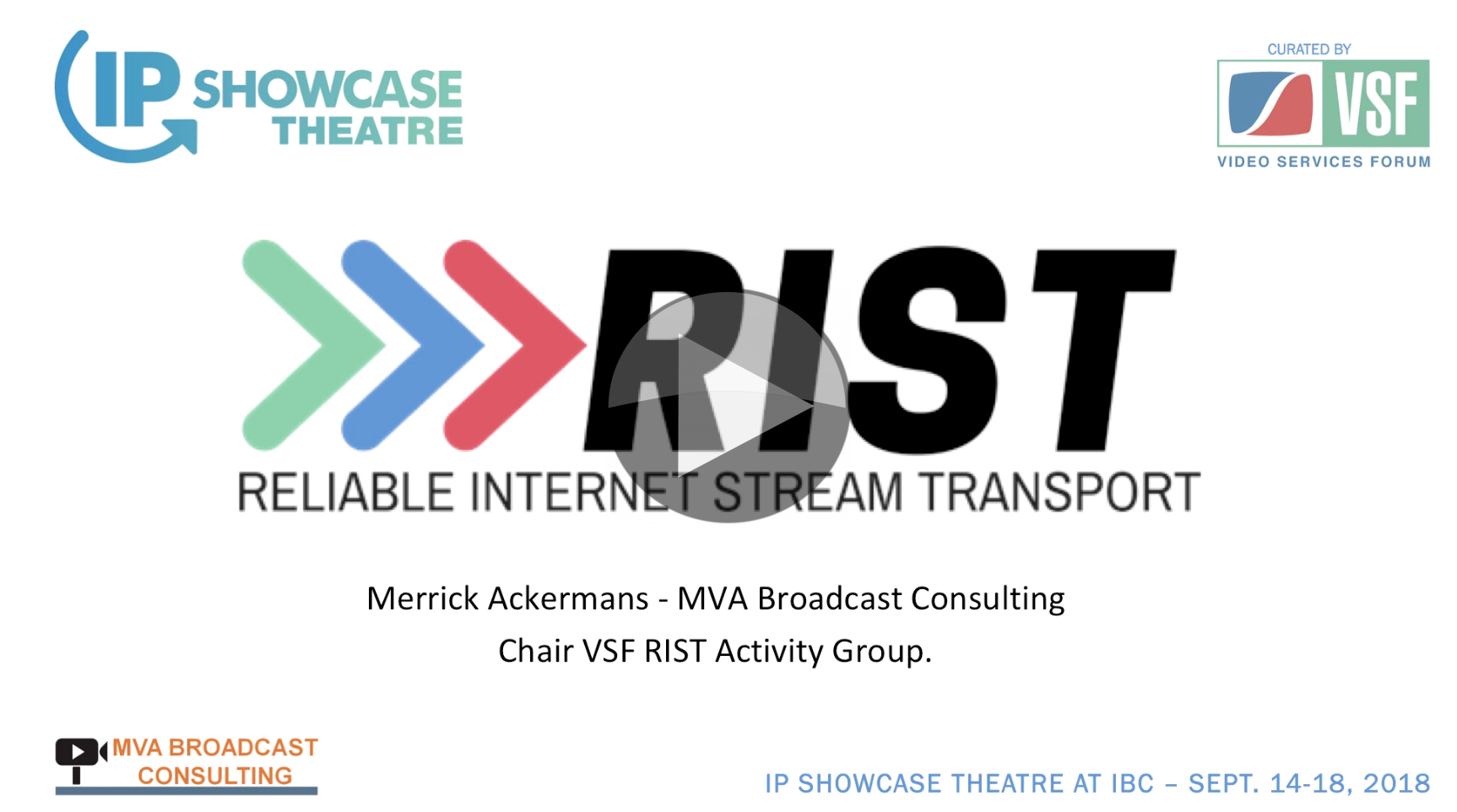 By far the most visited video of 2019 was the Merrick Ackermans' review of RIST first release. RIST, the Reliable Internet Stream Transport protocol, aims to be an interoperable protocol allowing even lossy networks to be used for mission-critical broadcast contribution. Using RIST can change a bade internet link into a reliable circuit for live programme material, so it's quite a game changer in terms of cost for links.
An increasing amount of broadcast video is travelling over the public internet which is currently enabled by SRT, Zixi and other protocols. Here, Merrick Ackermans explains the new RIST specification which aims to allow interoperable internet-based video contribution. RIST, which stands for Reliable Internet Stream Transport, ensures reliable transmission of video and other data over lossy networks. This enables broadcast-grade contribution at a much lower cost as well as a number of other benefits.
Many of the protocols which do similar are based on ARQ (Automatic Repeat-reQuest) which, as you can read on wikipedia, allows for recovery of lost data. This is the core functionality needed to bring unreliable or lossy connections into the realm of usable for broadcast contribution. Indeed, RIST is an interesting merging of technologies from around the industry. Many people use Zixi, SRT, and VideoFlow all of which can allow safe contribution of media. Safe meaning it gets to the other end intact and un-corrupted. However, if your encoder only supports Zixi and you use it to deliver to a decoder which only supports SRT, it's not going to work out. The industry as accepted that these formats should be reconciled into a shared standard. This is RIST.
File-based workflows are mainly based on TCP (Transmission Control Protocol) although, notably, some file transfer service just as Aspera are based on UDP where packet recovery, not unlike RIST, is managed as part of the the protocol. This is unlike web sites where all data is transferred using TCP which sends an acknowledgement for each packet which arrives. Whilst this is great for ensuring files are uncorrupted, it can impact arrival times which can lead to live media being corrupted.
RIST is being created by the VSF – the Video Standards Forum – who were key in introducing VS-03 and VS-04 into the AIMS group on which SMPTE ST 2022-6 was then based. So their move now into a specification for reliable transmission of media over the internet has many anticipating great things. At the point that this talk was given the simple profile has been formed. Whist Merrick gives the details, it's worth pointing out that this doesn't include intrinsic encryption. It can, of course, be delivered over a separately encrypted tunnel, but an intrinsic part of SRT is the security that is provided from within the protocol.
Despite Zixi, a proprietary solution, and Haivision's open source SRT being in competition, they are both part of the VSF working group creating RIST along with VideoFlow. This is because they see the benefit of having a widely accepted, interoperable method of exchanging media data. This can't be achieved by any single company alone but can benefit all players in the market.
This talk remains true for the simple profile which just aims to recover packets. The main protocol, as opposed to 'simple', has since been released and you can hear about it in a separate video here. This protocol adds FEC, encryption and other aspects. Those who are familiar with the basics may whoosh to start there.
Speaker
Merrick Ackermans
Chair,
VSF RIST Activity Group