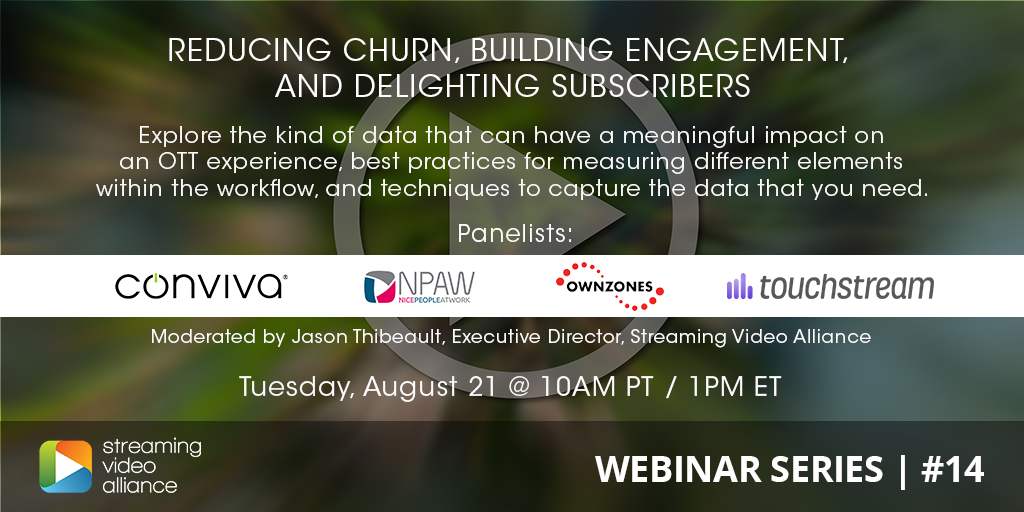 The Streaming Video Alliance is back with the next in their webinar series and the focus turns to churn.
Viewer churn is the OTT killer. But keeping subscribers engaged and coming back to a service involves more than just great content. It requires a keen eye on the data—from ensuring a great Quality of Experience (QoE) to making smart marketing decisions about content to providing excellent customer service, data is key.
What should you be measuring?
What are the key metrics and their thresholds?
How do you implement all of this into an existing workflow?
This panel will explore the kind of data that can have a meaningful impact on an OTT experience, best practices for measuring different elements within the workflow, and the techniques to capture the data that you need.
Panelists include:
Aditya Ganjam from Conviva
Nick Nelson from OWNZONES
Jonathan Shields from Nice People at Work
and Brenton Ough from Touchstream
This topic will be moderated by Jason Thibeault, the Executive Director of the Streaming Video Alliance.