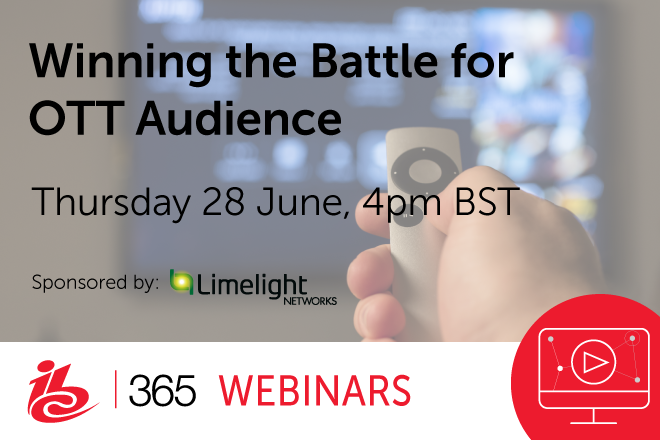 Date: 28th July 2018, 16:00 BST
This webinar brings examples from Leading OTT operators and providers describing how they drive audience growth through quality and user experience. Of course, great content alone is not enough to sustain a successful on-demand internet-delivered OTT service.
The speakers will reveal the risk factors that can destroy audience engagement, including poor streaming performance and data privacy and security fears and as OTT becomes inseparable from live broadcast, solutions for streaming time-sensitive, high-value live events and sports are assessed.
Whether it's broadcaster catch-up, special-interest content or producers like HBO and Disney going direct, the pressure is on for platforms trying to compete with the big beasts Netflix and Amazon. With the announcement of Salto as a joint venture of broadcasters in France, and UK channels investing in updating Freeview Play, OTT is centre-stage once again.
Audiences have huge expectations of user experience, video image and quality-of-service – regardless of the network or device they are using. Delivering and managing a consistently-high quality of experience is crucial for media companies wanting to deliver a popular, engaging and profitable OTT service – whatever the content and business model.
Register now
Speakers:
Guilherme Saraiva, CTO, Rede Telecine
Steve Miller-Jones, Senior Director of Product Management, Limelight Networks