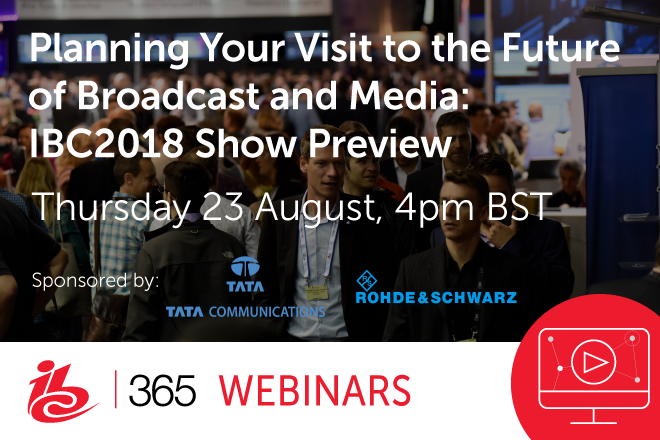 Date: 23rd August 2018, 16:00 BST
A panel of broadcasters and exhibitors guide us through their predictions of the hot topics from IP to AI, the rise-and-rise of OTT, and the impact of 5G, blockchain and ATSC 3.0.
Plus the new focus on building an efficient supply chain to create, manage, store and distribute content.
Don't miss the highlights of IBC2018 with this inside preview of the big themes and must-see tech on this year's show floor.
Speakers:
Jeremy Dujardin, Chief Technology Officer,

Global Media & Entertainment Services, Tata Communications


Tim Felstead, Director of Strategic and Operation Marketing,

Broadcast and Media, Rohde & Schwarz

Kathy Bienz, Director North America, IABM

Jurgita Rhodes, Partner, Marquis Media Partners

Moderator:
Robert Ambrose, Managing Consultant, High Green Media