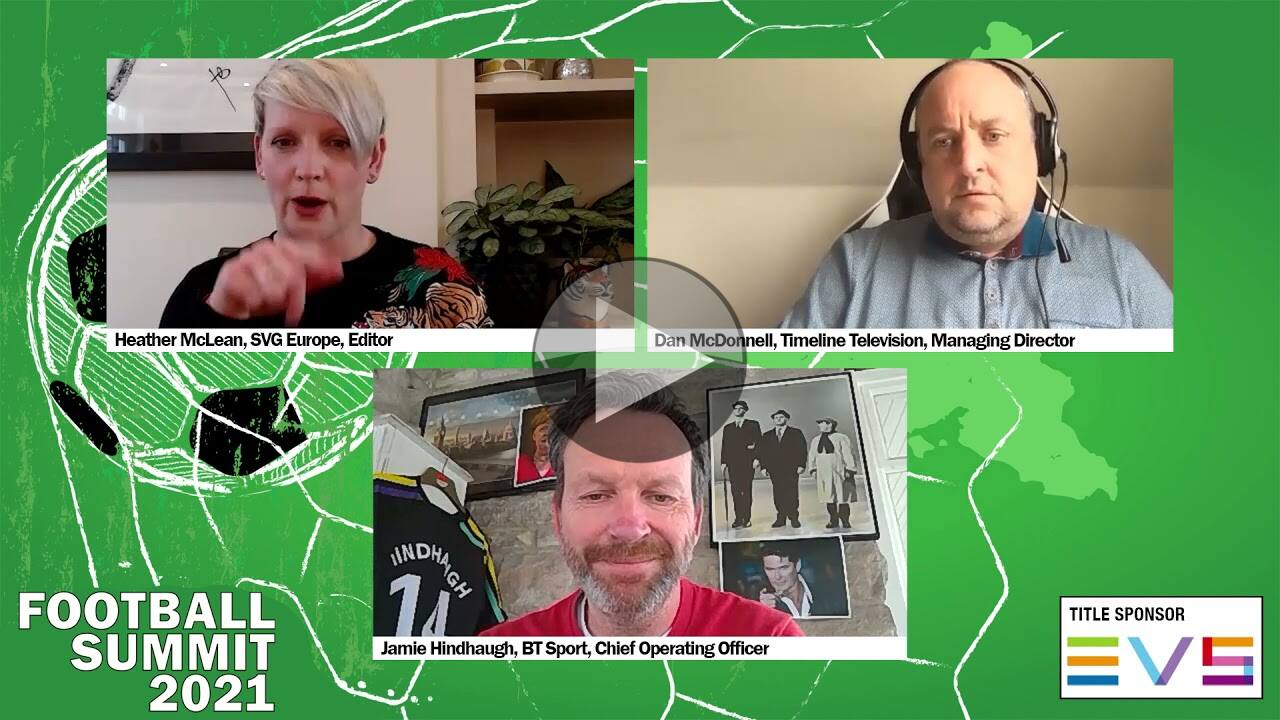 We've all changed the way we work during the pandemic, some more than others. There's nothing better than a real-life case study to learn from and to put your own experience into perspective. In this video, BT Sport and their technology provider Timeline TV take us through what they have and haven't done to adapt.
Jamie Hindhaugh, COO of BT Sport explains that they didn't see working at home as simply a decentralisation, but rather a centralisation of the technology to be used by a decentralised body of staff. This concept is similar to Discovery's recent Eurosport IP transformation project which has all participating countries working from equipment in two datacentres. BT Sport managed to move from a model of two to three hundred people in the office daily to producing a live football talk show from presenters' homes, broadcast staff also at home, in only 10 days. The workflow continued to be improved over the following 6 weeks at which point they felt they had migrated to an effective 'at home' workflow.
Speaking to the challenges, Dan McDonnell CEO of Timeline TV said that basic acquisition and distribution of equipment like laptops was tricky since everyone else was doing this, too. But once the equipment was in staff homes, they soon found out the problems moving out of a generator-backed broadcast facility. UPSes were distributed to those that needed them but Dan notes there was nothing they could do to help with the distraction of working with your children and/or pets.
Jamie comments that connectivity is very important and they are moving forward with a strategy called 'working smart' which is about giving the right tools to the right people. It's about ensuring people are connected wherever they are and with BT Sport's hubs around the country, they are actively looking to provide for a more diverse workforce.
BT Sport has a long history of using remote production, Dan points out which has driven BT Sport's recent decision to move to IP in Stratford. Premiership games have changed from being a main and backup feed to needing 20 cameras coming into the building. This density of circuits in both HD and UHD has made SDI less and less practical. Jamie highlights the importance of their remote production heritage but adds that the pandemic meant remote production went way beyond normal remote productions now that scheduling and media workflows also has to be remote which would always have stayed in the building normally.
Dan says that the perspective has changed from seeing production as either a 'studio' or 'remote OB' production to allowing either type of production to pick and choose the best combination of on-site roles and remote roles. Dan quips that they've been forced to 'try them all' and so have a good sense of which work well and which benefit from on-site team working.
Watch now!
Speakers
Dan McDonnell
CEO,
Timeline TV
Jamie Hindhaugh
COO,
BT Sport
Moderator: Heather McLean
Editor,
SVG Europe