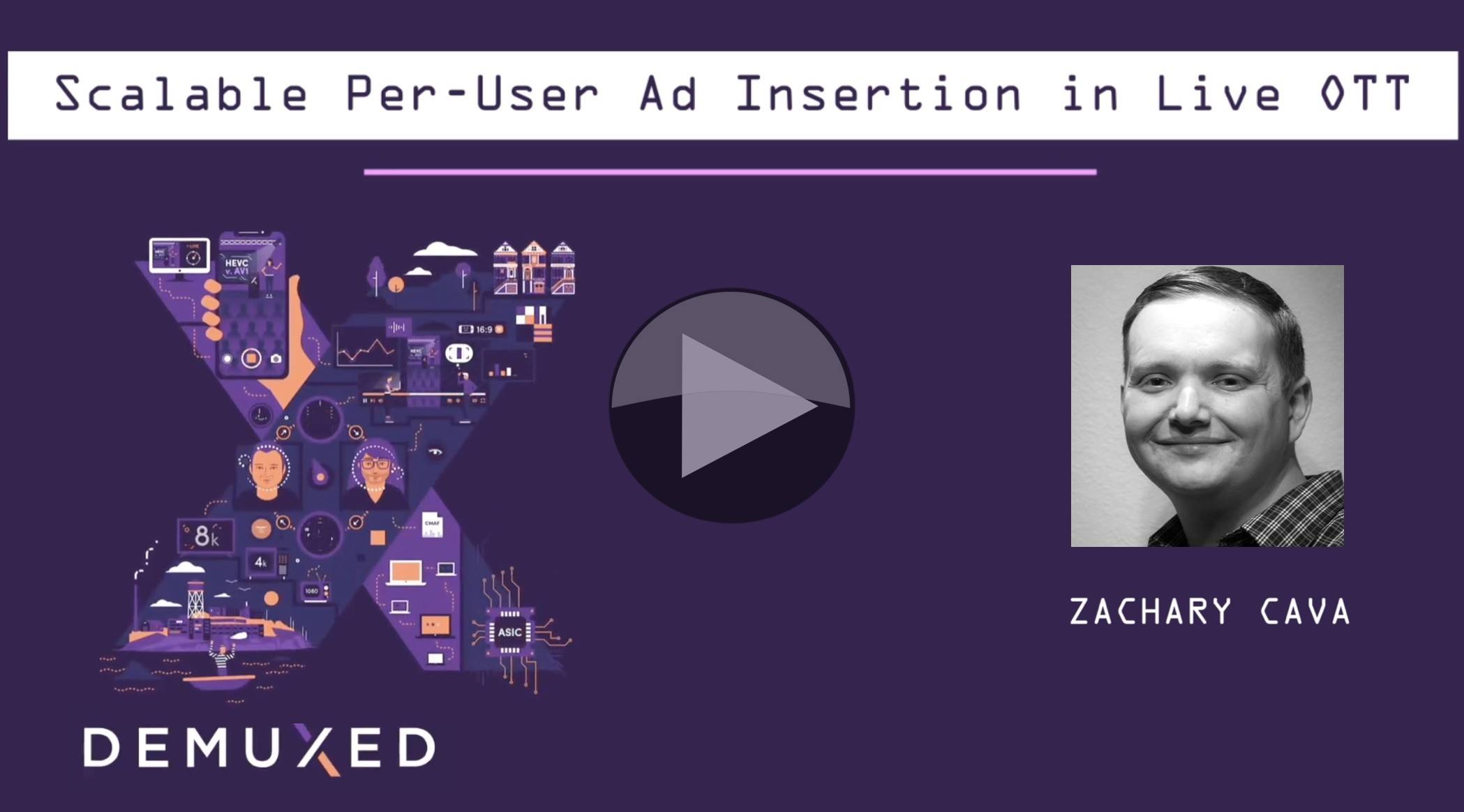 Targetted ads are the most valuable ads, but making sure the right person gets the right ad is tricky, not only in deciding who to show which ad to, but in scaling – and keeping track of – the ad infrastructure to thousands or millions of viewers. This video explains how this complexity arises and the techniques that Hulu have implemented to improve the situation.
Zachary Cava from Hulu lays out the way that standard advertising works for live streams. Whilst he uses MPEG DASH as an example, much the same is true of HLS. This starts with cutting up the video into sections which all start with an IDR frame for seeking. SCTE 35 is used to indicate times when ads can be inserted. These are called SCTE Markers. As DASH has the principle of defining a period (exactly as it sounds, just a way of marking a section of time), we can define periods of 'programme' and periods for 'ads'. This allows the possibility of swapping out a whole period for a section of several ads.
If it were as simple as just swapping out whole periods, that would be Server-Side Ad Insertion. For per-user targetted ads, the streaming service has to keep track of every ad which was given to a user so that when they rewind, they have a consistent experience. This can mean remembering millions of ads for services which have a large rewind buffer. Moreover, traffic can become overwhelming as, since the requests are unique, a CDN can't help in the caching. Whilst you can scale your system, the cost can spiral up beyond the revenue practical.
Enter MPD Patch Requests. This addition to MPEG Dash requires the client to remember the whole of the manifest. Where the client has a gap in its knowledge, it can simply request that section from the server which generates a 'diff', returning only the changes, which the client then assimilates into memory. The benefit here is that all the clients end up converging on only requesting what's happening 'now' and so CDNs come back in to play. Zachary explains how this works in more detail and shows examples before explaining how URLQueryInfo helps reduce the complexity of URL parameters, again in order to interoperate better with CDNs and allows the ad system to be scaled separately to the main video assets.
Finally, Zachary takes a look at coming back from an ad break where you may find that your ads were longer then the ad period allotted or that the programme hasn't returned before the ads finished. During the ad break, the client is still polling for updates so it's possible to quickly update the manifest and swap back to programme video early. Similarly at the end of a break, if there is still no content, the server can start issuing its own ad or content, effectively moving back to server-side ad insertion. However, this is not necessarily just plain ad insertion, explains Zachary, rather Hulu cal it 'Server-Guided' ad insertion. There is no stitching on the server, but the server is informing you where to get the next video from. It also allows for some levels of user separation where some larger geographies can see different ads to those from other areas.
Zachary finishes by outlining the work Hulu is doing to feedback this learning into the DASH spec, via the DASH Industry Forum and their work with the industry at large to bring more consistency to SCTE 35 markers.
Watch now!
Speaker
Zachary Cava
Software Architect,
Hulu