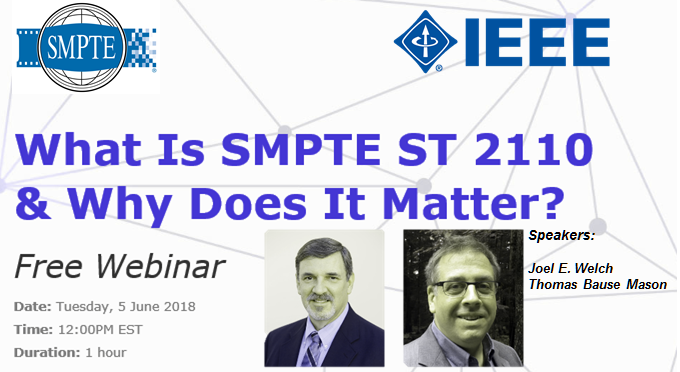 Date: Tuesday, 5 June 2018, 18:00 BST, 12PM EST
The SMPTE ST 2110 Professional Media Over Managed IP Networks suite of standards is a major contributing factor in the movement toward one common internet protocol (IP)-based mechanism for the professional media industries. The foundation for SMPTE ST 2110 standards is Video Services Forum (VSF) Technical Recommendation for Transport of Uncompressed Elementary Stream Media Over IP (TR-03). The SMPTE ST 2110 standards suite specifies the carriage, synchronization, and description of separate elementary essence streams over IP for real-time production, playout, and other professional media applications.
In this free webinar from IEEE, you'll gain the knowledge you need to help your company make the most of SMPTE ST 2110, a critical enabler of fully internet protocol (IP)-based operations.
Speakers:
Joel E. Welch, Director of Education, SMPTE
Thomas Bause Mason, Director of Standards Development, SMPTE